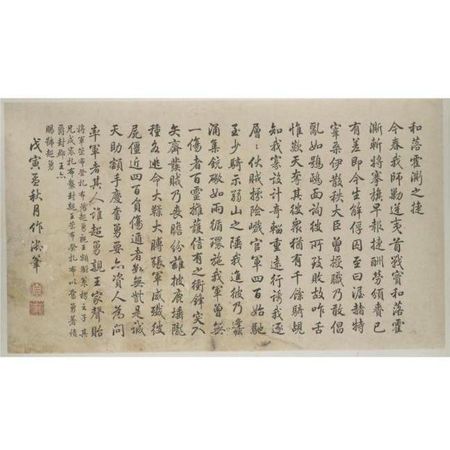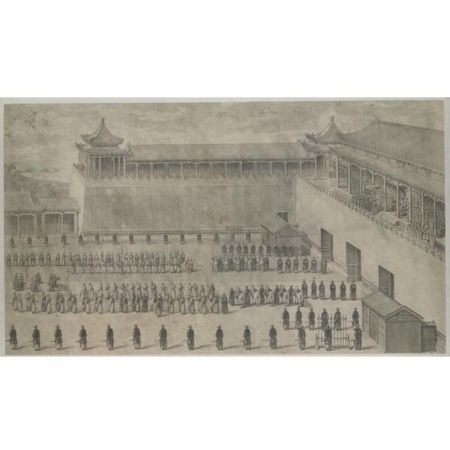 The Conquests Of The Emperor Qianlong A Set Of Sixteen Engravings After Castiglione Et Al, And Eighteen Panels Of Calligraphy, 1769-74
each mounted on paper and with a yellow silk backing, accompanied by a set of eighteen manuscript poems originally composed and written by Qianlong, bearing the seal of the Imperial library and small red-ink seals indicating that the calligraphy is the Qianlong Emperor's own hand (34). each engraving approximately 20 3/4 x 35 1/2 in., 52.7 x 90.2 cm. Estimate 30,000—40,000 USD
PROVENANCE: Acquired in Beijing in 1919 by Philippe de Vargas (1888-1956).
Thence by descent to the present family.
NOTE; The present set of engravings is rare as it forms part of a small group of this series reserved for the Qianlong Emperor. The Emperor commissioned the original set of sixteen engravings commemorating his military victories during the period from 1755 to 1760, in 1765 based on wall paintings of the battles, conquests, and ceremonies that marked his successful campaigns in the Western Region. Pingding Zhunga'er Huibu desheng tu (Images of the victories over the Zunghars and the Muslim tribes) is the first and most accomplished suite of 16 prints that celebrated notable Qing victories.
The drawings were prepared in China by four Jesuits: Giuseppe Castiglione, the director of the project, Jean-Denis Attiret, Ignatius Sichelbarth, and Jean Damascene. They were then sent to Paris, where the engravings were executed by eight artists under the direction of Charles-Nicolas Cochin of the Academie Royale at the Court of Louis XVI. Qianlong's commission was for an edition of one hundred copies only; however, to ensure the safe receipt of at least 100 copies in China, an edition of 200 copies was actually printed.
Sotheby's. Chinese Works of Art. 17 Mar 09.New York www.sothebys.com Photo courtesy Sotheby's