Hendrik Goltzius, (Dutch, 1558-1616), Publius Horatius, 1586. Engraving on laid paper 14 1/2 x 9 5/16 inches. The Hyde Collection, Gift in memory of Leon H. and Marie Buttlar Sparling by their family, 2008.20.6
GLEN FALLS, NY.- The Hyde opened an exhibition of its most recent acquisition – Old Master prints from the collection of Tobin Sparling, a South Glens Falls native. Late last year, Sparling donated nearly thirty prints in memory of his parents, Leon H. and Marie Buttlar Sparling.

The exhibition, titled Old Master Prints from the Sparling Family Collection, is on display in the Hoopes Gallery at the Museum through May 24. Ten etchings, seventeen engravings, and two wood cuts from the donated works are included in the exhibition in addition to two prints on loan from the donor. The collection surveys the major printmaking styles and techniques from the fifteenth to the eighteenth centuries in both Southern and Northern Europe. Included are prints by some of the most influential artists working in this period such as, Albrecht Altdorfer, François Boucher, Jacques Callot, Albrecht Durer, Jean-Honoré Fragonard, Hendrik Goltzius, Francisco Goya, and Marcantonio Raimondi. The exhibition is organized by Erin B. Coe, The Hyde's chief curator.

The collection of prints was assembled by Tobin Sparling, who currently resides in Houston, where he is Associate Professor of Law at South Texas College of Law. A graduate of South Glens Falls Senior High School, Dartmouth College, and Columbia University, Sparling worked for a number of years in the rare books and print departments of the Yale Center for British Art and the New York Public Library. His father, Leon Sparling, was a former English teacher at South Glens Falls Senior High School. Tobin's mother, Marie, had served for many years as Director of Adult Education Programs for the Washington-Saratoga-Warren-Hamilton-Essex County BOCES.

David F. Setford, the Hyde's executive director, noted the uniqueness of the exhibition. "The Hyde now has a significant collection to add to our existing Old Masters' works. The fact that the donation was made in memory of a local family who regularly visited our Museum makes this exhibition very special to us and to the area," said Setford.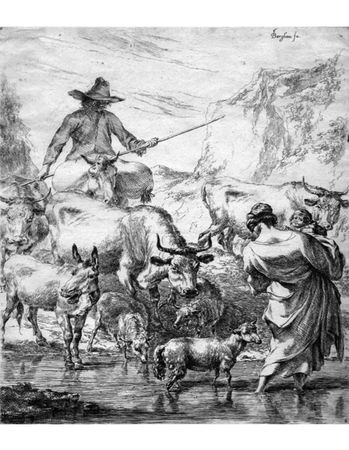 Nicolaes Berchem (Dutch, 1620-1683), Herd Crossing a Stream, 17th century 10 1/4 x 8 3/16 inches. The Hyde Collection, Gift in memory of Leon H. and Marie Buttlar Sparling by their family, 2008.20.1