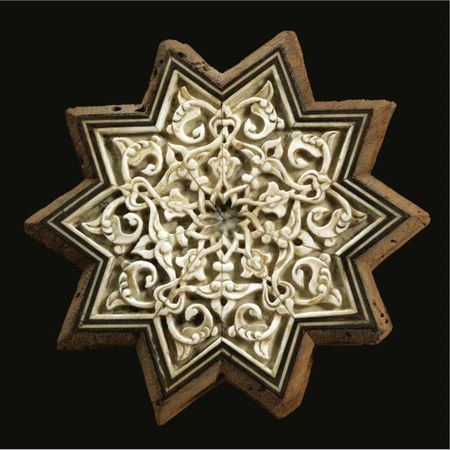 A fine and rare Ottoman carved rosewood and ivory star panel, Turkey, Circa 1500
of ten-pointed design carved with a stylised flowerhead made up of alternating fleurs-de-lis and entwining foliate motifs, with an outer border of thin ivory fillets set into a wooden ground, traces of red and blue pigment. 11.5cm. max. diam. Estimate 40,000—60,000 USD
NOTE: This exceptional ivory element must originally have been part of a large composition of interlocking tiles of various shapes, forming a complex geometric pattern decorating either doors or other types of panelling. The high quality of the ivory plaque, which appears to have been assembled from ten different tesserae individually carved, confirms it was part of a production under royal patronage.
The style of the arabesques is entirely in keeping with the so-called 'Baba Nakkas Style', the court style initiated during the reign of Sultan Mehmed II "Fatih" (1444-1481), and further developed under his son Sultan Bayezid II (1481-1512). Particularly the curved, almost prehensile, quality of the forked-leaf arabesques seems to point to the mature 'Baba Nakkas Style' of circa 1500.
A comparable example to this extraordinary tile was sold in our London rooms, 9 April 2008, lot 298. Furthermore, a set of ivory belt plaques of circa 1500 preserved in the Topkapi Sarayi Muzesi, Istanbul, inv. no. 2/630-633, evinces similar carving and design (published: Turks. A Journey of a Thousand Years, 600-1600, London, 2005, pl.233-236, p.280). These are notably decorated with blue and other coloured pigments similar to traces detected here.
Sotheby's. Arts of the Islamic World. 19 Mar 09. Doha www.sothebys.com photo courtesy Sotheby's