Pablo Picasso, Le Repos, 1932. Oil on canvas, 63 3/4 x 51 1/4 in. (161.9 x 130.2 cm). © Sotheby's New York.
NEW YORK, NY From April 2-14, 2009 a loan exhibition from the collection of Steven and Alexandra Cohen will be shown at Sotheby's in New York. Entitled Women, the exhibition will focus on one area of the Cohen's collection, works depicting female subjects. This remarkable assemblage of twenty masterpieces ranges from Edvard Munch's Madonna and Pablo Picasso's Le Repos to Willem de Kooning's Women III and Andy Warhol's Turquoise Marilyn, and includes paintings, sculpture, works on paper and photographs by the most influential artists of the modern era. The collection has never before been exhibited to the public.

"We are fortunate to live with art that encompasses so many different subjects," said Mr. Cohen. "We found the idea of focusing on one theme intriguing. Our collection has not been curated before and to see this carefully selected group, hanging together in the Richard Gluckman-designed gallery space on Sotheby's tenth floor, provides a fresh context that allows us to see these works in a whole new light. It will be an exciting experience for us. We're delighted to be able to share part of our collection with the public and hope they will enjoy it as much as we do."

"I was on a visit to the Cohen's home several weeks ago," said Tobias Meyer, Sotheby's Worldwide Head of Contemporary Art. "While seated at the dinner table, Picasso's Le Repos and Warhol's Turquoise Marilyn were both directly in my line of sight. Seeing those two works together showed the breadth that different artists can achieve with the same subject. One work was intensely physical, intensely sexual, while the other was almost reverential, a glorified and spiritual expression of stardom. When you see something extraordinary you want proximity to it, and as we left that evening I turned to Steve and suggested that we show his Women at Sotheby's. 'Let's do it' he said.

"The Cohen's collection of 20th Century art is one of the most significant in the world. It has been assembled with rigor and attention to detail, but there is still the openness to expression. As collectors, they are curious and non-judgmental and totally free in their thinking. They equally appreciate the work of Munch, Picasso, de Kooning, Klein, Freud and Richter. The Cohens have been extremely generous in loaning individual works to important museum exhibitions, but never before has there been an entire exhibition focused on their art alone. It is a great privilege to take this collection of masterpieces, each work an essential image by the artist, and to share it with the world." .

WOMEN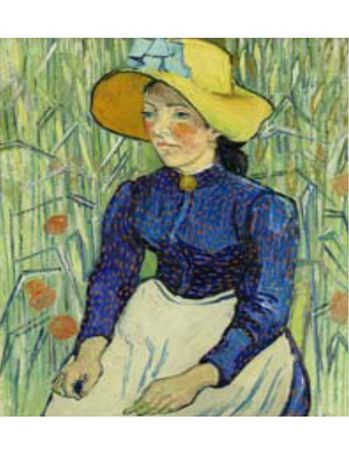 Vincent Van Gogh Portrait of a Young Peasant Girl, 1890 Oil on canvas 36 1/4 x 28 3/4 in. (92 x 73 cm) © Sotheby's New York
Painted at the height of the artist's short career, the present work captures the harmony of the female with the landscape. Ennobling her as a laborer and a tiller of the earth, he links her with innate goodness and sustenance.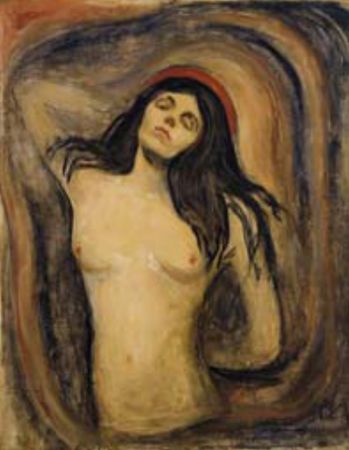 Edvard Munch Madonna, 1895-97 Oil on canvas 36 1/2 x 29 1/2 in. (92.7 x 74.9 cm) © Sotheby's New York
Munch's Madonna is from a series of five works of the same subject and arguably the finest in terms of its painterly qualities. It is about attainment and loss, sensuality and a melancholy, love and death. The woman is both a profane temptress and a sainted Madonna.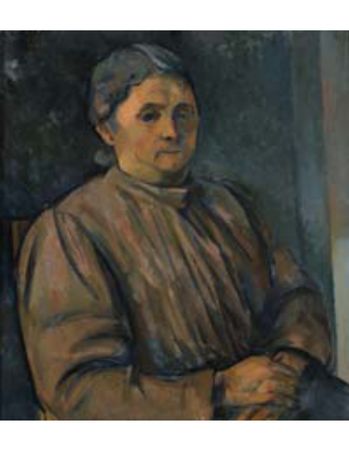 Paul Cézanne Portrait of a Woman, 1900 Oil on canvas 25 5/8 x 21 in. (65.1 x 53.3 cm) © Sotheby's New York
The present work is among the great portraits executed in the latter part of the artist's career. Like van Gogh, Cézanne chose to celebrate working class people; capturing this worker from his family estate with a reserved and humble dignity. As with portraits of his wife, Cézanne utilizes a halflength format to create a work that is monumental, yet intimate.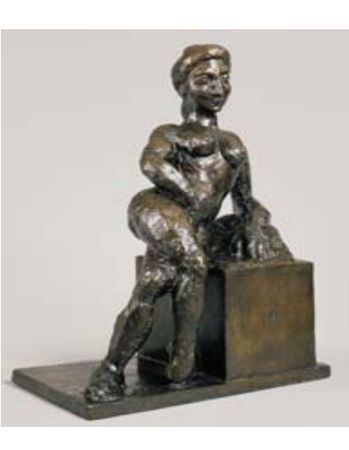 Henri Matisse Figure Decorative, Conceived in 1908, cast in 1952 Bronze Height: 28 7/8 in. (73.3 cm) © Sotheby's New York
During his career, Matisse turned to sculpture to resolve figural challenges in his paintings and explore composition with real mass. The exaggerated curves and torque of the figural arrangement provide a dynamic balance with the rigidly geometric cube.
Amedeo Modigliani Nu Couché au coussin Bleu, 1916 Oil on canvas 23 5/8 x 36 1/4 in. (60.1 x 92.1 cm) © Sotheby's New York
The reclining nude is the greatest of Modigliani's subjects, and this example is among the artist's finest. The sitter's opaque, almond-shaped eyes prevent the viewer from meeting her gaze; the model is both provocatively close yet emotionally unavailable. By placing her hands and feet outside the picture plane the artist simplifies the form to emphasize the abstract qualities.
Henri Matisse Grand nu Assis, 1922-29 Bronze Height: 30 1/4 in. (76.8 cm) © Sotheby's New York
Grand nu assis, one of the great sculptural achievements of 20th century art, shows Matisse's mastery of the medium and reveals an artist engaged in depicting the architecture of the body, rather than a psychological profile of the model. There is a tremendous concentration on mass, the dynamism of the pose, and the fluidity of the forms.
Pablo Picasso Femme Nue Couchée, 1932 Oil on canvas 51 x 64 in. (129.5 x 162.6 cm) © Sotheby's New York
Femme Nue Couchée depicts Picasso's lover Marie-Thérèse Walter. Just seventeen when he met her, Marie-Thérèse was immortalized by Picasso in images of idyllic eroticism. In the present work, she is seen as a curvaceous, yet highly abstracted reclining nude.
Pablo Picasso Le Repos, 1932 Oil on canvas 63 3/4 x 51 1/4 in. (161.9 x 130.2 cm) © Sotheby's New York
In Picasso's brilliantly-colored and powerfully strident work of 1932, he captures both his charged attitudes toward women and the Surrealist currents of the time. The figure appears to represent both his wife, Olga, from whom he is trying to escape, and his alluring new lover, Marie-Thérèse.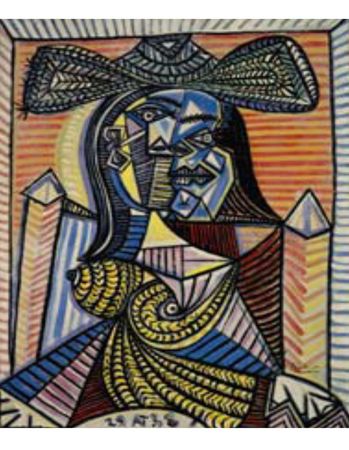 Pablo Picasso Femme Assise, 1938 Oil on canvas 25 1/2 x 19 3/4 in. (64.8 x 50.2 cm) © Sotheby's New York
Together with the two other works by Picasso, Femme Assise traces both an evolution of his style and his lovers in what was perhaps the greatest decade of his art, the 1930s. The present work was painted at a time when Marie-Thérèse's position in Picasso's life was waning and Dora Maar's was ascendant.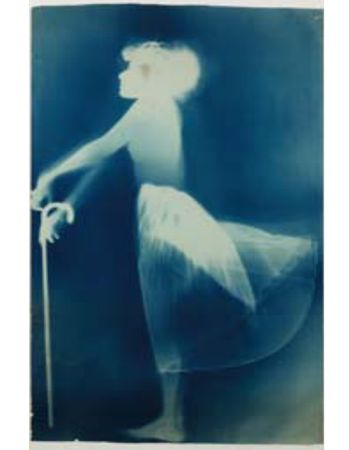 Robert Rauschenberg and Susan Weil Untitled (Sue), 1950 Exposed blueprint paper 69 3/4 x 41 5/8 in. (177.2 x 105.9 cm) © Sotheby's New York
Rauschenberg's Untitled (Sue) is from a very early and rare body of work, where he captured the image of his wife on photographic paper, which was a predecessor to his important silkscreen Pop imagery.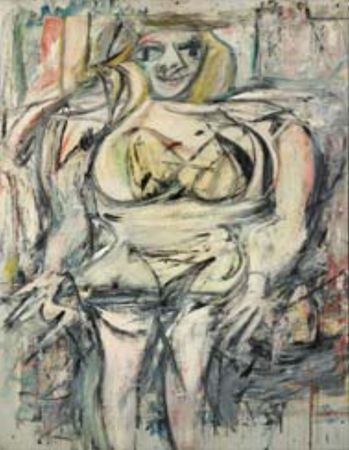 Willem De Kooning Woman III, 1952-53 Oil on canvas 68 x 48 1/2 in. (172.8 x 123.2 cm) © Sotheby's New York
Woman III is a masterpiece from De Kooning's most famous series of monumental women. With other works from the series residing in The Museum of Modern Art and the Whitney Museum of American Art, among other institutions, the present work is the only example from the period remaining in private hands.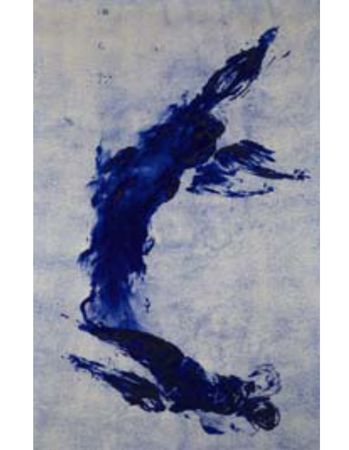 Yves Klein Anthropologie de l'epoque blue (ANT.78), 1960 Pigment on paper laid down on canvas 85 3/4 x 52 in. (218 x 132 cm) © Sotheby's New York
Anthropologie de l'epoque blue (ANT.78) is an outstanding example of the artist using the female body as the paint brush. In 1960 he revealed this new art form to the world – covering women's bodies with paint and directing them as they pressed themselves on vast sheets of paper.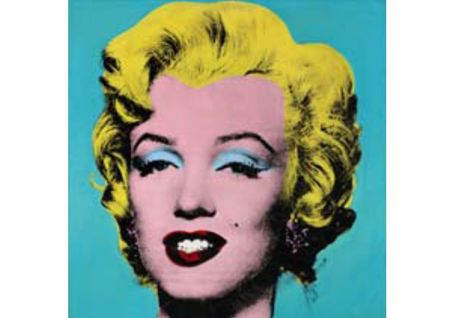 Andy Warhol Turquoise Marilyn, 1964 Acrylic and silkscreen on linen 40 x 40 in. (101.6 x 101.6 cm) © Sotheby's New York
Turquoise Marilyn is a masterpiece, and an icon of art history. This glowing and vibrant silkscreen is from a series of five that Warhol executed in 1964. The image is based on a 1952 publicity still of Marilyn Monroe for the film Niagara.
Gerhard Richter Dancers, 1966 Oil on canvas 63 x 78 3/4 in. (160 x 200 in.) © Sotheby's New York
Dancers comes from a group of black and white paintings based on images from popular culture. The painting is based on an image from his collection of thousands of newspaper clippings, photos and sketches compiled in a single volume, which served as source material for much of his work.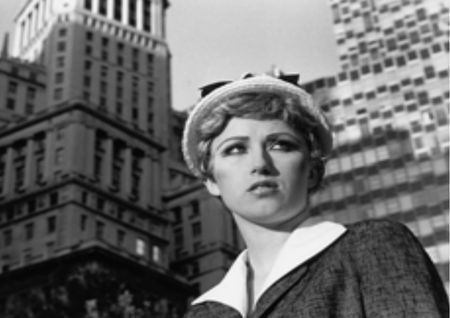 Cindy Sherman Untitled Film Still #21, 1978 Black and white photograph 30 x 40 in. (76.2 x 101.6 cm) Edition 1 of 3 © Sotheby's New York
The present work comes from Sherman's landmark series of black and white portraits of herself as an actress in images reminiscent of foreign films or B-movies. While some show her posing in different stereotypical female roles, they all evoke an inherent sense of danger.
Lucien Freud Portrait of Rose, 1978-79 Oil on canvas 36 x 31 in. (91.5 x 78.8 cm) © Sotheby's New York
Rose, by Lucien Freud, is a very famous nude from a series done by the artist of models on a sofa in his studio. These nude portraits are his most evocative and luminous.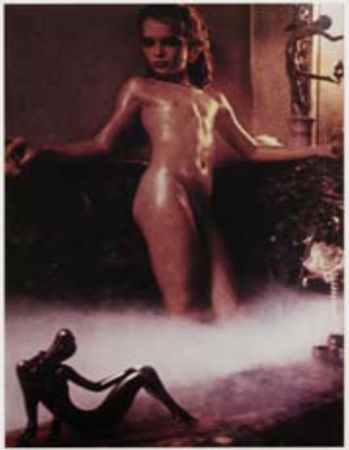 Richard Prince Spiritual America, 1983 Ektacolor photograph 24 x 20 in. (61 x 50.8 cm) Edition 5 of 10 © Sotheby's New York
Spiritual America is one of Prince's most famous and controversial works. Here, he has taken an image of a prepubescent Brook Shields and placed it in an artistic and subversive context.
Marlene Dumas The Visitor, 1995 Oil on canvas 71 x 118 in. (180.3 x 299.7 cm) © Sotheby's New York
Depicting a nocturnal street scene in Holland, The Visitor by Marlene Dumas is a significant, large-scale painting from a key moment in the artist's career.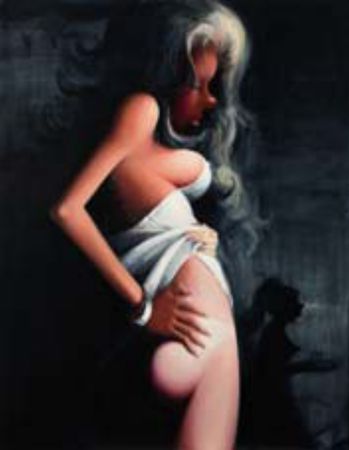 Lisa Yuskavage Night, 1999-2000 Oil on canvas 77 x 62 in. (195.6 x 157.5 cm.) © Sotheby's New York
Night by Lisa Yuskavage is an important painting from an early body of the artist's work in which she examines the female form and self-image.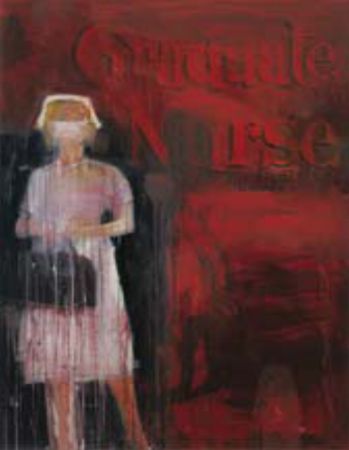 Richard Prince Graduate Nurse, 2002 Ink jet print and acrylic on canvas 89v x 52 in. (226.1 x 132.1 cm) © Sotheby's New York
The present work is one of the best Nurse paintings Prince ever made, particularly because of its monumental scale and the rich, painterly quality of the brushstrokes.