Gerroku-Style, 1905-1920, collection Jan Dees
The kimono is part of Japan's most well known cultural heritage. Within the scope of the 400 year jubilee of Japanese-Dutch trading relations (1609-2009) the Kunsthal presents the exhibition Silk Stories, in which the development of the kimono, in the form of various fabrics, hand made decorations and new techniques takes up central position. The word kimono is a collective term for a variety of traditional pieces of clothing and can be translated as 'thing to wear'. For the first time ever in the Netherlands, over 120 kimono, several haori (short jackets) and obi (broad brocade waist bands) provide an overview of Japanese fashion from the period 1900-1940.
Attention is paid to the specific role of the kimono within every day Japanese life, to its function and to how it is fabricated. The exhibition focuses strongly on the fascinating stories that are often portrayed on the inside of the luxurious silk. The Kunsthal pays considerable attention to Japanese Culture. Earlier exhibitions were 'Manga' (2000), 'Japanese Erotic Fantasies', a big survey on Japanese erotic art (2005) and in 2008 'A Brush with Animals', containing Japanese paintings from 1700 up to 1940.
Taishô Culture
As a result of the increasing prosperity in the Taishô period - the reigning period of Emperor Yoshihito (1912-1926) - more and more people are able to afford an expensive kimono. Artists are hired by department stores in order to design artistic patterns, resulting in an incredibly rich and high-quality supply. An important amount of the pieces of clothing put on display stems from the Taishô period. Characteristic for the Taishô culture is its predilection for traditional representations of amongst others flowers, common cranes, samurai and geishas, while showing a keen and vivid interest in Western patterns at the same time.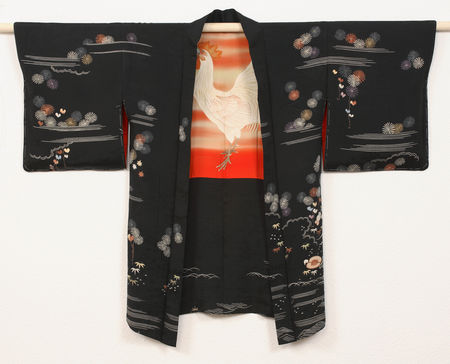 Kimono Parting at Dawn. Collection Jan Dees
A study of Elegance, detail. Collection Jean Dees
Abstract pattern, woman's haori.