An important gem-set gold Finial in the form of a Tiger's Head from the throne of Tipu Sultan (1750-99) Mysore (Seringapatam), made between 1787-93
A gem-encrusted gold finial from the octagonal golden throne of Tipu Sultan, the Tiger of Mysore, will be sold at Bonhams New Bond Street on 2nd April. This is one of the most important Tipu items ever to appear for sale. It had lain in an English castle, for at least 100 years and then in a bank vault, unknown to Tipu enthusiasts and scholars. It was discovered by Bonhams' Islamic Department on a routine valuation.

Tipu Sultan was the East India Company's most tenacious enemy. A fanatical and relentless warrior, he vowed not to mount his elaborate throne until he had vanquished the British. Tipu is considered to be one of the most accomplished and daring rulers of pre-colonial India, devising campaigns which inflicted humiliating defeats on the British and reversing Western weapons and techniques against their inventors. It is believed that he introduced the military rocket to attack enemy infantry, a tactic that helped him win a number of victories over British armies, undercutting the view that they were invincible.

In Tipu's own words, he said: "I would rather live one day as a tiger than a lifetime as a sheep". He customised objects of art and instruments of warfare with tiger-stripe motifs, from his throne to canons and blunderbusses. When travelling away from his kingdom, he even wore a coat with the motif.

Bonhams magazine contributor, William Dalrymple, recounts the moment of the emperor's final defeat at the hands of the British: "When the British finally captured Tipu's capital city of Seringapatam in 1799, the conquerors were astonished at the magnificence of the jewels and art objects that Tipu had collected. According to Major Price, who was responsible for collecting and dividing the booty:" The wealth of the palace, which was sufficiently dazzling to the eyes of many who were much more habituated to the sight of horded treasure than we were, seemed, at that moment, in specie, jewels and bullion, and bales of costly stuff, to surpass all estimates."

The remarkable gem-set object on sale at Bonhams is one of three surviving tiger head finials that adorned Tipu's elaborate throne. It had lain at Featherstone Castle, Northumberland, where it was listed in an 1843 inventory of the late Baron Wallace of Knarsdale (1768-1844), who oversaw the East India Company, and afterwards was hidden away in a bank. Although some of the most important items were reserved for the British Royal Family, the famous golden throne was broken up so that the elements could be shared, much to the disapproval of the Governor-General, Lord Wellesley (later the Duke of Wellington).

The throne was broken up so quickly following the fall of Seringapatam that little is known about the fate of the remaining throne relics; however, a large gold tiger head from the front of the throne platform now resides at Windsor Castle along with a jewelled bird which was presented to Queen Charlotte the wife of George III. Another surviving finial can be found at Powis Castle, acquired by the second Lady Clive in India.

Claire Penhallurick of Bonhams Indian and Islamic Department comments: "It is an extraordinary privilege to be selling this wonderful finial from Tipu Sultan's throne. It is, without a doubt, of the greatest historical significance as it belongs to the most important symbolic object in Tipu Sultan's kingdom, his throne, which he refused to mount until he had defeated the British. It holds huge fascination for both India and Britain as it is part of our shared history, and as Tipu Sultan was such an extraordinary man and certainly one of the most creative, innovative and capable rulers of the pre-colonial period, it is an important discovery for this field."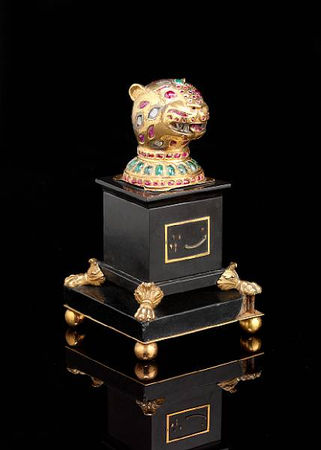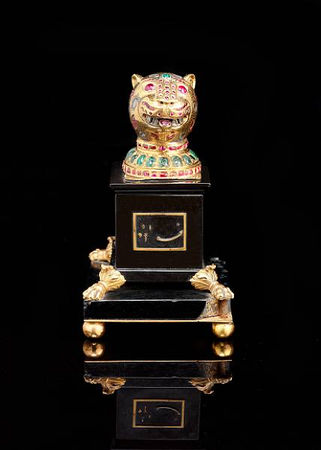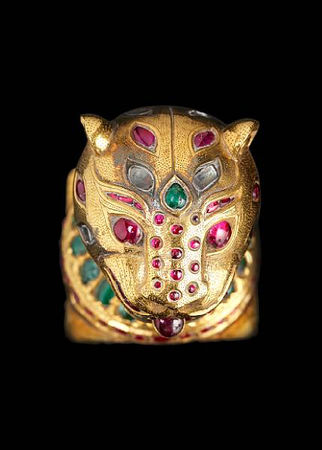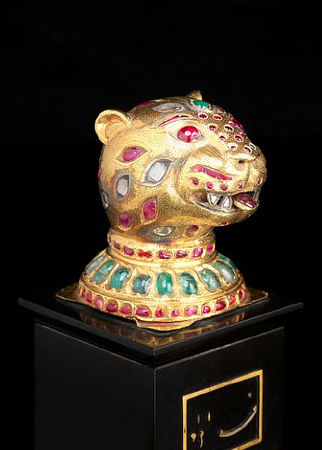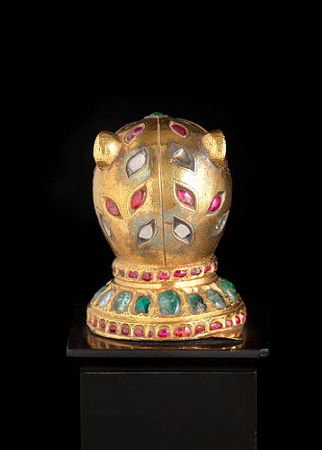 An important gem-set gold Finial in the form of a Tiger's Head from the throne of Tipu Sultan (1750-99) Mysore (Seringapatam), made between 1787-93
gold sheet over a natural resin core, set with rubies, diamonds and emeralds. The collar around the base with three bands of gems: at the bottom an arcaded band set with foiled, polished cabochon rubies; above a band of foiled polished cabochon emeralds, the settings overlapping the stones and with small cusped claws extending onto the surface of the emeralds; and above a further band of foiled, polished cabochon rubies. The main gold surface of the head worked with a punch to create a stippled surface; symmetrically set on either side of the centre line with foiled table-cut diamonds, foiled cabochon rubies and foiled cabochon emeralds of varying sizes, with larger rubies set on the eyes and the tongue, the teeth set with foiled table-cut diamonds. The ears projecting above the head decorated with engraved lines and punchwork. The head mounted on a black marble pedestal with four gilt-metal claw and ball feet and a partial appliqué inscription in gilt metal - the head 6.9 cm. high and 338 g.; total height with pedestal 17.5 cm. Estimate: Refer to Department

Provenance: Thomas Wallace (1763-1844), Baron Wallace of Knarsdale.

Lord Wallace was a prominent English politician in the late 18th and early 19th Century. He became an MP in 1790; in 1800 he was created Commissioner for the Affairs of India and in 1801 was appointed a Privy Councillor; he served as President of the Board of Control between 1807 and 1816, in which position he oversaw the East India Company; he was made a peer in 1818 and served as Vice President of the Board of Trade from 1818-23. In 1828 he was ennobled as Baron Wallace.
The gem-set gold finial will form part of the Islamic and Indian Art Sale at Bonhams New Bond Street on Thursday 2nd April at 10:30am. www.bonhams.com