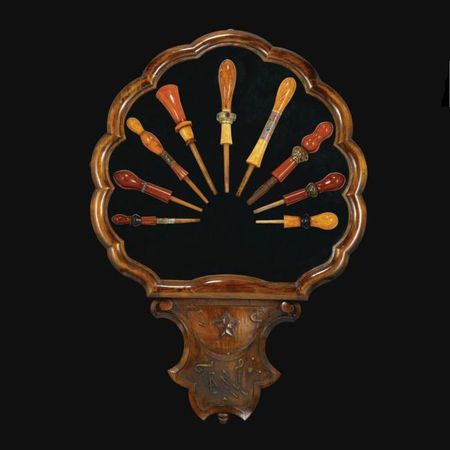 A Royal Collection of Nine Ottoman Amber Mouthpieces, Turkey, 19th century
each of characteristic tapered and waisted form, the amber varying in tone from dark red to a lighter orange, three with gold-overlaid floral motifs around decorating the mid-section, one elongated with enamel and gold-inlay, one with a gilt band carved with foliate motifs and set with coloured gems and turquoise, another with a thin gem-set metal band, mounted within an Italian fruitwood frame carved with masonic symbols. 26cm. max. Estimate 28,000—35,000 GBP
PROVENANCE: Ex. Coll. Her Imperial Highness Necla Sultan, the Princess Ibrahim.
NOTE: These elaborate and luxurious mouthpieces for a hookah or nargileh water pipe are rare examples of their kind. Made of amber, some set with enamel and gemstones, they are likely to have been used by only the highest among Ottoman Turkey's social elite. Examples were sent to the landmark exhibition of Ottoman art in Vienna in 1871 curated by Osman Hamdi. Regarding the use of amber as the material for the mouthpieces, the following appeared in an article relating to waterpipes in the New York Times in 1875: "As to the amber mouthpieces, they are the object of a trade of their own; and which approaches to that of jewelry, by the value of the material and the expense incurred in working it. The amber comes chiefly from the Baltic... At Constantinople, where it is very dear, the Turks prefer it of a pale lemon colour, partly opaque, and desire that it should have neither spot nor flaw, nor vein; conditions somewhat difficult to combine, and which greatly enhance the price of the mouthpieces. A perfect pair of them command as much as eight or ten thousand piastres - from £70 to £90. A collection of pipes worth 150,000 francs (£6,000) is not at all an unusual thing among the high dignitaries or the richer private persons, in Istanbul. These precious mouthpieces are encircled with rings of gold, enameled, and often enriched with diamonds and rubies. It is, infact, an Oriental mode of displaying the possession of wealth... No Turk, who has any self respect, uses anything but the pure amber."

The unusual and possibly masonic symbols that adorn the wooden frame are particularly intriguing. The only Ottoman Sultan who was a Freemason was Murad V (1840-1904), the son of Abdulmecid. On a trip to England with his uncle the Sultan Abdulaziz, he met and became friends with the future king and Prince of Wales Edward VII, after which he became a mason in 1867, founding the Murad lodge. The present mouthpieces were formerly in the collection of the granddaughter of Abdulmecid, the last Caliph, and granddaughter of Mehmet VI Vahideddin, the last sultan of the Ottoman Empire.

Other amber water pipe mouthpieces are on display in the Hermitage as part of the former collection of Prince Felix Youssoupoff, the Russian prince who killed Rasputin, having made their way there along with many objects made from Baltic amber after the Bolshevik Revolution of 1917.
Sotheby's. Arts of the Islamic World. 01 Apr 09. London www.sothebys.com photo courtesy Sotheby's