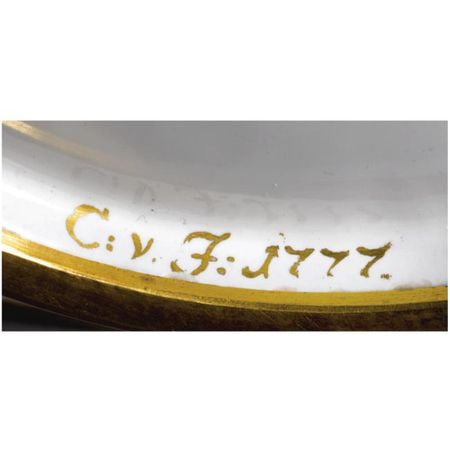 An important pair of covered dishes (Sahans), signed by Christoph von Junger, for the Ottoman imperial market, dated 1777, Vienna, Austria
each of shallow form on a low footring, the stepped domed cover with gilded bud-form finial, painted with floral bouquets on a gilt-decorated white and soft-yellow enamelled ground, rim mounts, signature and date to the inside of the footring (2). 20.8cm. max. diam. Estimate 40,000—60,000 GBP
NOTE: Between 1764 and 1780, the enamelling workshops of the von Jungers flourished in Vienna. Two brothers, Christoph and Johann, continued the factory until 1790, producing an extensive range of products including jugs, coffee pots and zarfs (Turkish coffee pots), which found favour among the ruling classes of the Ottoman Empire. Whilst many works have been attributed to the von Jungers, such as a chocolate pot (published in Susan Benjamin, English Enamel Boxes, Little & Brown, London, 1993), no signed and dated piece has yet been recorded.

In addition to the manufacture of enamels, the von Jungers were authorised by the Austrian court to operate as Hausmalerei, decorators of ceramics who worked independently, outside of a factory. However, Benjamin notes that in 1772 they were arrested for illegally attempting to manufacture porcelain (Ibid, p.101). The present pair then, displaying the exceptional finesse of von Junger-wares, has very likely been part of that 'illegal' production, making them even more interesting.

Importantly, these are the only known signed and dated pieces executed by Christoph von Junger. Almost certainly produced on royal commission during the reign of Sultan Mustafa III (r.1757-1774), these sahans are notable for their exceptional quality and excellent condition.
Sotheby's. Arts of the Islamic World. 01 Apr 09. London www.sothebys.com photo courtesy Sotheby's