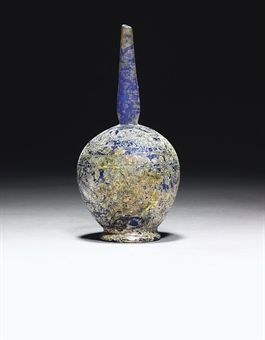 A Diamond Engraved Blue Glass Bottle, Possibly Nishapur, North East Iran, 9th Century
With rounded body rising from slightly flared foot to tall slightly tapering neck, the body engraved with a register of reciprocal triangles filled with concentric roundels, above and below a minor band of dotted motifs, around the shoulder a register of kufic inscription and a further band of triangles filled with hatching, neck restored. 7 5/8in. (19.3cm.) high - Estimate £20,000 - £30,000
Notes: The inscription around the shoulder is a verse from the Mu'allaqa of Tarafa bin al-'Abd and reads: satabdi laka al-ayyam ma kunta jahilan wa ya'tika [bi'l-akhbar man lam tazud] (Time will reveal to you what you are ignorant of and will bring you [news you were not prepared for]).

A group of dishes of similar decoration to this were found in the Famen temple in the north of Fufeng County, Shaanxi province, dateable to before 874 AD. (An Jiayao, Dated Islamic Glass in China, in Bulletin of the Asia Institute, n.s., 5(1991), pp.123-137 esp. figs.3-5, pp.126-7). Dishes are more frequently encountered, but another flask was in these Rooms 26 April 1994, lot 314, and a similar though smaller jug is in the al-Sabah Collection (Stefano Carboni, Glass from Islamic Lands, London, 2001, no.2.9a, p.113).

It is very rare indeed to find an inscription on a vessel of this group.
Christie's. Art of the Islamic and Indian Worlds 31 March 2009 . London, King Street. www.christies.com Image 2009 Christie's Ltd