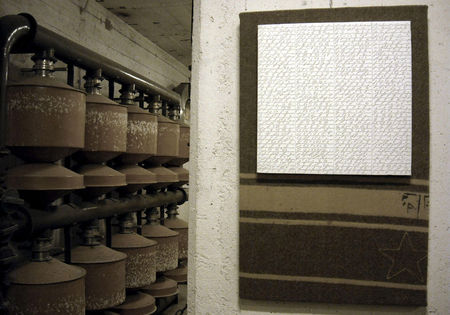 The bunker that fascist dictator Benito Mussolini built in Rome has now been converted into an art gallery where contemporary works of art will be shown. A work of art made by artist Alfredo Rapetti appears beside the machines that provided energy and ventilation to the bunker. Photo: EFE/Iván Fombella
ROME.- The bunker that fascist dictator Benito Mussolini built in the EUR neighborhood in Rome will now be used as an art gallery where contemporary artists will show their work.

In the 475 square meters that the underground shelter occupies there now is an exhibition of paintings and installations made by Italian artists Alfredo Rapetti, Fabiana Roscioli and Riccardo dalla Chiesa, which are part of the exhibition titled "Confrontations" organized by the city of Rome and the art gallery Ca D"Oro.

Il Duce had workers build under his private residence, in Villa Torlonia, and under his office at Venice Palace, two of the largest underground enclosures in Rome, apart from the bunker at EUR.

It's an oppressive space, that contrasts with the pleasures of the arts, with large and narrow halls divided by cement pillars and separated from the exterior by a wall 20 centimeters thick and a vacuum measuring 1.25 meters between the exterior and the bunker.

Situated under the "Palazzo degli Uffici" in the Roman neighborhood EUR, built by Il Duce as the site for Rome's World Fair in 1942 (which never happened because of the war), the construction of the bunker was solicited by Mussolini himself to protect employees and high ranking officials that worked in the building.

The visitor goes inside through a staircase situated on the side of the building which leads to an armored and gas-proof door.

From this point, art fuses with the remains that remind the horror of the war and substitutes the wooden benches stolen after the war where refugees waited for the bombing raids to end.

According to the EUR Spa Society, which administrates public buildings in the neighborhood, the bunker could hold up to 300 persons, divided according to their professional category.

One can still see reminders of its original purpose, such as two stationary bicycles that would feed a dynamo that gave energy to the whole complex and to the ventilation system.

At the same time, in the main hall one can see elements that remind the visitor of their use as headquarters by military men, who prepared there to defend Rome from the Allies in World War II.

Among those items are gas masks, a calendar dated September 8, 1943, the day when Marshal Pietro Badoglio signed a truce, and a mannequin dressed with the military uniform the soldiers used.

The three participating artists in the exhibition integrate their works of art in a peculiar place such as this.