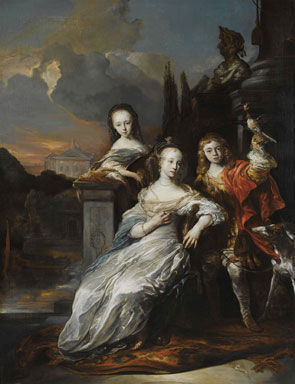 Jan van Noordt, Family portrait. oil on canvas, 157 by 121.5 cm. Estimate €100,000 - 150,000. © Sotheby's Amsterdam
AMSTERDAM.- The sale of Old Master Paintings at Sotheby's Amsterdam on 5 May offers great landscapes, still-lifes, portraits, biblical and genre scenes by Dutch old masters from the 15th to 18th century with a special focus on the Dutch Golden Age.

One of the highlights is a stunning family portrait by Jan van Noordt which is remarkable for its quality, elegance, coloring and size. Jan van Noordt (circa 1623/4-1676) depicts three aristocratic young children in lavish clothing in front of their family country estate .The boy is holding a falcon on his hand and a dog on a leash. His two sisters, wearing pearl jewellery, are dressed in white satin gowns with blue shawls; the standing girl is holding a lute. The identity of the three children is unknown, but they are no doubt related to one of the great patrician families of Amsterdam from whom Van Noordt drew many of his patrons. It will be the first time that this wonderful family portrait can be seen on the open market in over two centuries. The painting, made in the 1670s when Van Noordt was at the height of his powers, can be considered as one of the finest known surviving portraits known by this artist who was a member of Rembrandt's circle in Amsterdam in the mid 17th century. The excellent state of preservation allows us to appreciate Van Noordt's characteristically swift brushwork and his gift as a colorist. Jan van Noordt created some of the most flamboyant and expressive paintings of the Dutch Golden Age. Not much is known about his life and many misattributions of his works have long hidden his significance. Van Noordt was born in a prominent family of musicians and was a student of the Amsterdam painter Jacob Adriaensz Backer whose work was recently on exhibition in the Rembrandthuis Amsterdam (estimate €100.000-150.000).
Willem Willemsz van der Vliet (Delft 1584 - 1642) painted an interesting pair of portraits of Willem Reyersz. de Langue and his wife Maria Pijnaeker. Willem de Langue (1599-1656) was a notary in Delft who was active for several artists including Johannes Vermeer. He married Maria Pijnaeker in 1625, the portraits were painted a year after their marriage. Willem de Langue is wearing a black suit with a black hat is holding notary papers in his left hand. His wife Maria Pijnaecker (1599-1678) is wearing a black dress with white cuffs, collar and headdress, standing next to a table with a bible, holding gloves. Both paintings are signed and dated 1626 and are charged with the coat-of-arms of the sitters, the former upper right, the latter upper left (estimate €80.000 - 120.000).

A fine Trompe l'oeil Hunting still life by Johannes Leemans (The Hague 1633 - 1688) includes a gun, a bird in a cage, a hunting horn, gunpowder horns, a hunting whistle and other hunting equipment. Signed and dated J. Leemans/ 1652, the oil on canvas is estimated €50.000 - 70.000.

A pair of portraits by the Belgian master Jacob van Oost shows us Saint Peter and Saint Paul. Jacob I van Oost was born in Bruges in 1601 and died there in 1671. He worked in Italy from circa 1619 to 1628. Returning to Bruges he accepted an important position in the Guild and received important commissions from convents and churches (estimate €40.000 - 60.000).

Melchior d'Hondecoeter (Utrecht 1636 -1695 Amsterdam) was well known as painter of animals. His grandfather, Gillis d'Hondecoeter (d. 1638) and his father, Gysbert d'Hondecoeter (1604-1653) were landscape and animal painters.

Melchior painted the Menagerie of Stadtholder William III of the Netherlands (King William III of England) at the Dutch Palace Het Loo. Later he settled in Amsterdam. He painted all forms of animal life, but is best known for his depiction of birds and fowl, in which he has few equals.

Very attractive is the present painting of a monkey with four birds in flight. The oil on canvas, signed M.D'Hondecouter, is estimated €40,000 - 60,000.

Juriaan van Streek (1632-1687 Amsterdam) painted a wonderful still-life with peaches and an orange in a Wan-Li kraak porcelain bowl, a Chinese ovoid shaped porcelain jar, a silver-gilt nautilus cup, two glasses, a bread roll and a knife, all on a stone table partly draped with a black velvet cloth. The painting, indistinctly signed: J.v. Stre.k, is estimated €20.000 - 30.000
Willem Willemsz van der Vliet, A pair of portraits of Willem de Langue and Maria Pijnaeker. Both oil on panel, each approx. 113.2 x 86.3 cm. Estimate €80,000 - 120,000. © Sotheby's Amsterdam