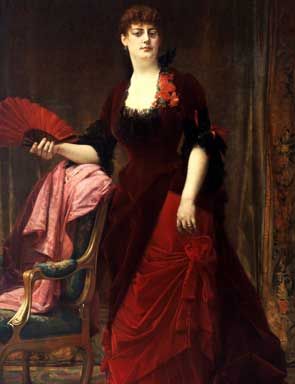 "Mrs. Collis Huntington," 1882, is an oil-on-canvas painting by French artist Alexandre Cabanel (1823-1889). It stands just over 7 feet tall. (Photo courtesy Fine Arts Museum of San Francisco).
RICHMOND, VA.-A fully-furnished 1880s Aesthetic Movement bedroom from a posh New York City mansion has been given to the Virginia Museum of Fine Arts by the Museum of the City of New York.

The gift is additionally meaningful because of the rags-to-riches story of the woman who once owned the room – a native Richmonder of modest means who survived the Civil War and ultimately penetrated the country's wealthiest circles.

Catharine Arabella "Belle" Duval Yarrington was born in Richmond in the summer of 1850. By age 15, she was fatherless in a war-ravaged South, living in Richmond's First Ward near Capitol Square in what was probably a residential hotel operated by her mother. Six blocks away, among the city's notorious gaming halls and bawdy houses, she met John Archer Worsham, the owner of a highly successful "faro bank" – a card-playing establishment in which the proprietor acted as a banker. By the late 1860s, Arabella and her family had moved to New York, where Worsham and his brother owned another faro bank on Broadway. Arabella's relationship with Worsham lasted until 1870. A year later, Worsham's Richmond establishment was raided. He died in 1878.

In 1877, Arabella Worsham – as she was then known – purchased a home built in 1865 on prime Manhattan real estate at 4 West Fifty-fourth Street. In 1881 she commissioned major New York decorating firms to design the interiors for the four-story mansion with its two-story carriage house and elaborate gardens. The bedroom was likely the work of Pottier & Stymus and Sypher & Co.

After her second marriage on July 12, 1884 – to Collis P. Huntington, the mastermind of the Central Pacific Railroad – Arabella was widely regarded as the richest woman in America. The wedding was held at her mansion, nine months following the death of Huntington's first wife. Shortly thereafter, Arabella sold the house to John D. Rockefeller Sr., who left the interiors largely intact. After his death in 1937, his son John Jr. donated three rooms from the mansion to the Museum of the City of New York and the Brooklyn Museum.

As part of an ongoing expansion and modernization of its Fifth Avenue building, the Museum of the City of New York has given the Virginia Museum of Fine Arts the bedroom and its furnishings – citing its size, which could not be accommodated on the renovated floors. (A dressing room and its furnishings will go to New York's Metropolitan Museum of Art.)

VMFA Director Alex Nyerges applauded the New York museum's generosity. "As our museum's only period-room installation, the Worsham-Rockefeller interior will be a highlight of our James W. and Frances G. McGlothlin Galleries for American Art when our new McGlothlin Wing opens in 2010.

"This beautiful bedroom, which strengthens our important Aesthetic Movement holdings in the decorative and fine arts, is a tribute to the vision of a wonderfully creative Virginian, Mrs. Catherine Arabella Duvall Yarrington Worsham, as well as the generosity of two generations of the Rockefeller family whose ties to Williamsburg, Virginia, are equally important."

Dr. Sylvia Yount, VMFA's Louise B. and J. Harwood Cochrane Curator of American Art and an expert on the Aesthetic Movement, says the distinctive bedroom "will reveal Aestheticism's comprehensive approach to interior decoration.

"It will also resonate historically in local and national terms, allowing us to explore themes of personal migration and reinvention in Post-bellum America."

Dr. Susan Jensen Rawles, VMFA's assistant curator of American decorative art, notes that "the bedroom features a stunning suite of ebonized furniture inlaid with stylized leaf-and-vine motifs of Asian inspiration.

"The collection includes a Napoleonic half-tester sleigh bed, various case pieces – bureau, wardrobe, cabinet safe – and damask-upholstered seating, all framed by an intricately detailed architectural setting complete with pale-toned ceiling and wall coverings. A significant highlight of the room is its extraordinarily evocative Turkish niche."

The trustees of the New York museum opted to pay the significant costs of dismantling the two rooms and making them available to other museums in order that they may remain on public view.

"We couldn't be happier about this perfect outcome," says Susan Henshaw Jones, who is the Ronay Menschel Director of the Museum of the City of New York, where the bedroom and dressing room have been on view since 1938. "We feel that Arabella Worsham is going home."

Following her husband's death, Arabella married for a second time – to her late husband's nephew, Henry E. Huntington, with whom she created the renowned Huntington collection at the Huntington Library, Art Collections and Botanical Gardens in San Marino, Cal. She died in 1924.

The Virginia Museum of Fine Arts is on the Boulevard at Grove Avenue. The galleries are open Wednesday through Sunday from 11 a.m. to 5 p.m. VMFA is an educational institution of the Commonwealth of Virginia. Admission to the museum is free. For additional information about the museum's expansion or its exhibitions and programs, telephone (804) 340-1400 or visit the Virginia Museum of Fine Arts Web site, www.vmfa.museum.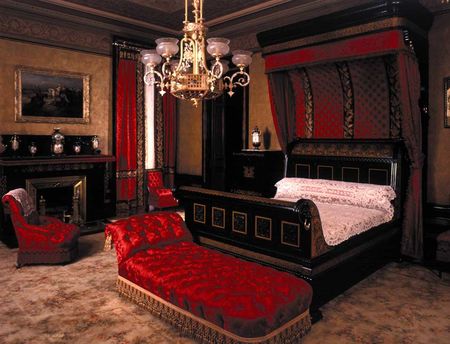 Master bedroom of the Worsham-Rockefeller residence at 4 West Fifty-fourth Street, Manhattan, shown as it was installed at the Museum of the City of New York. (Photo courtesy Museum of the City of New York.)