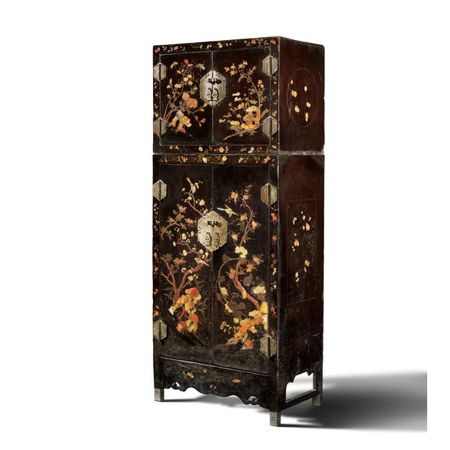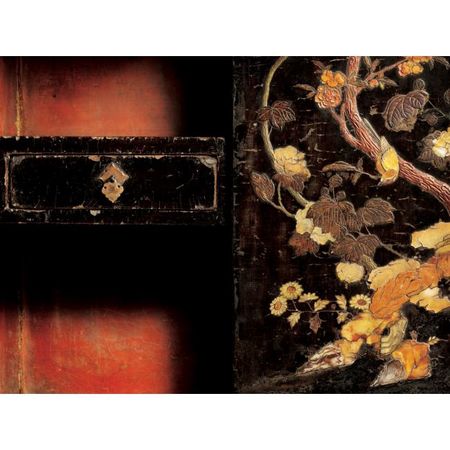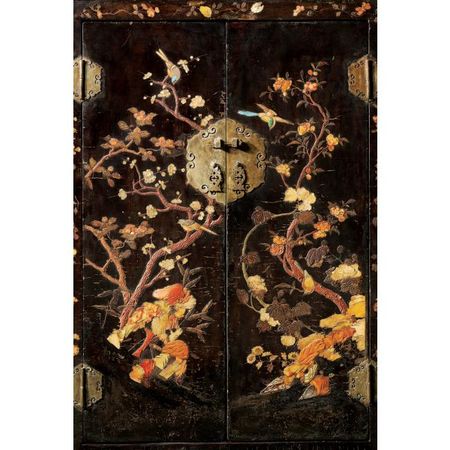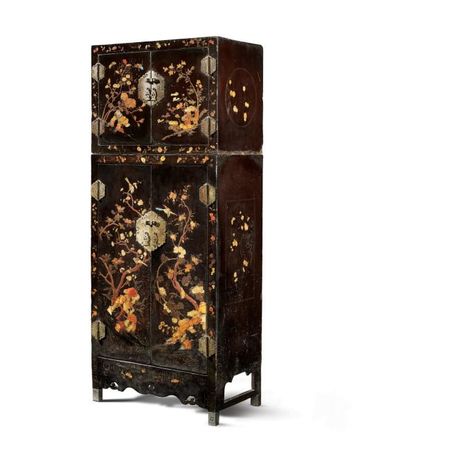 A hard-stone inlaid lacquer compound cabinet. Late Ming Dynasty
the lower cabinet of rectangular form exquisitely inlaid on the doors with soapstone, turquoise, and mother-of-pearl with a naturalistically flowering and fruiting crab apple tree intertwining with a tree peony on the right side, and a prunus tree with a further tree peony on the left side, all emanating from rocks with birds flying above, the frame inlaid with detached fruiting sprigs including citron, pomegranate, longan, camellia and prunus blossoms, all centered on the original baitong hexagonal escutcheons with double-makara pulls, the door hinges similarly decorated, opening to two shelves with two drawers, the interior lacquered in red, the sides each with a rectangular panel enclosing a flowering spray of prunus, all above a cusped apron on the front inlaid with further floral sprigs and baitong capped feet, the top cabinet similarly decorated with prunus, camellias, and two types of chrysanthemums, mounted with matching hinges and escutcheons, the sides each with an incised roundel enclosing either an inlaid sprig of longan or pomegranate with incised leaves, the interior lacquered in red. 209 by 88 by 49 cm. 82 by 34 1/4 by 19 1/4 in. Estimate 3,000,000—5,000,000 HKD
NOTE: Most of the details on this cabinet are very similar to those associated with imperial furniture currently housed in the Beijing Palace Museum. The most unusual feature of this wardrobe is the use of the inlay method known as baibao qian (One-hundred-precious-material inlay), a bolection-type of inlay in which the inlaid materials project above the surface into which they are inlaid like carving in relief, which imparts to the design a strong sense of three-dimensionality. During the late Ming Dynasty the city of Yangzhou in Jiangsu province was famous for its baibao qian material inlay lacquer work, particularly noteworthy was the style associated with the workshop of Zhou Zhu.1 This kind of work circulated rather widely during the late Ming and early Qing. Although the Beijing Palace Museum now houses furniture of the same form and style, all of which are fine quality.
There is a very close example in the Mimi and Raymond Hung Collection of a sloping-stile inlaid lacquer cabinet, illustrated in Robert Ellsworth, Chinese Furniture: The Hung Collection, vol. I, New York, 1996, cat.no. 78. Two other examples, illustrated in Michel Beurdeley, Chinese Furniture, Tokyo, 1979, p.121 of a black lacquer inlaid cabinet with flowers and birds from the C.T. Loo Collection and p. 119 in the Musée Guimet of an inlaid cabinet depicting a landscape. A related black lacquer cabinet inlaid with hardstones depicting 'One Hundred Boys' from the Palace Museum in Beijing is illustrated in Furniture of the Ming and Qing Dynasties (I), The Complete Collection of Treasures of the Palace Museum, Hong Kong, 2002, p. 113, no. 173 (fig. 1). Another related example is a huanghuali two-sectioned cabinet also in the Palace Museum Collection in Beijing, inlaid with hardstone depicting foreigners and mythical beasts, illustrated in ibid. no. 174. Also compare a similar piece, but without the upper cabinet, that was sold in our New York rooms, 7-8th April 1988, lot 390. See also a similarly inlaid cabinet illustrated in Herbert Cescinsky, Chinese Furniture: A Series of Examples from Collections in France, London, 1922. Plate IX (fig. 2).
1Zhou Zhu was active during the Jiajing era (1522-1566), and his works are all labeled either Zhou qian (Zhou Inlay) or Zhou zhi (Zhou Works). Qian Yong in his Lüyuan congzhi (Collected Records from the Garden to Walk In) wrote: "The method called 'Zhou zhi' only occurs in Yangzhou. In the Ming Dynasty a man surnamed Zhou first devised this method, thus it is known as 'Zhou Zhi.' This method uses gold and silver, precious stones, pearls, raw copper ore, turquoise, mother-of-pearl, ivory, amber, and aloes wood to carve landscapes, human figures, trees, elaborate buildings, flowers and plants, birds and animals, which are inlaid into sandalwood, huanghuali wood and lacquerware. Large pieces made this way include screens, tables and chairs, window frames, and bookcases. Smaller items include brush holders, tea services, inkstone cases, items associated with a literary atmosphere, and multi-coloured multifarious objects difficult to describe—all marvelous things that had never existed before."
Sotheby's. Ming Imperial Furniture- The Biegucang Collection. 08 Apr 09. Hong Kong www.sothebys.com photo courtesy Sotheby's