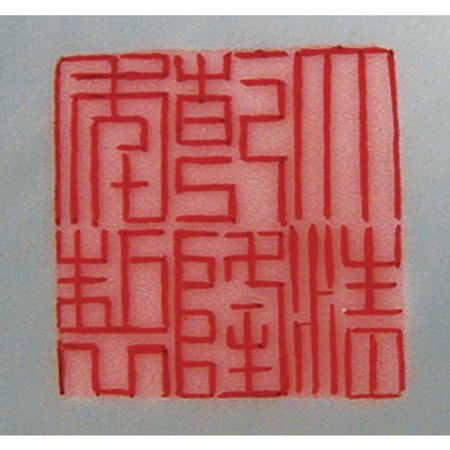 A rare 'famille-rose' turquoise-ground vase moulded with dragons. Seal mark and period of Qianlong
of finely potted bottle form, the globular body supported on a splayed foot, tapering gracefully to a slender slightly flaring neck with a lipped rim, finely and very meticulously moulded in high relief with five uniquely enamelled horned qilong dragons playfully clambering around the sides, one in turquoise, one in pale yellow, one in puce, one in coral-red splashed with gilt, the other in violet, their slender writhing bodies with limbs outstretched and long bifurcated tails, all reserved on a soft turquoise ground decorated in white slip with exotic and ornate flowering and fruiting leafy sprigs, the mouth rim picked out in gilt, the base with a central square reserved in white inscribed with the six-character mark in iron-red. 40.6 cm., 16 in. Estimate 1,200,000—1,800,000 HKD. Lot Sold. 3,500,000 HKD
PROVENANCE: Sotheby's London, 14th December 1982, lot 245.
Sotheby's New York, 1st June 1994, lot 427.
NOTE: Vases of this form are very rare, although a smaller related turquoise-ground vase in the Beijing Palace Museum with similar multi-coloured chilong, but of an ovoid form and covered in a fine gilded lotus and acanthus leaf scroll, is illustrated in Chinese Ceramics: Ching Dynasty, Taipei, 1986, p. 261.
Vases with applied chilong decoration became quite popular on dehua ware from the late Ming Dynasty, although this type of decoration can be seen on celadons as early as the eighth century on Longquan wares and later spread to Jingdezhen by the tenth century. During the Ming dynasty however, the motif gradually waned but potters in Dehua, Fujian, continued to employ it. See a dehua bottle vase from the late Ming dynasty with a chilong wrapped around the neck in the Asian Art Museum in San Francisco, illustrated in He Li, Chinese Ceramics, London, 1996, cat. no. 684. The decorative motif was later revived in the Qing dynasty on porcelains made in Jingdezhen.
A related gilt-decorated brown-ground vase applied with three boys tying a ribbon around the neck was sold in our New York rooms 18th March 2008, lot 117. Another similar vase with boys in the Palace Museum in Beijing is illustrated in China. The Three Emperors, The Royal Academy of Arts, London, 2006, cat. no. 301.
Sotheby's. Fine Chinese Ceramics & Works of Art. 08 Apr 09. Hong Kong www.sothebys.com photo courtesy Sotheby's