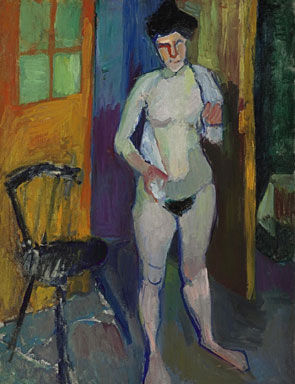 Henri Matisse (1869-1954), Nu à la serviette blanche. Oil on canvas, 31 7/8 x 23 1/4 in. (80.7 x 59.2 cm) Painted circa 1901-1903. Estimate: $2,000,000 – 3,000,000. Photo: Christie´s Images Ltd. 2009
NEW YORK, NY.- A trio of exceptional modern works by Henri Matisse, Alberto Giacometti, and Joan Miró are among the highlights of this spring's Evening Sale of Impressionist and Modern Art on May 6th. These striking master works – a painting and two sculptures – come from the private collection of the late Caral Gimbel Lebworth, a prominent New York philanthropist and arts patron who amassed dozens of paintings and decorative objects from the leading artists of the 19th and 20th centuries during her lifetime. Lebworth was the daughter of Bernard Gimbel, late chairman of Gimbel Brothers Inc., which once owned Saks & Co. and Gimbels, the famed New York department store immortalized in the popular films Miracle on 34th Street and Elf.

Among the outstanding Impressionist and Modern works in the Lebworth collection are Giacometti's Buste de Diego (Stele III), an exceedingly rare full-size bronze bust balanced on a tall, narrow plinth (detail on page one, center - estimate: $4.5-6.5 million); Matisse's Nu à la serviette blanche (estimate: $2-3 million), an early figure painting that captures the artist at a moment of bold innovation; and Joan Miró's Maquette pour Personnage, 1971 (page one right - estimate: $300,000-400,000), a unique study for a monumental 11-foot wide sculpture completed the following year.

Guy Bennett, International Co-head of Impressionist and Modern Art at Christie's said: "The record-breaking prices Christie's achieved in February for The Collection of Yves Saint Laurent and Pierre Bergé proves there is an avid collector base for high-quality Impressionist and Modern works from notable private collections. Each of the works highlighted here represents an important turning point in the artists' creative progression. We are delighted to have been entrusted with the sale of this brilliantly curated American collection."

A stellar example of Matisse's proto-Fauve period, Nu à la serviette blanche has been featured in important exhibitions in Europe and in the United States, including the landmark retrospective show at the Museum of Modern Art in 1992. Here, Matisse experiments with the vivid color palette and lively brushwork that would coalesce into the collective style of the Fauve movement just a few years later. Painted circa 1902-1903, during a period of intense financial hardship for Matisse, the painting was originally owned by the artist Jean Puy, a friend and fellow member of the Fauve circle.

Giacometti's Buste de Diego (Stele III), a moving portrait of the artist's brother Diego, has been in the Lebworth family collection since 1959 and has not been seen in a public exhibition for more than 35 years. Created in 1957-8 and cast in 1958, it is one of only three versions of its kind to incorporate a stele presentation, a clever device Giacometti created to ensure the bust would meet its observers eye to eye. Of the three elevated portraits, this version is the tallest, most massive, and fully characterized work.

As with Matisse's proto-Fauve nude, Buste de Diego (Stele III) marks a point of departure and exploration for Giacometti. By the end of the 1940s, Giacometti felt he had exhausted the possibilities inherent in the attenuated, stick-like figures he created during the years immediately after World War II. Seeking to reclaim a more realistic and concrete sense of space, he turned to a series of head studies, using his brother, wife, mother and closest friends as models. With Buste de Diego (Stele III), Giacometti realized his vision of creating a renewed iconic image of the universal modern man.

Miró's Maquette pour Personnage is a charming unique study of a monstrous and comical female figure. Created in 1971, the maquette evokes elements of Miró's earlier Femme sculptures, but also hints at the grotesque Mère Ubu figures that were yet to come. Standing just under a foot high on outsized feet, the painted resin sculpture both engages and confuses with its oddly placed anatomical features. Conceived in the years after Miró opened his Palma studio, this maquette and its resulting monumental sculpture signified Miró's desire to add a new dimension to his art – the creation of larger and more imposing sculptures for public streets, gardens, and squares.

A preview of the highlights from the estate of Caral Gimbel Lebworth will be on view in the lobby gallery at Christie's Rockefeller Plaza from April 20 through 24, 2009.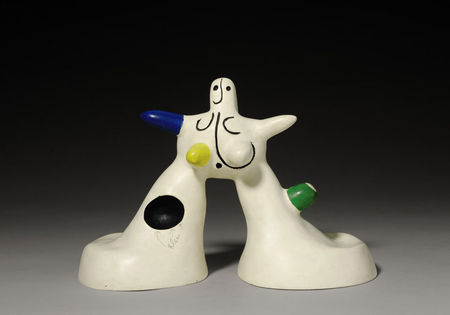 Joan Miró (1893-1983), Maquette pour Personnage. Painted synthetic resin. Height: 10 5/8 in. (27,1 cm) Executed in 1971. Estimate: $300,000 – 400,000. Photo: Christie´s Images Ltd. 2009