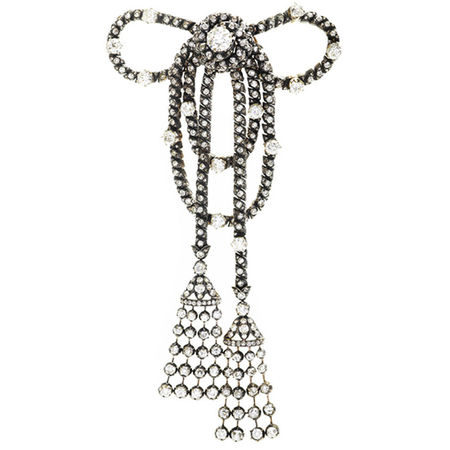 Important Diamond Bow Brooch. French. circa 1870
A Bow Brooch with Tassels. A diamond (approx. 29 cts) bow brooch set in silver and gold with interchangeable pendant fitting. French, 1870 - 1890. Price contact dealer

Note: The diamond bow brooch is comparable to the brooch from the French Crown Jewels recently purchased by the Louvre, shown below, and originally made for the wife of Napoleon III, the Empress Eugénie.

It is known that variations and alterations to pieces in the Crown Jewels were often made so that pieces could be worn in different configurations, and interchangeably adapted for use as pendants, brooches, belt attachments, etc. It is also known that when the jewels were sold in 1887 by the Third Republic, the sales catalogue inspired contemporary copies.

Therefore, based on the style and on the diagonal settings visible in the tassels of one, and in the rope of the other, the brooch exhibited was either part of the French Crown Jewels or a contemporary copy inspired by the sales catalogue.
A La Vieille Russie. 781 Fifth Ave. New York E-Mail: rebecca@alvr.com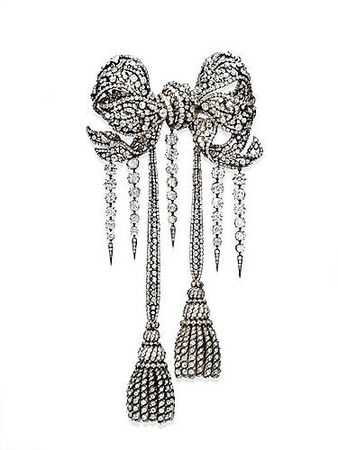 La broche en diamants dite Grand noeud de corsage de l'impératrice Eugénie, réalisée en 1855 par François Kramer, vient d'être achetée par le Louvre. Ce bijou, composé de 2634 diamants, fut acquis en 1887 par la riche Américaine Caroline Astor lors d'une vente aux enchères des bijoux de la couronne de France par la IIIe République. Lors de l'annonce de sa mise en vente le 15 avril par Christie's New York, le Louvre a immédiatement fait part de son désir de faire revenir le bijou en France. Pour des raisons juridiques, la vente aux enchères a été annulée mais le Louvre, grâce au soutien des Amis du musée et du Fonds du Patrimoine, a pu négocier une vente de gré à gré avec Christie's et acquérir le bijou pour 6,72 M €. Le nœud de l'Impératrice rejoindra bientôt les collections de la Galerie d'Apollon au département des Objets d'art du Louvre. Lucie Agache www.connaissancedesarts.com