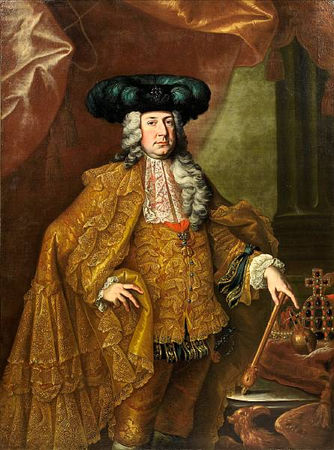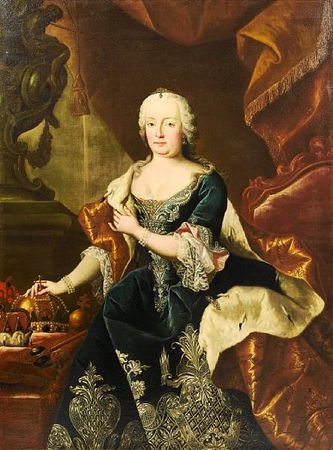 Marten van Mytens II (Stockholm 1695-1770 Vienna), and studio, Portrait of the Emperor Francis I and Portrait of the Empress Maria Theresa
The Emperor, three-quarter-length, in a gold brocade coat and breeches, wearing the Order of the Golden Fleece and standing before a curtain; and the Empress Maria Theresa, three-quarter-length, in a blue velvet dress, seated before a gold curtain. a pair, oil on canvas. 157 x 116.2cm (61 13/16 x 45 3/4in).(2). Estimate: £15,000 - 20,000, €16,000 - 21,000
PROVENANCE: Jay sale, Helbing Frankfurt, 31 May-2 June, 1934, lots 68 and 69

Bonhams. Old Master Paintings, 21 Apr 2009. Knightsbridge www.bonhams.com (Copyright © 2002-2009 Bonhams 1793 Ltd., Images and Text All Rights Reserved)
Francis I (Francis Stephen; 8 December 1708 – 18 August 1765) was Holy Roman Emperor and Grand Duke of Tuscany, though his wife effectively executed the real power of those positions. With his wife, Maria Theresa, he was the founder of the Habsburg-Lorraine dynasty.
He was born in Nancy, Lorraine (now in France), the oldest surviving son of Leopold Joseph, duke of Lorraine, and his wife Elizabeth Charlotte, daughter of Philippe I, duc d'Orléans and Elizabeth Charlotte, Princess Palatine. He was connected with the Habsburgs through his grandmother Eleanore, daughter of Emperor Ferdinand III, and wife of Charles Leopold of Lorraine, his grandfather.
Maria Theresa Walburga Amalia Christina (German: Maria Theresia, May 13, 1717 – November 29, 1780) was the Archduchess of Austria, Queen of Hungary, Queen of Bohemia, Grand Duchess of Tuscany and a Holy Roman Empress by marriage to Francis of Lorraine. She was technically the last member of the House of Habsburg, succeeded by her son Joseph II of the House of Lorraine, the house itself styled as von Habsburg-Lothringen (of Habsburg-Lorraine).
She was born in Vienna, the oldest daughter of Elisabeth Christine of Brunswick-Wolfenbüttel, a sister of the wife of unfortunate Tsarevich Alexei of Russia, and Charles VI, Holy Roman Emperor, whose sole male heir - his son Leopold Johann - died as an infant in 1716. She had 16 children, eleven daughters all having the first name "Maria" in honor of the Virgin Mary and five sons. The youngest daughter was Maria Antonia, better known under her French name, Marie Antoinette, who would be promised in marriage to the future King Louis XVI of France.