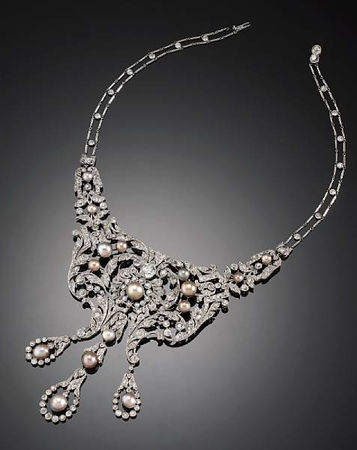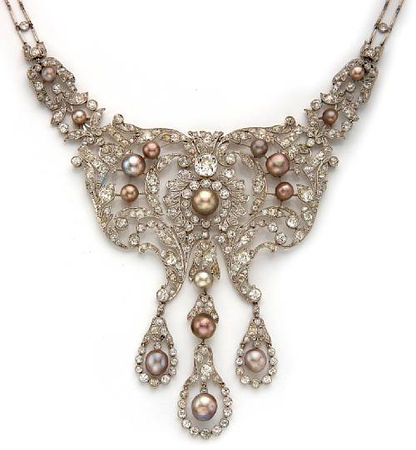 A fine belle époque diamond and natural pearl necklace, Dreicer & Co, circa 1905
designed as a delicate openwork cascade of old European-cut diamonds accented with sixteen slightly off round gray natural pearls measuring from approximately 9.2 to 4.9mm, completed by a diamond-set backchain; signed Dreicer & Co; estimated total diamond weight: 22.50 carats; mounted in platinum; length: 15in. Estimate: $100,000 - 200,000
Footnote: Accompanied by GIA report #2105557187, dated February 5, 2009, stating: natural saltwater pearls, no indication of treatment.

The first known information about the firm of Dreicer & Co. dates to the 1904 Louisiana Purchase Exposition held in St. Louis. J. Dreicer & Son represented the Parisian dealer, A. Eknayan who showed an extensive diamond exhibit at the exposition. Perhaps it was this early introduction into the diamond business that propelled the firm to its ultimate position as a purveyor of beautiful platinum and diamond jewelry.

Although it is not known when the firm opened their doors, between 1910 to the mid 1920's their jewelry was the equal of Parisian styles; an obvious comparison since many of their designs were based on Cartier's models. The firm maintained a shop at 560 Fifth Avenue in New York with a branch located at the Blackstone Hotel in Chicago. According to Penny Proddow and Debra Healy in 'American Jewelry: Glamour and Tradition', Dreicer & Co. were the first American jewelers to introduce the latest diamond cuts from Paris. In 1923, the firm was liquidated and the following year, Cartier in New York bought Dreicer's stock for $2.5 million. Dreicer's collection of paintings were given to the Metropolitan Museum of Art in New York.
Bonhams. Fine Jewelry, 20 Apr 2009. New York, San Francisco and Los Angeles www.bonhams.com (Copyright © 2002-2009 Bonhams 1793 Ltd., Images and Text All Rights Reserved