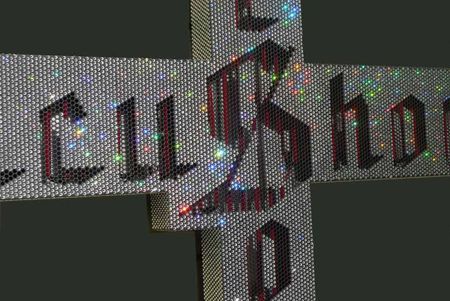 Yan Lei (Tang Contemporary Art), Eternal Value, Diamond, neon lights, steel, 188 cm x 166 cm x 11 cm, 2009
BEIJING.- At its Sixth Edition, CIGE is China's first and most established international art fair, presenting around 84 contemporary art galleries from over 20 countries. In 2009 CIGE strengthens its relations in China, presenting 23 outstanding art galleries from Mainland China and 9 from Taiwan. Solid ties and exclusive networks are established with neighboring Japan and Korea, which are represented at the art fair respectively with 7 and 12 galleries. South East Asia vibrant contemporary art scene also emerges as great protagonist at CIGE, with the participation of 7 galleries from Indonesia, 2 from the Philippines, 1 from Singapore, and 1 from India. In 2009 CIGE widens its artistic horizons through Asia and the Asia-Pacific Region. For the first time in the history of CIGE participating galleries are from Pakistan (1), Mongolia (1), and Australia (2).

Facing the challenges and changes of the economical and political balance of our multipolar and interdependent world, CIGE would like to position itself as a dynamic and unique platform, open to contemporary artistic creations and visions from all over the world. For the first time in its history, CIGE presents art galleries from all the five continents (Asia, Europe, America, Africa, and Oceania).

CIGE 2009 features art galleries from Europe, Italy (3), Spain (3), Germany (3), England (1), Austria (1), and The United States of America (1), and is delighted to welcome galleries from Latin America (Cuba and Mexico), Middle East (Syria and Israel), and Africa (Kenya).

The participation of art galleries from Syria and Kenya marks the first gallery presentation at CIGE of contemporary art from the Arab world and the African continent.

CIGE 2009 continues to focus on contemporary art, encouraging any form of art expression, including photography, video, painting, sculptures, mixed media, installations, prints, textile, design.

Understanding the relevance of technology and globalization on the economic infrastructure of the art world, CIGE 2009 SPECIAL PROJECTS invite galleries, artists, not-for-profit art organizations, museums, institutions, private collection, and visitors to reflect on our contemporary visual culture.

On the Second Floor of the China World Trade Center, MAPPING ASIA presents a selection of solo shows of contemporary artists from Asia. Mapping Asia Solo Projects are evaluated by an international Art Expert Committee of Major Museum Directors and Curators from USA and Europe, which will act as a Jury choosing and announcing the 3 most interesting solo shows in occasion of CIGE 2009 Opening Preview.

CIGE 2009 INTERNATIONAL SOLO SHOWS -also located on the Second Floor of the China World Trade Center- would like to present the works of international artists, who have entered in direct contact with China, valuing the importance of intercultural experience as well as of the capacity of adaptability to the local environment, its bio diversity and cultural richness.

In order to guarantee a display of international artistic quality, CIGE 2009 SUBLIMINALS and VIDEO LOOPS develop collaborations, quality partnerships and strategic alliances with museums, art institutions and cultural centres.

CIGE 2009's FORUM will be co-host by UCCA, The participants invited to the conference are directors and curators of major American and European museums and art institutions who have deep and long relations with contemporary art in Asia.

After the successful collaboration with artist Yang Jun (Vitamin Creative Space) in 2008, this year CIGE invites Peng Hung Chih (Soka Art Center) and Yan Lei (Tang Contemporary Art) to host the PUBLIC ART PROJECTS.

The interactions between the art fair and world wide institutions aim to stimulate dialogue and discussion, giving the cultural centers the opportunity to present their programs of exhibitions, and contributing to enrich cross cultural knowledge in China.

CIGE 2009 will organize art tour to renowned art districts in Beijing as 798 and Caochangdi, various openings and reception will be held during CIGE 2009.

This year CIGE established partnership with Boloni for the 2nd time, 9Dynasty of Boloni group will design and set the onsite VIP lounge for CIGE. French cognac Martell will proves the beverage for the VIP preview party and VIP lounge. CIGE also thanks for the supports from following partners & sponsors: Bloomberg TV, ILLY Coffee, Contemporary Art Society, Modernsky, UCCA, Today museum and all partnered media.