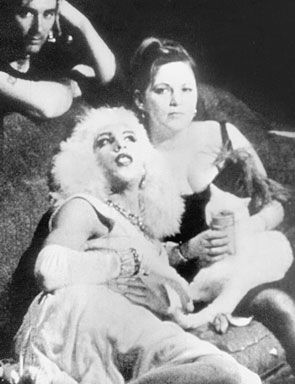 Harlot. (1964). Directed by Andy Warhol. 66 min. Courtesy of the MoMA Film Archive
NEW YORK, NY.- The Museum of Modern Art presents The West: Myth, Character, and Reinvention by Andy Warhol, from May 6 through June 26, 2009, in The Roy and Niuta Titus Theaters. The exhibition brings together eleven films by Andy Warhol that either reference or are set in the American West, including Harlot (1964), Horse (1965), and Lonesome Cowboys (1967-68) among others. The West is organized by Anne Morra, Assistant Curator, Department of Film, The Museum of Modern Art. The film exhibition runs in conjunction with Into the Sunset: Photography's Image of the American West, organized by Eva Respini, Associate Curator, Department of Photography, in the Special Exhibitions Gallery, third floor, through June 8, 2009.

The West begins on May 6 with screenings of Elvis at Ferus (1963) and Tarzan and Jane Regained…Sort Of (1964). After acquiring his first silent 16mm Bolex movie camera in June 1963, Warhol and a few friends embarked on a road trip from New York to Los Angeles to attend the opening of The Ferus Gallery's exhibition devoted to Warhol's silk-screened Elvis canvases. For his first trip to California, Warhol brought along the Bolex and documented the exhibition in what he called a "home movie," Elvis at Ferus. He also shot footage for Tarzan and Jane Regained…Sort Of, a feature length avant-garde adventure that follows Taylor Mead as Tarzan through Hollywood.

Immersed in the fan culture of popular cinema, pulp novels and gossip magazines, Warhol conflated the tawdry images and iconography of Hollywood into his experimental films. The mechanisms used were the parodies of celebrities, exaggeration of their tragic public moments and riotously altered archetypes of the commercial film industry.

The West—particularly Hollywood—as a dynamic concept of fantasy and reality as well as a dramatic geographic location provided Warhol with aesthetic inspiration to produce films such as Horse (1965), an outrageous departure from the traditional Western, to Lupe (1966) employing the heartbreaking biography of Mexican actress Lupe Velez as a campy tribute to Hollywood.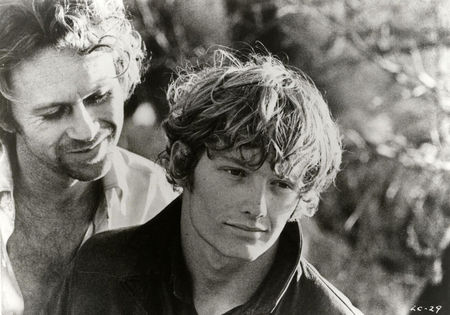 Lonesome Cowboys. (1967-68) Directed by Andy Warhol. 109 min. Pictured: Louis Woldon & Tom Hompertz. Credit: Paul Morrissey