The painting by Filippo Panseca shows Berlusconi with wings approaching a nude Carfagna sitting on the grass in a romantic atmosphere. Photo: EFE
SAVONA, ITALY.- Italian artist, Filippo Panseca, has started uproar in Italy with two paintings that represent, one Prime Minister Silvio Berlusconi, beside Minister of Equal Opportunities Mara Carfagna, and another with the leader's wife, Veronica Lario, with the wings of an angel. The paintings, made from photographs of the three protagonists and painted bodies, are on view in the exhibition Art & Savonnerie, in the city of Savona (northwest Italy).

Some time ago, Berlusconi stated on national television that he would marry Carfagna if he wasn't already married.

This comment made Berlusconi's wife, Veronica Lario, fume with anger and demanded a public apology from her husband.

After all of this, Berlusconi had the nerve to appoint Carfagna as Minister of Equal Opportunities in his new government. Now the couple has been united on a wall in a gallery.

The works of art have been reproduced by most Italian and foreign media and have led to many comments while the artist has stated to regional newspaper Il Secolo XIX that his intention was a tribute to the Italian prime minister.

The first painting shows Berlusconi with wings approaching a nude Carfagna sitting on the grass in a romantic atmosphere. It is an image of Berlusconi superposed on the body of an angel with the genital area covered by a piece of cloth, beside another photo of Carfagna's head, that crowns a body "taken from an artist of the XIX Century", stated the artist, Filippo Panseca.

The second work of art represents the prime minister's wife, also with wings, and whose abundant breasts come out to the forefront, over a group of naked women inspired by Neoclassicism. Panseca, who considers the uproar these paintings have caused is "crazy" and has invited Berlusconi to "have a good laugh" and to make an offer to buy the painting.

"If he does it, I will not keep one Euro, and we will send it all to Abruzzo", where this past April 6 an earthquake killed 295 persons. "Let him put a price, whatever he offers will be fine. It will be the best way to finish this story", the painter said.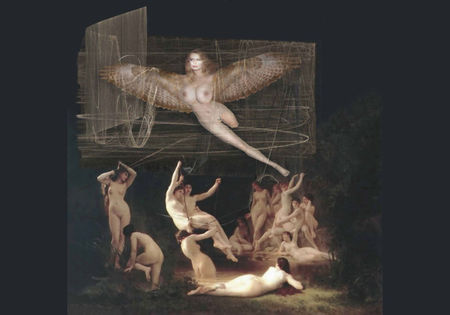 This other painting by Filippo Panseca represents the prime minister's wife, also with wings, and whose abundant breasts come out to the forefront, over a group of naked women. Photo: EFE