Patrick Farrell, The Miami Herald - September 5, 2008
NEW YORK, NY.- The 93rd annual Pulitzer Prizes in Photography awarded on the recommendation of the Pulitzer Prize Board, were announced today by Columbia University.

The winners in each category, along with the names of the finalists in the competition, follow:

For a distinguished example of breaking news photography in black and white or color, which may consist of a photograph or photographs, a sequence or an album, in print or online or both, was awarded to Patrick Farrell of The Miami Herald for his provocative, impeccably composed images of despair after Hurricane Ike and other lethal storms caused a humanitarian disaster in Haiti.

Also nominated as finalists in this category were: Associated Press Staff for its haunting chronicle of death, destruction, heartbreak and renewal when an earthquake devastated Sichuan, China; and Carolyn Cole of the Los Angeles Times for her valorous on-the-spot coverage of political violence in Kenya, capturing the terror as rebellion and reprisals jolted the nation.

For a distinguished example of feature photography in black and white or color, which may consist of a photograph or photographs, a sequence or an album, in print or online or both, was awarded to Damon Winter of The New York Times for his memorable array of pictures deftly capturing multiple facets of Barack Obama's presidential campaign.

Also nominated as finalists in this category were: Carol Guzy of The Washington Post for her powerfully intimate coverage of the perils and sorrow of childbirth in Sierra Leone, where women face the world's highest rate of maternal mortality; and Sonya Hebert of The Dallas Morning News for her empathetic portrait of palliative care in a Texas medical center as terminally ill patients cope with the end of their lives.

Patrick Farrell, 49, has been a staff photographer for The Miami Herald since 1987. His assignments have taken him to Turkey, Haiti, Cuba and throughout Central and South America, as well as the Caribbean.

He was part of the Miami Herald staff that won the 1993 Pulitzer Prize for Public Service for the coverage of Hurricane Andrew's devastation in South Florida.

He graduated in 1981 with a bachelor of arts degree in television and film production from the University of Miami. A native of Miami, he grew up in a family of 12 children and discovered photography at age 13, when he destroyed a bathroom in his parents' home by turning it into a darkroom. (His five sisters still haven't quite forgiven him.)

Farrell started his career working for several small community papers in Florida. He has twice been named the National Press Photographers Association's Region 6 Newspaper Photographer of the Year (in 1992 and 1993). He also was named Southern Photographer of the Year in 1989 and again in 1993 at the Southern Short Course in Photography, the country's longest-running photojournalism seminar.

In 2008, the Herald repeatedly sent Farrell to Haiti, which bore the brunt of the year's Atlantic Hurricane Season. He was there the night Hurricane Ike - the fourth storm to hit Haiti in a month - reflooded the overwhelmed country, swallowing homes and lives. In all, more than 800 Haitians died and more than 1 million were left homeless by the unrelenting series of storms.

Damon Winter joined the staff of The New York Times in May 2007 after working for the previous three years as a staff photographer at the Los Angeles Times. He has also worked for The Dallas Morning News, Newsweek, Magnum Photos, The Ventura County Star and The Indianapolis Star. Mr. Winter has covered a broad range of stories including conflicts in Israel and Afghanistan, 9/11 in New York, the Olympic Games and feature stories in Vietnam, Cuba, Russia and India.

Born in Elmira, NY, on Dec. 24, 1974, Mr. Winter grew up in St. Thomas in the United States Virgin Islands. He has a bachelor's degree in environmental science from Columbia University.

Mr. Winter has won awards from World Press Photo, Picturàs of the Year, Society of News Design, NPPA Best of Photojournalism, APME, and was named the NPPA Region 8 Photographer of the Year in 2002 and the California Press Photographer of the year in 2006. He has been featured in the Communication Arts Photography Annuals 2001-2005 and was the subject of a feature profile in May/June 2005. His photo essay on sexual abuse victims in western Alaska was a finalist for the 2005 Pulitzer Prize for Feature Photography and was part of a portfolio that earned the National Journalism Award for Photojournalism that year.

Mr. Winter now lives in Brooklyn, NY.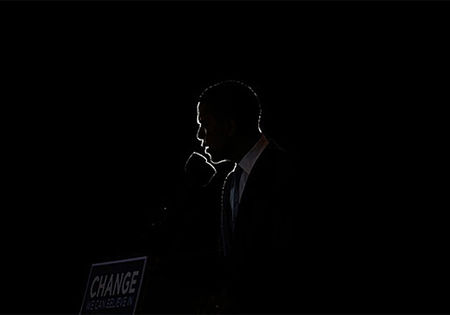 Senator Obama speaking at the Izod Center at the Meadowlands, East Rutherford, N.J. (Damon Winter, The New York Times - 2008)