A Hellenistic terracotta funerary wall painting. Circa 3rd Century B.C.
The painted panel moulded with a simple fascia above and below, and raised pilasters at either side, possibly once surmounted by a pediment, now missing, the scene set against a pale wash ground depicting the deceased, a central male figure, seated on a high-backed throne with a turned newell post and extended red foot-stool infront, his white himation draped over his left shoulder and around his waist, his bare muscular chest and strong arms revealed as he supports his bent right knee in his clasped hands, his head turned to the left, gazing towards the female figure on his right, probably his wife, standing at a three-quarters angle, demurely looking downwards with her left hand held to her chin in a pensive pose, her right arm drawn across her body, wearing a long pale blue chiton with a saffron yellow himation draped over the top and drawn over her head, to the right of this touching scene stands a nude dark skinned male youth, probably their slave standing in three-quarter back view, looking to his left, his right arm gesturing towards his master, to the far right of the panel stands a youthful guard, his legs apart, holding a large circular cream-coloured shield and a long spear, frontally facing, he wears a golden coloured helmet with red ribbons and an arching red plume, the impression of another figure perhaps standing behind him, now worn, 34in x 25in (86.4cm x 63.5cm) Estimate: £150,000 - 250,000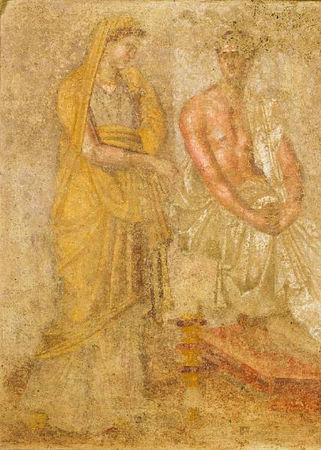 Provenance: Weintraub Collection, California, pre 1970.
Seymour Weintraub, a highly successful film producer was born in New York in 1924 and lived in California, where from the 50s-70s, he built up a large and important collection of coins and antiquities. Between 1975-1979 the Weintraub's donated many pieces from their collection to the J. Paul Getty Museum, including about 7000 coins, several vases, fragments, portraits, mirrors, votive statuettes, heads, fresco and architectural fragments. However the wall painting remained in the family's private collection, where it has resided up until the present day.

Accompanied by a thermoluminescence test, dating the panel to between 1400-2300 years old; a copy of its Art Loss Register certificate, 22 March, 2004; a report by Professor Susan B. Downey, UCLA, April 4, 1997; a scientific analysis and conservation report by John Twilley, 2 June, 1997; a treatment report by Glenn Wharton & Associates, June 3, 1991; and a copy of the valuation of Antiquities from the Estate of Mr & Mrs Seymour Weintraub, by Hollister & Hollister Appraisers, January 27, 1975, where the wall painting is listed as no.532, with a valuation of $450,000.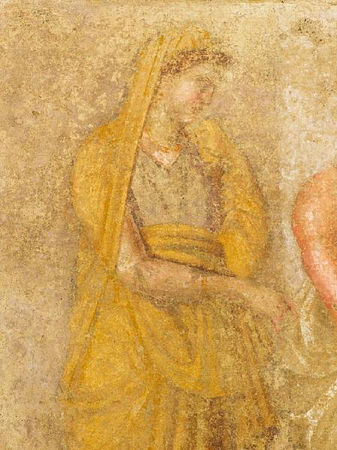 Literature: The Weintraub wall-painting with its quiet, contemplative scene of mourning, is a prime and exceptionally rare example of Greek and Hellenistic funerary art. The group of four figures represent the deceased male, his wife and two attendants. They are very reminiscent of the Attic grave stelai and white ground lekythoi of the 5th-4th Century B.C. Similar but inferior Hellenistic compositions also survive on painted stelai from Demetrias in Thessaly, cf. J. Charbonneaux, R. Martin & F. Villard, Hellenistic Art, 330-50 B.C., (London 1973), pp. 128-131. Like the Weintraub wall-painting, they depict the deceased seated with mourners or attendants.

Women also dominate these funerary scenes and similar figures to the veiled woman on our example, can be seen on the 4th Century 'Mourning Women' sarcophagus from Sidon. Depicted in the modest Pudicitia type, it was their sphere to prepare the dead, and to mourn their passing. The presence of an attendant carrying armour, suggests that the deceased man in this wall-painting was a warrior. The type is often found on lekythoi and stelai, with the female figure sometimes carrying a helmet, or an attendant carrying armour. In this way, the Weintraub wall-painting demonstrates the continuation of the traditional mourning motifs seen on Attic grave stelai and white ground lekythoi, into the 3rd Century.

Very few original Greek and Hellenistic wall-paintings survive, and even fewer are in private hands. Those that do survive, albeit fragmentary and worn, are all that remains to create a sense of the lost masterpieces of Nikias of Athens and Apelles, Alexander the Great's court painter, as described by Pausanias and Pliny. For example the Macedonian tomb paintings at Vergina, display the chiaroscuro and use of perspective described in the literary sources. Cf. M. Andronikos, Vergina: The Royal Tombs and the Ancient City, (Athens 1984), pp. 123-6. The Weintraub wall-painting employs these classic Hellenistic artistic methods, with figures set in three-quarter profile on intersecting planes and the use of foreshortening to add perspective. The clear source of light is evident as is the use of chiaroscuro in highlighting the tonal shading of the figures, techniques that one would expect of Hellenistic painting from the late fourth and early third centuries; similar use of colour and shading can be seen in the early 3rd Century Macedonian tomb painting of Rhadamanthys, cf. J Boardman, Greek Art, (London 1981), pl.231.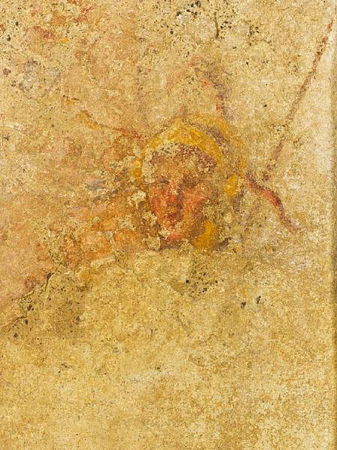 Bonhams. Antiquities, 29 Apr 2009. New Bond Street www.bonhams.com (Copyright © 2002-2009 Bonhams 1793 Ltd., Images and Text All Rights Reserved)