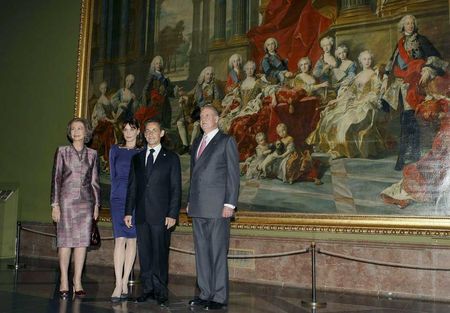 The King and Queen of Spain together with French President, Nicolas Sarkozy (2r), and his wife, Carla Bruni (2l), pose in front of the work of art "The Family of Phillip V" by Louis Michel van Loo in the brand new The First Borbons Hall, a thematic hall that shows portraits of the Borbons made by French painters from the 18th Century. Photo: EFE/Ballesteros.
MADRID:- The state visit that French President Nicolas Sarkozy made to Spain and to the Museo del Prado yesterday afternoon, together with the King and Queen of Spain, coincides with the inauguration by the Prado of the "Guest Work of Art" program, precisely with a work of art that comes from the Louvre, The Penitent Magdalene by Georges de La Tour, as well as the inauguration of the new exhibition hall dedicated to portraits of the Borbon family by French painters. The first guest work of art will be on view until June 28, in hall 5, together with paintings made by the artist which are housed in the museum.

The curator of 18th century paintings, Juan Luna, explained to the visitors the works of art they were viewing, together with the Spanish Minister of Culture, Ángeles González-Sinde, and French Interior Minister, Michelle Alliot Marie, as well as the President of the Trusteed od the Museo del Prado, Plácido Arango, and the Director of the museum, Miguel Zugaza.

The route through one of the most important museums in the world began where starting tomorrow visitors will admire George de la Tour's Penitent Magdalene which is on loan from the Louvre and which is part of the Prado's new guest work program, after both museums signed a collaborative agreement.

The Queen and the Sarkozys, followed by the King, then went into the hall dedicated to the works of art made by Velazquez and all of them admired with great interest. It is one of the most studied paintings in the world, Las Meninas (The Maids of Honour).

After this, the King and Queen and the Sarkozys passed through the first thematic hall that the museum dedicates to the first Borbons as part of its program to rearrange the collections which includes French paintings from the 18th century.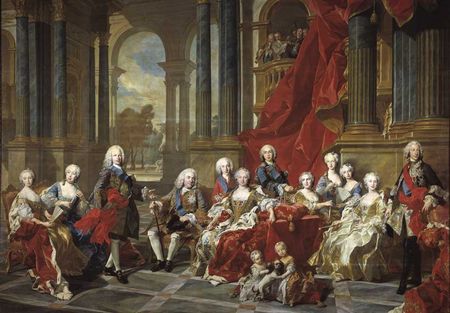 La familia de Felipe V by Louis Michel van Loo