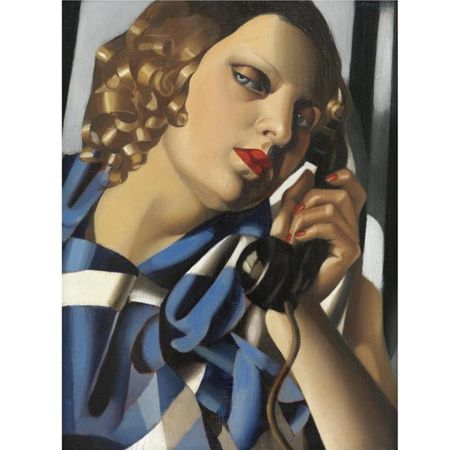 Tamara de Lempicka (1898 - 1980), Le téléphone II
Painted in 1930. Signed Lempicka (upper right) Oil on panel. 35 by 27 cm. Est. 800,000—1,200,000 USD
PROVENANCE: Acquired by the present owner, Wolfgang Joop, in 1980
EXHIBITED: Paris, Galerie Colette Weil, Tamara de Lempicka, 1930
Tokyo & Osaka, Seibu Gallery, Tamara de Lempicka, 1981
Hamburg, Kunsthalle, Eva und die Zukunft: das Bild der Frau seit der französischen Revolution, 1986
Rome, Accademia di Francia (Villa Medici), Tamara de Lempicka, Tra eleganza e trasgressione, 1994, no. 35, illustrated in color in the catalogue
Munich, Kunsthalle der Hypo-kulturstiftung, Der kühle Blick, Realismus der Zwanzigerjahre in Europa und Amerika, 2001, illustrated in color on the cover of the catalogue & p. 224
London, The Royal Academy & Vienna, Kunstforum Wien, Tamara de Lempicka, Art Deco Icon, 2004-05, no. 39, illustrated in color in the catalogue
Tokyo, Metropolitan Art Museum; Fukuoka, Municipal Museum of Art & Osaka, Suntory Museum Tenpozen, Art Deco 1910-1939, 2005
Boulogne-Billancourt, Musée des Années 30, Tamara de Lempicka, 2006
Vigo, Fundación Caixa Galicia, Tamara de Lempicka, 2006
Milan, Palazzo Reale, Tamara de Lempicka, 2006-07, no. 34, illustrated in color in the catalogue
Berlin, Georg Kolbe Museum, Glamour! Das Girl wird feine Dame, 2008
Melbourne, National Gallery of Victoria, Art Deco, 1910-1939, 2008
LITERATURE AND REFERENCES: Pierre Berthelot, "Tamara de Lempicka", Beaux-Arts, Paris, June 20, 1930, p. 23
Germain Bazin & Hiroyuki Itsuki, Tamara de Lempicka, Tokyo, 1980, no. 42, illustrated in color n.p.
Wolfgang Joop, "Tamara de Lempicka, Träume von Mythen und Moden", Pan, Offenburg, May 1987, p. 17
Ellen Thormann, Tamara de Lempicka (Kunstkritik und Künstlerinnen in Paris), Berlin, 1993, no. 67, catalogued p. 224
Gioia Mori, Tamara de Lempicka, Paris 1920-1938, Florence, 1994, no. 78, illustrated p. 177
Alain Blondel, Tamara de Lempicka, Catalogue raisonné, 1921-1979, Lausanne, 1999, no. B.134, illustrated in color p. 221
NOTE: Painted in 1930, the year after Tamara de Lempicka moved into a large Art Deco apartment with a studio on the Left Bank in Paris,
Le Telephone II exemplifies the modernity of the age and of the artist herself. Pulp magazines had gained enormous popularity in the
1920s and the femme fatale become the central figure in these works, soon to be immortalized in the novels of Dashiell Hammett
and Raymond Chandler, and in the film noir classics of the thirties. The brilliantly painted heroine of the present work, with her red lips,
shining nails and curls, brightly checked scarf, and sidelong glance, perfectly captures this powerful figure who was to become such
an icon of the 1930's. The sitter's dramatic pose is not that of a beautiful object to be consumed by her viewer, but is instead a woman filled with dramatic intention.
Lempicka has pointedly empowered her subject through the use of bold contours and colossal scale. This sense of powerful femininity,
combined with the stylistic geometry of her images, reflect her progressive attitude, and the up-to-date nature of her paintings appealed to some of the most fashionable and artistic members of European society in the late 1920s and early 1930s. Lempicka subsequently ``aligned herself with fashion by producing paintings for the covers of Die Dame, a German woman's magazine, and by creating a public identity for herself that epitomized the glamorous heights of fashion'' (Tricia Laughlin, ``Tamara de Lempicka's Women," Art Criticism, New York, January 1998, p. 105).
"Why leave such a modern device as a telephone exclusively to movie close-ups? With her precise brushwork, Lempicka proved this black ebonite object could also be turned into something eminently pictorial" (A. Blondel, op. cit., 1999, p. 220).

Sotheby's. Impressionist & Modern Art Day Sale. 06 May 09. New York www.sothebys.com photo courtesy Sotheby's