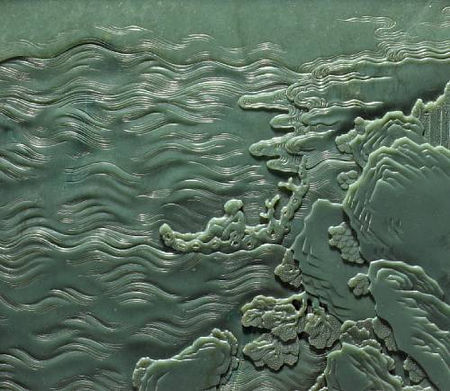 A superb, spinach-green jade table screen. 18th century
The stone of even hue, carved in rectangular form, and at various depth, with the legendary Scholar, Envoy and Western Han Dynasty Traveller, Chang Ch'ien floating on the waves of the Yellow River beside bushes of pine on the adjacent shore; mounted with a later dark-wood stand. Overall dimensions (including stand) 46 x 57.5cm (18 x 22½in). (2). Estimate: £50,000 - 80,000
Provenance: Ex. A Private European Collection.

Note: A very similar scene also appears on a cylindrical jade brush pot from The Summer Palace, Beijing (see illustration and pages 372-3 in 'Chinese Art' by Leigh Ashton and Basil Gray/Faber and Faber, 1935). This Imperial connection is especially interesting since a wine cup in horn, also decorated with Chang Ch'ien's Yellow River Journey, is known to have been inscribed with an Imperial Poem of the Qianlong Period (see No.2948/Royal Academy Exhibition 1935-36). Perhaps, therefore, Chang's travels and diplomacy held a special significance for The Qianlong Emperor.

For other similar iconography in jade see the Ming wine cup on pages 96-97 of 'Chinese Jades in The Avery Brundage Collection/Asian Art Museum of San Francisco' by Rene-Yvon Lefebvre d'Argence (1977). This story is also told by the Yuan Dynasty silversmith, Chu Pi-shan; see his silver cup illustrated on page 58 of 'Chinese Art' by Soame Jenyns and William Watson (Phaidon/revised edition/1980). Interestingly, the latter work discusses a further cup, also attributed to Chu Pi-shan, which is of similar design but where the seated scholar is said to be the famous Tang Poet, Li Po (705-762 AD).

Of course, both Chang Ch'ien and Li Po are associated with the movement of water. Indeed, Li Po's imagery often settles with the motion of a river or stream. His ethereal view that: 'The river rolls crystal as clear as the sky/To blend far away with the blue waves of ocean' summarises Chang Ch'ien's lonely journey to the source of the Yellow River, a spot where, indeed, the sky and the river were said to meet. For, at the spring which became the Yellow River, the celestial beginning of the Milky Way was to be found.

Chang's maritime journey became, therefore, a metaphor for the meeting of sea and sky. And so on one occasion, Chang meets a girl who is weaving beside a man leading an ox. The girl gives Chang a stone which was supporting her loom, commanding him to take the stone to the Astronomer, Yen Chun-p'ing, in order that Chang may know the place where he has visited. The Astronomer confirms that a star has been observed between the Weaving Damsel and the Celestial Man, stating that this was indeed Chang's expedition to The Milky Way ('Dated Chinese Antiquities/600-1650' by Sheila Riddell, page 156 refers).

Sheila Riddell summarises this legend with a translation of the long inscription which appears on the base of Pi-shan's cup: 'Whoso wishes to reach the Milky Way is obstructed by the sky/Once there was a man restless and brave, who penetrated into the silver sea/Alas! Why did he not seek for some embroidery from the Celestial Loom?/He only brought back in his hand a slab of stone which was used for propping up the Loom!'.
Bonhams. Chinese & other Asian Works of Art, 11 May 2009. Knightsbridge www.bonhams.com (Copyright © 2002-2009 Bonhams 1793 Ltd., Images and Text All Rights Reserved)