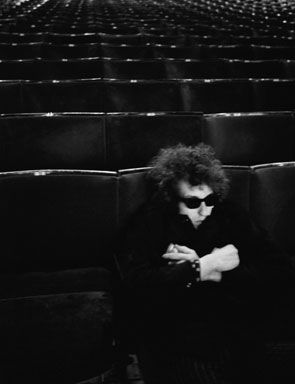 Royal Albert Hall, London 26 or 27 May 1966 by Barry Feinstein. ©Barry Feinstein
LONDON.- Photographs of Bob Dylan's 1966 European Tour by Barry Feinstein will be displayed for the first time in London at the National Portrait Gallery in May. These photographs offer a rare insight into the time when Dylan was arguably at his most controversial and iconic.

Having taken the portrait of Bob Dylan that appeared on the sleeve of his 1964 album The Times They are A-Changin, Feinstein was commissioned by LIFE magazine to photograph the 1966 European tour. It was on this tour that Dylan was famously jeered on stage for using an electric guitar. The photographs on display were taken in Birmingham, Sheffield, Liverpool, London, Bristol, and Paris. These are not conventional hackneyed shots of Dylan performing but a private view of an introspective Dylan captured amongst the endless hotel rooms, engagements and travel involved with the tour.

Feinstein says, 'The shows were thrilling. I would watch from the side of the stage and pick my moment carefully. I was in a unique position, given complete access and trust during a very special period. I saw Bob perform hundreds of times, travelled with him, often spent 24 hours a day with him. Sometimes there were thousands of people at a concert, other times it was just the two of us. I liked his work, Bob liked mine. He knew I would make him look interesting and he 'was' interesting. He was comfortable with me and my cameras.'

Well-known images of Dylan by Feinstein will be shown alongside photographs that were unseen until 2008 when they were published in Real Moments and exhibited at Snap Galleries in Birmingham.

Dave Brolan, curator of this display, says, 'When I first visited Feinstein a few years back at his home in Woodstock New York to discuss a selection of his Dylan photographs Feinstein simply said he didn't have enough to fill a book. "I have about 20 great pictures, that's all'. Having made the journey I asked could I have a look at the rest of his file anyway, he told me I would be wasting my time.'

'I looked through sheet after sheet of unmarked contacts, indicating that none of the 36 images on the roll of film had ever been printed. Many photographers would establish a career with the images Barry rejected. Almost as many photos were left out of the book as appear in it but I left Woodstock with an exciting selection of unpublished images of one of the most photographed subjects of the 20th Century.'

A recipient of over 30 International art director and photo-journalism awards, Feinstein's work has appeared in LIFE, Look, Time, Esquire and Newsweek magazines amongst others. He has photographed more than 500 album covers including those for Janis Joplin, George Harrison, The Byrds, Miles Davis and he has also photographed Hollywood and political figures film stars including Presidents Kennedy and Nixon, Marlon Brando and Steve McQueen. He lives with his wife Judith in Woodstock in New York State.

Feinstein's work will also be included in the forthcoming exhibition Beatles to Bowie: the 60s exposed at the National Portrait Gallery from 15 October 2009 - 24 January 2010.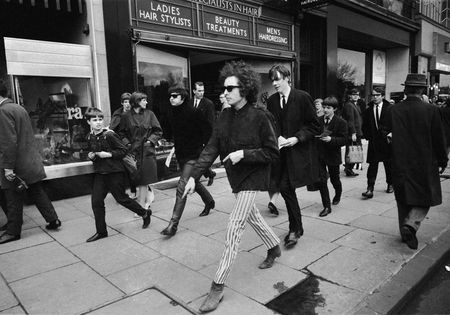 Scotland, possibly Princess Street, 20 May 1966 Edinburgh by Barry Feinstein. ©Barry Feinstein