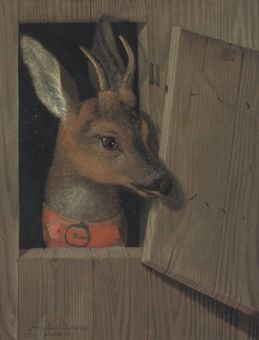 Franz Rösel von Rosenhof (1626-1700) A deer looking out of a stable stall, in a red collar
signed, inscribed and dated 'Francesg Röselin.l. ä Rosenhof fecit Nörimberga.i67i.' (lower right); oil on canvas. 21½ x 17½ in. (54.6 x 44.5 cm.). Est. £15,000 - £20,000 - Lot sold £15,000
Provenance: with Herner Wengraf, London, c. 1989.
Acquired from the above by Thomas Willes, Esq., Brompton Square, London and by inheritance.
Notes: Franz Rösel von Rosenhof was both a landscapist and an animal painter. He studied under Paulus Kolb from 1645 to 1648 and became a master in Nuremberg in 1655, establishing a reputation for his detailed depictions of animals. He consolidated this reputation by winning a much-publicised competition against Christopher Paudiss (c. 1630-66), another famous animal painter, in 1666; Rösel's animals were judged more convincing. Paudiss never recovered from this defeat and died shortly after the competition. From 1673 to 1674 Rösel von Rosenhof worked for Prince Karl Eusebius of Liechtenstein, the first great Liechtenstein art patron. Paintings by Rösel von Rosenhof are recorded in the Alte Pinkothek in Munich, Schloss Schönbrunn in Vienna, the Bamberg Gallery, the Augsburg Gallery and elsewhere.

The present lot is sold with the copy of a letter from Professor Marianne Baumann-Engels, confirming the attribution on the basis of photographs.
Christie's. Glin Castle - A Knight in Ireland. 7 May 2009. London, King Street www.christies.com Photo: Christie's Images Ltd. 2009