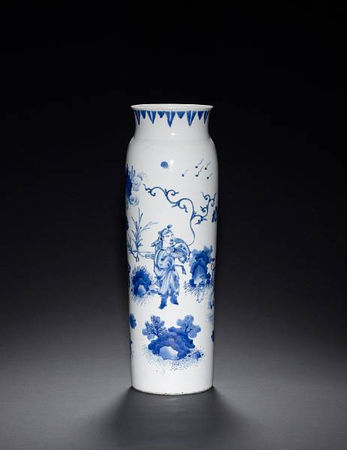 A Transitional blue and white sleeve vase. Chongzhen, Circa 1640
Decorated with an Archer, standing beside three boys, one of the boys carrying a large lotus plant; the base unglazed (restored chip to rim). 47cm (18½in) high. Estimate: £15,000 - 18,000
Ex: A Private European Collection.

There may well be a literary allusion here since, of course, heroes from classical literature were popular themes on the wares of the Ming Dynasty. Accurately identifying a character, however, is a difficult science although the Archer here may refer to a character from 'The Romance of The Three Kingdoms', a novel attributed to Lo Kuan-chung and dated to circa 1330-1400 (the first printed edition dating from 1522). Several archery themes and cameos fill the story.

Herbert A. Giles ('History of Chinese Literature'/1924/pages 277 and 278) highlights two, including an archery competition. One of the heroes, with a skill worthy of Robin Hood, of course, carries away the prize. Another archery story in the novel relates how the military tactician, Chu-ko Liang, manages by stealth and guile to replenish his disappearing stock of arrows.

There is also poetic quality to the Archer's skill. As the bowman Lu Pu rolls up his sleeves to fire, we are told that the bow curves like the 'harvest moon' before the author summarises the moment in verse (see the translation of the novel by C.H.Brewitt-Taylor/ISBN-10:0-8048-3467-9/page 179).

For a more certain reference to the novel on porcelain, see the Kangxi vase illustrated No. 58 in 'Treasures from The Shanghai Museum/Hermitage St. Petersburg Exhibition/2007'. This example portrays a scene from Chapter 56 where another superb archer, Chang Ho, shoots his bow backwards from a galloping horse.
Bonhams. Chinese & other Asian Works of Art, 11 May 2009. Knightsbridge www.bonhams.com (Copyright © 2002-2009 Bonhams 1793 Ltd., Images and Text All Rights Reserved)