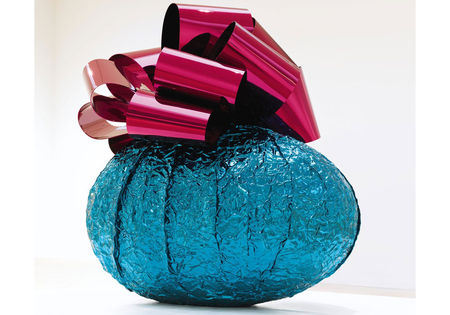 Jeff Koons, Baroque Egg with Bow (Turquoise/Magenta). High-chromium stainless steel with transparent color coating, 83 ½ x 77 ½ x 60 in. 212.1 x 196.9 x 152.4 cm. Executed in 1994 – 2006, this is one of four versions each uniquely colored. Sold for $5,458,500. Photo: Sotheby's
NEW YORK, NY.- "The Contemporary Art market is alive and well," said Tobias Meyer, Worldwide Head of Contemporary Art at Sotheby's and the evening's auctioneer following the sale, which saw a sell-through rate of 81% by lot and 78% by value. "Sotheby's delivered a sale with estimates adjusted to the new reality and the market responded with solid results." The auction brought a total of $47,033,500, nearly reaching the low estimate (est. $51.8/72.4 million). The top lot of the evening was Baroque Egg with Bow (Turquoise/Magenta) from Jeff Koons' Celebration series, which sold for $5,458,500. Several new records were established this evening -- for artists including Martin Kippenberger, Christopher Wool, Dan Colen, Juan Muñoz, and for a work on paper by Charles Ray and a sculpture by Yayoi Kusama.

"We were very pleased that we were able to construct a sale that was recalibrated to the market's expectations" said Alex Rotter, Head of the Contemporary Art Department in New York, "The sell-through rates were significantly better than those we saw in November and are a great achievement in this marketplace. Mr. Rotter continued: "25% of the lots sold for prices above the high estimate, 53.8% at or between estimate and 20% below estimate**. It was very gratifying to see that participation from new buyers has continued, but at the new adjusted levels."

"We used our successful February sale in London as a model and a matrix" said Anthony Grant, International Senior Specialist of Contemporary Art. "The ground feels even more solid right now than February and certainly more solid than November". Mr. Grant continued:" A common thread among the records achieved tonight was that in each case they were for iconic works by the artist, such as the Wool and the Colen. In putting together the sale, we looked for artists who have a solid collector base that would support the works we were offering. For example, the work of Martin Kippenberger is exceedingly rare at auction and he has recently been celebrated with retrospectives at both the Tate and the Museum of Modern Art."

An impressive group of seminal works from the 1980s and 1990s was led by this evening's cover lot, Martin Kippenberger's Untitled from 1988 which sold for $4,114,500 (est. $3.5/4.5 million), a record for the artist at auction. That price was closely followed by the $3,554,500 achieved for Jean-Michel Basquiat's Red Man One, 1982, a classic example of the artist's unique savage typology and radical innovations on the contemporary portrait (est. $3/5 million).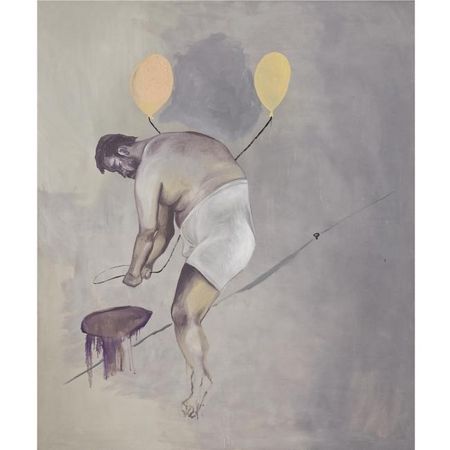 Martin Kippenberger, Untitled, oil on canvas, 94 1/2 x 78 3/4 in. 240 x 200 cm, Executed in 1988. Sold for $4,114,500. Photo: Sotheby's
Jean-Michel Basquiat, Red Man One, acrylic, oilstick and paper collage laid down on canvas and mounted on wood supports, 76 x 47 3/4 in. 193.04 x 121.3 cm. Sold for $3,554,500. Photo: Sotheby's
Leading off the sale were a group of artists rarely seen at auction, and bidders responded. Christopher Wool's Untitled (P105) set a new record for the artist at auction when it sold for $1,874,500 (est. $1.5/2 million), followed by Dan Colen's Untitled (Blow Me), which achieved $386,500, more than twice its high estimate (est. $100/150,000). Charles Ray's Untitled, one of the artist's only works on paper, featuring Superman accosting the protagonist with the demand, "Who the Fuck is Roy Lichtenstein?" sold for $302,500 (est. $300/400,000), a record for the artist at auction.
Christopher Wool, Untitled (P105), alkyd and acrylic on aluminum, signed, titled and dated 1989 on the reverse, 95 1/4 x 63 1/2 in. 244 x 163 cm. Sold for $1,874,500. Photo: Sotheby's
Dan Colen, Untitled (Blow Me), oil on canvas, 67 1/2 x 63 3/4 in. 171 x 162 cm. Painted in 2005. Sold for $386,500. Photo: Sotheby's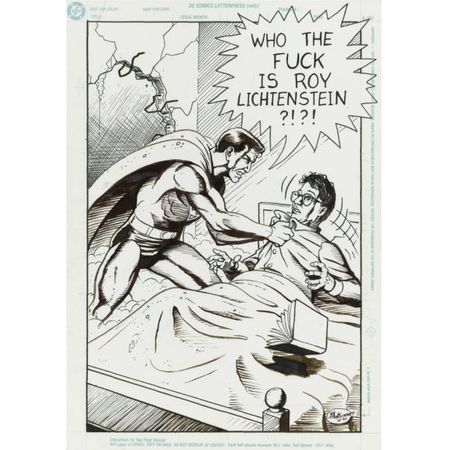 Charles Ray, Untitled, non photo blue pencil, marker and ink on illustration board, signed by Charles Ray on a label affixed to the backing; signed B. McKinney and dated 12- 91, 16 1/2 x 11 1/2 in. 42 x 29.3 cm. Sold for $302,500. Photo: Sotheby's
Alexander Calder's Ebony Sticks in Semi-Circle (est. $1/1.5 million) was highly sought-after and incited the most prolonged bidding war of the evening. Six bidders in the room and on the phone did battle, inching the final price well past the high estimate to the final winning bid of $3,498,500. David Smith's Large Circle (Voltri), inspired by the artist's epic sojourn in Voltri, Italy in May and June 1962, sold for $2,602,500 within estimates (est. $2.5/3.5 million)
Alexander Calder, Ebony Sticks in Semi-Circle, wood, steel and string standing mobile, 54 1/2 x 44 x 27 in. 138.4 x 111.8 x 68.6 cm. Executed in 1934, this work is registered in the archives of the Calder Foundation, New York, under application number A14586. Sold for $3,498,500. Photo: Sotheby's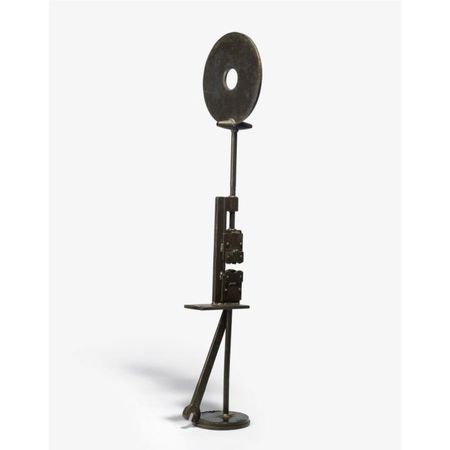 David Smith, Large Circle (Voltri), welded steel, 50 x 12 x 9 1/2 in. 127 x 30.5 x 24.2 cm. Signed, dated Voltri 1962 on the base. Sold for $2,602,500. Photo: Sotheby's