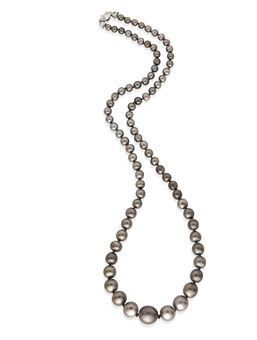 A rare black pearl necklace, by Cartier
Composed of seventy-nine graduated black pearls measuring approximately from 12.0 to 4.5 mm, to the marquise-shaped diamond clasp with old-cut diamond accents, 56.5 cm long, with French assay marks for platinum and gold. Signed Cartier Paris.
Accompanied by report no. 187732 dated 20 January 2009 from the CCIP Laboratoire Français de Gemmologie stating that all 79 pearls are (saltwater) natural pearls 'perles fines', with no indications of colour modification

Accompanied by report no. 53785 dated 28 April 2009 from the SSEF Swiss Gemmological Institute stating that the pearls are natural saltwater pearls, with no indications of artificial colour modification.

Accompanied by report no. 0904373 dated 30 April 2009 from the Gübelin Gem Lab stating the pearls are natural saltwater pearls, with no indications of colour enhancement.
Notes: Black pearls have always been admired for their beauty and rarity. To call them "black" is slightly misleading, as in fact, being produced by nature, they are all a little different and vary from dark grey/black to aubergine with wonderful green or purple overtones. The oyster producing most of the black pearls, that are found off of the Mexican coast, is the Pinctada Margaritifera, which is best known for its black, dark grey and gun metal coloured pearls. The degree of "blackness" is due, in part, to the colour of the shell as well as the black organic substance in the pearl.

It was not until the second half of the nineteenth century that black pearls grew in popularity. This was principally due to Empress Eugnie, wife of Napoleon III, who developed a taste for these exotic gems. In the sale of her jewellery at Christie's in 1872, a black pearl necklace sold for 4,000 ($20,000), a huge sum in those days. Very few black pearl necklaces have been sold in recent years, the most famous being the three-row Nina Dyer necklace, that consisted of 151 pearls and sold at Christie's Geneva in November 1997 for $913,000.
Christie's. jewels : The Geneva Sale. 13 May 2009. Geneva www.christies.com