Lot 57: A Meissen Gold-Mounted Circular Snuff-Box and Cover, circa 1738, The Mounts probably contemporary. The cover painted with Harlequin and a musician entertaining two ladies by an urn and classical ruins in a river landscape, the waisted sides of the box with a continuous river landscape scene with a fortified bridge, a town, ruins and figures by large pedestals, the lower part with large half chrysanthemum and lotus heads against tightly scrolling red foliage, the underside with a harbour scene with figures in conversation, the interior of the cover painted with a musician and companion by a fountain issuing water, in interior richly-gilt.© Christie's Images Limited 2009.
LONDON.- Christie's upcoming sale Centuries of Style: Silver, European Ceramics, Portrait Miniatures and Gold Boxes offers collectors an incredible opportunity to purchase a unique treasure with exceptional provenance, on sale for the first time in nearly two centuries: a Meissen gold-mounted circular snuff-box and cover, circa 1738 (estimate: £25,000-40,000) illustrated above. This enchanting object last changed hands at the historical Christie's sale of The Ralph Bernal Collection in 1855, and was bought for 16 pounds, 10 shillings.

Rodney Woolley, Director, Porcelain Department, Christie's: "Exceptional quality, popular subject matter and superb provenance combine to render this one of the most important snuff-boxes to come to the market in recent years."

Snuff-taking began as an elite pastime during the early 18th century, and snuff boxes were considered prized and distinctively personal items made of gold, porcelain and enamel, and were frequently embellished with precious objects; snuff-boxes did not only serve a functional purpose as a vessel for holding snuff, but were also often exchanged as love tokens or ambassadorial gifts in aristocratic and diplomatic circles.

Traditionally, the image on the inside of the lid of a decorated snuff-box would be the most intricate, with a particularly specialist miniaturist taking on the challenge, whereas another skilled artist might decorate the exterior of the box. The example included in the June sale is no exception, with the interior image taken from a detail of a print by B.Audrian illustrated left, after Watteau. The original painting by Jean-Antoine Watteau (1684-1721), L'Aventurier, circa 1717, is currently in the collection of the Musée des Beaux-Arts, Troyes, France.

The Ralph Bernal Collection, from which the snuff-box originated, was a monumental sale in the history of Christie's, lasting thirty-two days and including over 4,300 lots of furniture, objects and works of art; it was also one of the first Christie's catalogues ever to be illustrated, with woodcuts executed by A.J. Mason. The sale itself took place at the home of the late Ralph Bernal at 93 Eaton Square, London.

Ralph Bernal was a politician, but he was even more widely known for his knowledge and appreciation of art and antiques; he had such a reputation that "whenever he was observed to admire anything it was quite enough to enhance its value in the eyes of the dealers". George Redford, F.R.C.S, of The Times, writing in 1888 named him as "the most accomplished collector of his time", and in reference to the Christie's sale applauded him for "having rendered very considerable public service to art by thus affording the opportunity of acquiring some of the most important representative examples for the British Museum, the South Kensington Museum, and various private collections".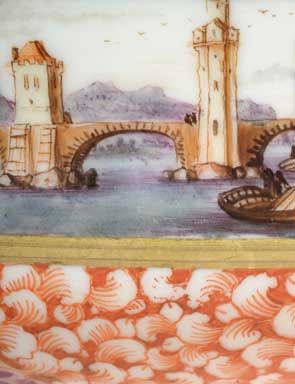 The Meissen snuff-box is to be sold alongside an incredible array of silver, European ceramics, portrait miniatures and gold boxes, including: an important George IV silver-gilt tray, made as part of a large service of plate that was made for Hugh, 3rd Duke of Northumberland in 1823 (estimate: £70,000-100,000); a Chelsea porcelain gilt-metal mounted striking musical table clock, circa 1756-58 (estimate: £20,000-30,000); and a beautifully detailed miniature portrait by John Smart of Lieutenant General Daniel Burr (1749-1828) (estimate: £20,000-30,000). The sale presents collectors and connoisseurs the ultimate opportunity to add to their collections with a wide range of beautiful and rare objects on offer.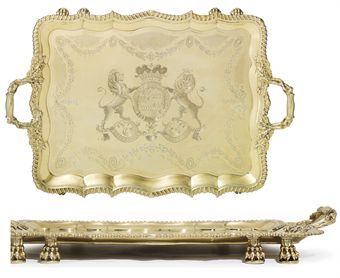 An important George IV silver-gilt tray, Shaped oblong and on eight paired lion's paw feet, with gadrooned border and two oak-branch, oak-leaf and acorn handles, the centre finely engraved with a coat-of-arms below duke's coronet, within a border of ribbon-tied husk and rosette swags hung from oval paterae and with panels of matting, marked on reverse; 31½ in. (80 cm.) long; 247 oz. (7,682 gr.) The arms are those of Lucy quartering Percy, for Hugh, 3rd Duke of Northumberland K.G. (1795-1847). Estimate: £70,000-100,000 .© Christie's Images Limited 2009.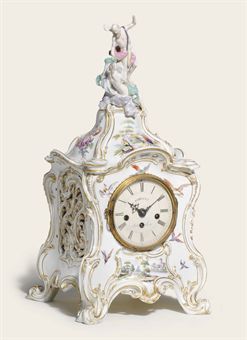 A Chelsea porcelain gilt-metal mounted striking musical table clock, circa 1756-58: The front of the scroll-moulded case painted with birds in flight around the dial, with contemporary pierced blued steel hands and a replacement card dial signed Rimbault/London, above a moulded cartouche with sheep grazing by a river, with elaborate pierced sides and scroll feet, the domed top painted with vignettes of exotic birds, flowers and fruit, surmounted by allegorical figures of Time discovering Truth, the reverse with a square aperture with a gilt-metal frame cast with scroll ornament with a hinged glazed door, the triple chain fusees movement with six ringed pillars, verge escapement and foliate engraved back plate, rack strike on rear-mounted bells, playing a selection of seven tunes on 10 bells via 21 hammers and 11 cm. long pinned cylinder, the tune selection cam signed Stpn: Rimbault London (minor damages and losses to finial, corner finials lacking, minor stress cracks to body, light rubbing to gilding); 20¾ in. (52.8 cm.) high Estimate: £20,000-30,000 © Christie's Images Limited 2009.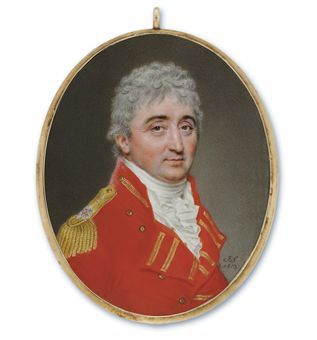 John Smart (British, 1742/43-1811) Lieutenant General Daniel Burr (1749-1828), when Colonel of the 10th Madras Native Infantry, in red uniform with red facings and gold square-ended lace in pairs, gold epaulette bearing two star rank-badges and the Honourable East India Company's coat-of-arms, white waistcoat, white frilled shirt, starched linen cravat, hair worn à l'antique; signed with initials and dated 'J.S. 1803' (lower right); on ivory; oval, 3 3/8 in. (86 mm.) high, gold frame, the reverse with glazed hairwork and opalescent glass reserve centred with the initials 'DB', enclosed in shagreen case lined with green silk (for an example of the case see lot 268) (2) Estimate: £20,000-30,000. © Christie's Images Limited 2009.