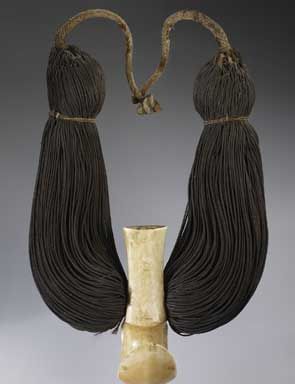 Lei niho palaoa (whale-tooth necklace), Hawaii, first half of 19th century, Human hair, walrus ivory, plant fibers.
MINNEAPOLIS, MN.- An exhibition showcasing the Minneapolis Institute of Arts' recent acquisition of an exceptional early 19th-century Hawaiian necklace made of woven human hair and ivory, along with other necklaces in the museum's collection, is on view June 6 through September 13, 2009. "Unspoken Messages: The Art of the Necklace" features jewelry from many of the world's cultures and made with a variety of materials, including ivory, hair, gold, jade, shell, coral, glass, metal, and marble, as well as precious gems. The jewelry is accompanied by a selection of prints, engravings, and photographs that illustrate how fine-quality necklaces have served as self-ornamentation and as symbols of personal belief for thousands of years in many diverse cultures.

"Unspoken Messages" puts the complex beauty of the necklace front and center. Like other articles of adornment, the necklace communicates many messages about the wearer, among them wealth and status, through the use of precious materials and elaborate designs. Necklaces also encode concepts of cosmopolitanism and worldview, along with cultural and religious beliefs.

Exhibition highlights include the fascinating Necklace (Lei Niho Palaoa) from Hawaii, mentioned above; a 1st-3rd–century necklace from the Mediterranean, finely crafted from glass, gold, stone, and ceramic beads; an exquisite 19th-century piece by Tiffany & Co., Lorgnette and Chain, of platinum, diamonds, and glass; a beautiful coral and gold necklace from 19th-century France; Necklace with Half-Moon Pendant from the Solomon Islands; a necklace from Morocco of silver, amber, beads, and coins; a spectacular early 19th-century piece from India, Gowri Shankaram Necklace, festooned with Rudraksha berries, gold, rubies, and garnets; an Apsaalooka (Crow) Loop Necklace made from animal hide, beads, shell, metal, and plant fiber; a necklace from the Southwestern United States necklace of coral, silver, and turquoise; a silver Miao torque from China; and a necklace of glass, seed pearls, and satin by famed French artist René Lalique.

The prints featured in the show include Edward Steichen's gelatin silver print of Mae West (1933); a sixteenth-century engraving from the Netherlands of Elizabeth, Queen of England by Crispin de Passe the Elder; an oil from 15th-century Italy by Benedetto Ghirlandaio Portrait of a Lady, among others.

"Unspoken Messages: The Art of the Necklace" is on view at the MIA from June 6 through September 13, 2009. Free admission.

About the Minneapolis Institute of Arts - The Minneapolis Institute of Arts (MIA), home to one of the finest encyclopedic art collections in the country, houses more than 80,000 works of art representing 5,000 years of world history. Highlights of the permanent collection include European masterworks by Rembrandt, Poussin, and van Gogh; modern and contemporary painting and sculpture by Picasso, Matisse, Mondrian, Stella, and Close; as well as internationally significant collections of prints and drawings, decorative arts, Modernist design, photographs, and Asian, African, and Native American art. General admission is always free. Some special exhibitions have a nominal admission fee. Museum hours: Sunday, 11 a.m.-5 p.m.; Tuesday, Wednesday, Friday, and Saturday, 10 a.m.-5 p.m.; Thursday, 10 a.m.-9 p.m.; Monday closed. For more information, call (612) 870-3131 or visit www.artsmia.org.