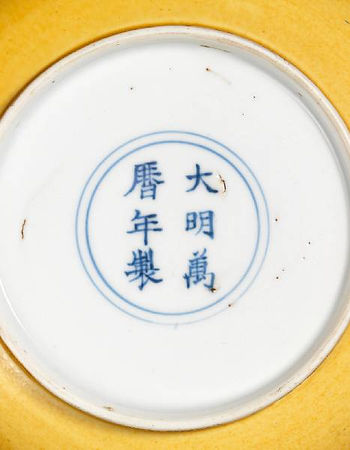 A pair of incised yellow-glazed dishes, Wanli six-character marks and of the period
Each incised with a central medallion enclosing a lotus-flower head, encircled by a band of interlocking rings at the well, all beneath a rich yellow glaze, stopping at the foot ring. 15.6cm (6¼in) diam. (2). Sold for £15,600
Provenance: R.H.R.Palmer, collection label no. 605.
Purchased between 1943 and 1951.

An incised yellow-glazed dish bearing a Wanli six-character mark was exhibited in the Chinese University of Hong Kong Art Museum and is illustrated in Shimmering Colours. Monochromes of the Yuan to Qing Periods. The Zhuyuetang Collection, Hong Kong, 2005, Catalogue no.122.
Bonhams. Fine Chinese Art, 14 May 2009. New Bond Street www.bonhams.com