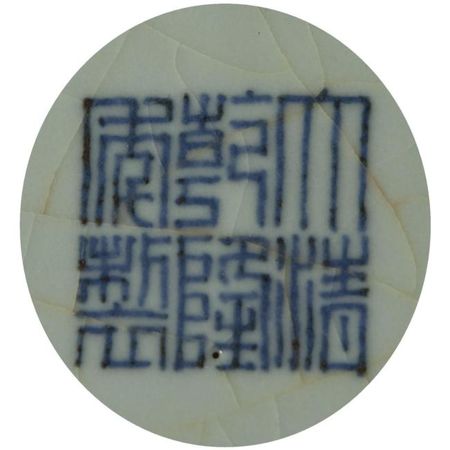 A rare ru-type vase. Qianlong seal mark and period
of baluster form, the flared rim rising from a waisted neck, covered in an even pale bluish-grey glaze, suffuzed with a network of golden-coloured crackle, the unglazed foot ring with a dark purplish-brown dressing, Japanese wood box. 29.2cm., 11 1/2 in. Est. 100,000—150,000 GBP. Lot Sold 121,250 GBP
NOTE: This vase is exceptional for its magnificent size and fine glaze in imitation of Song dynasty 'Ru' ware. The crackled wares of 'Guan' , 'Ge' and 'Ru' of the Song period were highly regarded by the Qianlong emperor who not only collected them but also commissioned the making of new porcelain with similar glaze from the imperial kilns for his appreciation. The present vase is an outstanding example of the very high quality monochrome wares produced in the Imperial kilns at Jingdezhen during his reign.
Although no similar example appears to be published, this vase is comparable with a slightly smaller vessel of hu form, covered in sky-blue glaze, also with a Qianlong reign mark and of the period, illustrated in The Complete Collection of Treasures of the Palace Museum. Monochrome Porcelain, Hong Kong, 1999, pl. 95.
The type is also known in celadon glaze; for example see a Qianlong vase included in John Ayers, Chinese Ceramics in the Baur Collection, vol. 2, Geneva, 1999, pl. 290, with a raised rim and carved decoration; and another celadon-glazed vase sold in our Hong Kong rooms, 10th April 2006, lot 1524.
Smaller crackled Ge-type vases of closely related shape but surmounted with scroll-form handles on the shoulders have been sold at auction; see a vase sold in our London rooms, 10th June 1986, lot 291, and again, in our New York rooms, 20th May 1987, lot 519; and another vessel sold at Christie's London, 4th December 1973, lot 357.
Compare another Qianlong Ru-type vase of similar angled shoulder form, but with a wide foot and the neck flanked by a pair of tubular handles, sold in our Hong Kong rooms, 1st May 2001, lot 525.
Qianlong blue-and-white decorated vases of related form and size, but usually with a straight neck and cylindrical tubular handles, can also be found. For example, see one illustrated in The Complete Collection of Treasures of the Palace Museum: Blue and White Porcelain with UnderglazeRed (III), Shanghai, 2000, pl. 130; and another sold in our London rooms, 12th November 2003, lot 172, painted with large lotus flowers.
Sotheby's. Fine Chinese Ceramics & Works of Art. 13 May 09. London www.sothebys.com