Willie Doherty, still from Ghost Story, 2007. Dallas Museum of Art, DMA/amfAR Benefit Auction Fund, 2008.11 © Willie Doherty
DALLAS, TX.- On May 24, the Dallas Museum of Art will premiere Willie Doherty: Requisite Distance, an exhibition of works by one of the most important artists to emerge from Northern Ireland in the past three decades, and a two-time nominee for the Tate's Turner Prize. The exhibition brings together for the first time Doherty's Ghost Story—a tensely beautiful 15-minute media work based on landscape and memory, recently acquired for the DMA's collection—and a selection of eleven powerful photographs of the Irish and Northern Irish landscape from the 1990s. Organized by the Dallas Museum of Art, Willie Doherty: Requisite Distance will be on view through August 16 in the Museum's first floor Hoffman Galleries.

"Willie Doherty's art joins history, memory, and language into an enveloping experience for the viewer, one that is rich in beauty and apprehension in the same measure," says Charles Wylie, The Lupe Murchison Curator of Contemporary Art at the Dallas Museum of Art and the exhibition's curator. "This is only the second exhibition on Doherty's work to be organized by an American institution, and we are extremely honored to be able to bring this important work to our audiences."

Willie Doherty's interest in the Irish ghost story, as well as being born and raised in Northern Ireland during the time of the Troubles, informs the background for his video installation in this exhibition. Ghost Story powerfully evokes a mind at work trying to recall unsettling things, and the impact troubling memories have on the present day. Through a mesmerizing series of vivid imagery—including a lonely forest path with an ever-receding vanishing point, a darkened city underpass with a mysterious figure, and a pair of eyes perhaps looking to the past or the future—Doherty has created a masterful cinematic tale of quiet suspense whose evocative text (written by Doherty himself) is narrated by the renowned Irish actor Stephen Rea. Ghost Story was critically acclaimed when it appeared at the 2007 Venice Biennale, where Doherty represented Northern Ireland, and the Dallas Museum of Art is the only American museum to have acquired it for its collection.

Ghost Story is paired with eleven large-scale color photographs from the 1990s that depict the famed Irish landscape as a site of barriers and roadblocks set amidst lyrical beauty. Created well before Ghost Story, Doherty's photographs from the 1990s act as precursors and complements to the video work and provide further evidence of the sense of quiet unease unique to his art. Together, these works offer a compelling comparison between how our vision and thought process still and moving images, and will provide an intensely absorbing experience of an undeniably beautiful yet still little understood landscape.

Since the mid-1980s, Willie Doherty's photographs and media works have been included in numerous one-person exhibitions at American and international institutions such as Kunsthalle Bern (1996); Art Gallery of Ontario, Toronto (1996); Tate Gallery Liverpool (1998); The Renaissance Society, University of Chicago (1999); Irish Museum of Modern Art, Dublin (2002); and Laboratorio Arte Alameda, Mexico City (2006). In 2007, an exhibition of Doherty's time-based work was held at the Kunstverein, Hamburg, and the Munich Städtische Galerie im Lenbachhaus, and the Kunstbau. His work has appeared in important international exhibitions such as the Venice Biennale, the Carnegie International and the Sao Paolo Biennial, and is in the collections of major museums in this country and abroad.

Willie Doherty: Requisite Distance is organized by Charles Wylie, The Lupe Murchison Curator of Contemporary Art at the Dallas Museum of Art.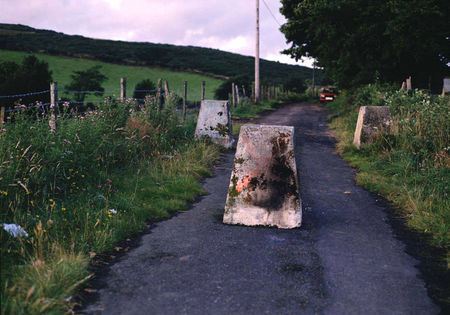 Willie Doherty, Border Road, 1994, Cibachrome on aluminum, 48 x 72 inches/121.9 x 182.9 cm © Willie Doherty