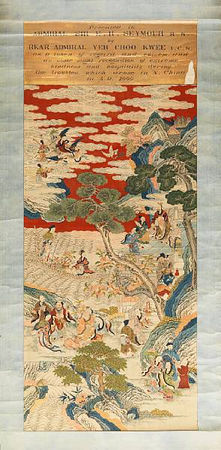 An 'Eight Immortals' kesi panel. The kesi 18th/19th century

Hanging scroll, colour on silk, the mounted scroll decorated with the Eight Immortals, Shoulao and Liuhai and the three-legged toad, engaged in leisurely pursuits in the legendary island of Peng Lai, home to the Immortals, all amidst pine, below cloud scrolls and surrounded by crested waves, above the scroll a gilt paper dedication dated AD1900. Overall 223cm x 93.5cm (87¾in x 36¾in). Sold for £26,400
Note: The dedicatory inscription reads:

'Presented to Admiral Sir E.H.Seymour RN by Rear Admiral Yeh Choo Kwee ICN as a token of regard and esteem and as some slight recognition of extreme kindness and hospitality during the troubles which arose in N. China in AD1900.'

Admiral of the Fleet, Sir Edward Hobart Seymour, GCB OM RN, was the grandson of Rear-Admiral Sir Michael Seymour, 1st Baronet, and nephew of Admiral Sir Michael Seymour. He served in the Black Sea until the evacuation of Crimea in 1856. After the end of the Crimean War, still a midshipman, he was appointed to HMS Calcutta, flagship of his uncle Sir Michael Seymour, on the China station. He took part in the capture of Canton (December 1857). In HMS Chesapeake Seymour took part in the attack on the Taku forts in September 1860.

In December 1897, Seymour was appointed Commander-in-Chief on the China station, where his flagship was the battleship HMS Centurion. Service there was peaceful until the Boxer Rebellion. Seymour led the Naval Brigade in the relief of Beijing. It was following this incursion that the scroll was presented to Admiral Sir E.H.Seymour.
Bonhams. Fine Chinese Art, 14 May 2009. New Bond Street www.bonhams.com