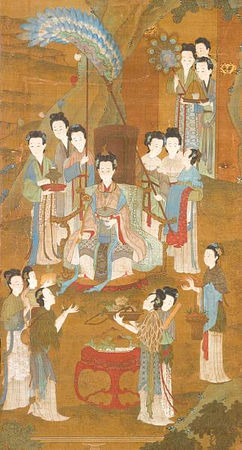 A monumental 'Daoist paradise' ten-fold screen, 18th/19th century

Ink and colour on silk, mounted as a ten-fold screen, finely painted with a Daoist paradise depicting the Eight Immortals and Shoulao, Li Tieguai and Liu Haichan, Laozi riding an ox and Wang Ziqiao on a crane, all directed toward Xi Wangmu seated on a throne surrounded by jade maidens, some bearing peaches, melons and ruyi sceptres, on a large terrace, with numerous other Immortals and attendants riding on birds and dragons and approaching the central terrace by foot, all amidst a mountainous landscape cloaked in clouds and mist.
The screen 218cm x 565cm (85¾in x 222in). Sold for £15,600
Provenance: an Italian private collection, Piedmont

Note: This monumental painting depicts Mount Kunlun, the sacred mountain of Immortality. The Zhuangzi, one of the great Daoist texts (thought to have been composed between BC370 and 280) is the first textual reference to this Daoist paradise:

In the far away mountains of Gushe live divine humans. Their skin is cool as frost and snow; they are shy and delicate as virgins. They do not eat grains, but breathe wind and drink dew. They mount on clouds and ride winged dragons to wander beyond the four oceans. See S.Little, Taoism and the Arts of China, Chicago, 2000, p.36.
Bonhams. Fine Chinese Art, 14 May 2009. New Bond Street www.bonhams.com