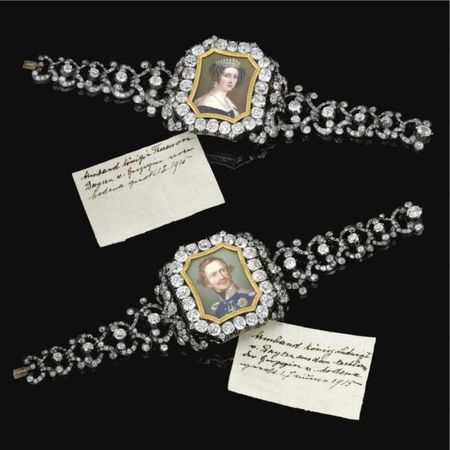 Impressive Pair of diamond bracelets, probably by Caspar Rieländer, mid 19th century
One set with a miniature portrait of Queen Thérèse of Bavaria, née Princess of Saxe Hildburghausen, (1792-1854), the other with a miniature portrait of King Ludwig of Bavaria (1786-1868) in uniform, originally painted by Joseph Stieler, circa 1851, King Ludwig I wearing uniform, embellished with circular-, single- and rose-cut diamonds, the larger ones in cut-down collets, length approximately 170mm, both with fitted cases. Est. 95,000—125,000 CHF. Lot Sold 188,500 CHF
Provenance: Queen Therese of Bavaria (1792-1845)
Adelgunde Duchess of Modena, Archduchess of Austria, her daughter (1823 -1914)
Maria Duchess of Calabria, Princess of Bourbon-Sicily, Princess of Bavaria, her grand niece (1872 -1954)
Thence by decent
LITERATURE AND REFERENCES: Cf: Brigitte Marquardt, Schmuck, Klassizismus und Biedermeier 1780-1850/Deutschland, Osterreich,Schweiz, Münich 1983, pages 18,107 and 154-155, ill.6 to 10
Cf: Diana Scarisbrick, Christophe Vachaudez and Jan Walgrave, Royal Jewels from Charlemagne to the Romanovs, New York 2008, pages 264-267.
Note: Each with a handwritten note stating that these are the private properties of the Duchess of Calabria who received them as an heirloom from the late Duchess of Modena January 1, 1915.
The king is portrayed in the uniform of a field marshal and is wearing the following orders: Max Joseph Ritterorden (knightly order of Max Joseph); Orden der bayerischen Krone (order of the Bavarian crown); Militärdenkzeichen (military badges commemorating 1848/49 and 1813/15); Stern des Hubertusordens (the breast star of the order of St. Hubert) and Stern des Max Joseph Ordens (breast star of the order of Max Joseph).
Caspar Rieländer (1796-1840) was appointed Court Jeweller by King Ludwig I of Bavaria (1786-1868). He ruled in Münich from 1825 until 1848. Court life was especially lively during Ludwig's reign, as he surrounded himself with a sophisticated group of artists and intellectuals. However, the scandal surrounding his liaison with the actress Lola Montez and the tense political situation following the Revolution of 1848 forced him to renounce the throne.
The Schatzkammer collections in the Residenz Museum in Münich still house several jewels designed by Rieländer, including two famous diadems and a striking spinel, ruby and diamond parure, all of which were created for Queen Thérèse of Bavaria. As the two present bracelets are very similar in design and manufacture to the above mentioned pieces it is highly likely that Rieländer produced these jewels.
Sotheby's. Magnificent Jewels and Noble Jewels And A Celebration of Taste and , Magnificent Jewels from a Private Collection. 12 May 09. Geneva www.sothebys.com photo courtesy Sotheby's