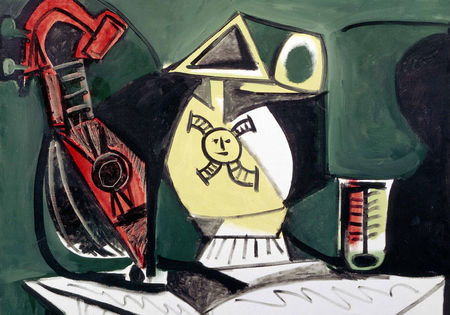 Pablo Picasso, Composition à la mandoline © succession Picasso 2009. Collection particulière, photo Claude Germain – imageArt
AIX-EN-PROVENCE.- The Picasso Cézanne exhibition focuses on the subtle links between these two giants in art: the direct influence of the force of the "father of modern art" on the young artist arriving in France in 1900, or the mature musings of the man who liked to say I live with Cézanne? Even if it is not flagrant in his work, Cézanne was much admired by Picasso and often in his thoughts: Cézanne! He was like a father to us all.

After Cézanne in Provence (2006), the Communauté du pays d'Aix, the Musée Granet and the Réunion des Musées Nationaux are again partners in the organisation of an exhibition in Provence, at the foot of Mont Sainte Victoire. A tutelary figure that Cézanne approached step-by-step throughout his lifetime, but which Picasso embraced energetically, just fifty years ago, not by painting it, but by buying some 2,500 acres on its northern slope and living in the famous castle of Vauvenargues, in the shadow of the sacred mountain. The anecdote is well known: I have bought Cézanne's Sainte Victoire, Picasso told his art dealer Kahnweiler in 1958. Which one? asked Kahnweiler, thinking he was talking about a painting. The original, came the facetious reply.

If the man that Picasso called "Monsieur Cézanne" emerges clearly in some period in his life, particularly during his first ten years in Paris, at other times the relationship is more diffuse, but ever present like a shadowy watermark.

More than a hundred paintings, drawings, watercolours, engravings and sculptures from international collections, divided into four sections, permit us to explore the special relationship between the two artists and at the same time evoke the richness and complexity of all the periods in the Spanish artist's oeuvre.

Picasso looks at Cézanne
This section analyses the relationship between Cezanne's work and that of Picasso, from his early years in Paris until the end of Cubism (1900-1917). Picasso studied Cézanne's work, looking for technical solutions and new fields of experimentation to the extent that his production in 1908-1909 became known as "Cezannian Cubism".

Picasso collects Cézanne
Basically, what is a painter? He is a collector who wants to build up a collection by painting himself the pictures he would like to see in other people's houses. (Picasso to Kahnweiler). Cézanne held pride of place in Picasso's extensive collection both for the number and the importance of his works: View of L'Estaque, Bathers, Château Noir. Picasso also "played at" being an expert, readily giving an enlightened opinion on the quality and authenticity of some of Cezanne's works.

Shared themes, objects, forms and features
The two artists shared a taste for certain subjects: white china fruit bowls, skulls or apples and, of course, bathers of both sexes, men leaning their elbows on a table, men smoking, women sitting in armchairs, Harlequin…

Picasso approaches Cézanne
Picasso bought the forbidding castle of Vauvenargues and lived there from 1959 to 1961. This period was a specific stage in his life and painting. Set apart by his use of colour and treatment of the forms, it includes many masterpieces such as the series of portraits of Jacqueline, the Henry II buffet series or still lifes…

A moving counterpoint, the impressive castle of Vauvenargues, where Picasso lived for only a few years but now rests alongside his wife Jacqueline, will be exceptionally open to the public during the exhibition, under certain conditions.
Trois ans après l'exposition « Cézanne en Provence », le musée Granet propose un nouvel événement majeur. Quelle fut l'influence de Cézanne sur Picasso, le géant de l'art du XXème siècle ?

Cette question, souvent abordée par les historiens d'art, n'a paradoxalement encore jamais fait l'objet d'une exposition internationale. La relation de Picasso à Cézanne était pourtant exceptionnelle, empreinte d'admiration et de respect. L'installation en 1959 de Picasso au château de Vauvenargues, au pied du massif de Sainte-Victoire, illustre en elle-même l'influence exercée par Cézanne. En interrogeant l'œuvre de Picasso par le prisme de sa relation à Cézanne, l'exposition propose une découverte : et si, loin du « mythe Picasso » et de son fracas médiatique, Cézanne était une clé pour pénétrer le « jardin secret » de l'artiste protéiforme, le « Picasso intime » ?

Peintures, sculptures, dessins et gravures mettront en lumière les références majeures, les sources de réflexion et de méditation du peintre espagnol à propos de ce « père » en peinture qu'il s'est choisi.

Le parcours de l'exposition dévoilera quatre thématiques : Picasso regarde Cézanne, de l'arrivée à Paris en 1900 jusqu'à la fin de l'aventure cubiste… Picasso collectionne Cézanne, expert, collectionneur averti, Picasso possèdera, dans sa collection personnelle, plusieurs chefs-d'oeuvre de Cézanne… Thèmes et formes partagés, compotiers, crânes, baigneurs, Arlequin… Picasso se rapproche de Cézanne, acquisition du château et période de Vauvenargues, avec ses chefs-d'oeuvre, Portrait de Jacqueline, série du buffet Henri II ou des natures mortes, début de la série des Déjeuners sur l'herbe.

Une exposition rare, qui permettra au visiteur à la fois d'approcher au plus près les liens privilégiés qui unissent Picasso à Cézanne et de redécouvrir, sous un angle neuf, la richesse et la complexité infinies de l'oeuvre de Picasso.
Quatre parties structurent l'exposition permettant à la fois d'approcher au plus près les relations privilégiées qui unissent Picasso à Cézanne et simultanément d'évoquer, dans sa grande richesse et complexité, l'œuvre de l'artiste espagnol.
Picasso regarde Cézanne, est consacrée aux influences et rapports de l'œuvre de Picasso avec celui de Cézanne dans ses premières années parisiennes.

Picasso collectionne Cézanne, parmi les nombreuses peintures que Picasso posséda dans sa collection, Cézanne tient une place de choix, par le nombre et l'importance des œuvres.

Thèmes, objets, formes et traits partagés, les deux artistes ont manifesté un même goût pour certains sujets. Parmi ces thèmes privilégiés, il convient de citer, dans les natures mortes, les objets partagés : compotier de porcelaine blanche, le crâne ou la fameuse pomme.

Picasso se rapproche de Cézanne, acquisition du domaine et installation de l'artiste au château de Vauvenargues. Même si Picasso ne demeure que fort peu de temps à Vauvenargues, dans son esprit, son installation revêt un caractère pérenne puisqu'il a déménagé là sa collection personnelle de peinture, une grande partie de ses sculptures et son atelier.
Pablo Picasso, Femme au miroir, 1959. Fondation Jean et Suzanne Planque, Lausanne. Huile sur contreplaqué, 102x83 cm © Fondation Jean et Suzanne Planque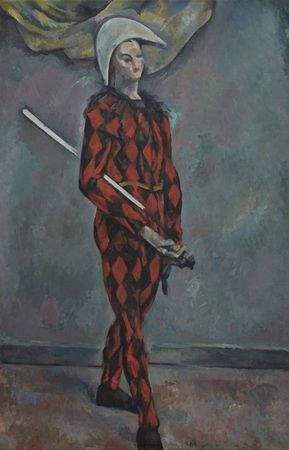 Paul Cézanne, Arlequin, 1888-1890. Huile sur toile, 101 x 65 cm. National Gallery of Art, Washington © Washington, National Gallery of Art © Succession Picasso 2009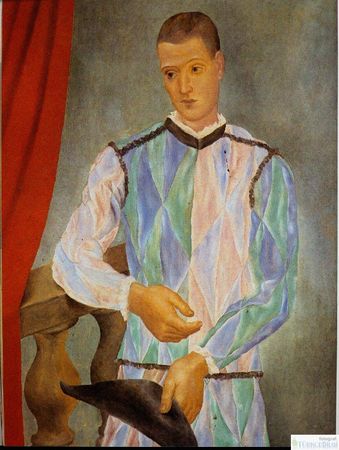 Pablo Picasso, Arlequin, 1917. Huile sur toile, 116x90 cm. Museu Picasso, Barcelone © Museu Picasso. Barcelona – Gasull Fotografia © Succession Picasso 2009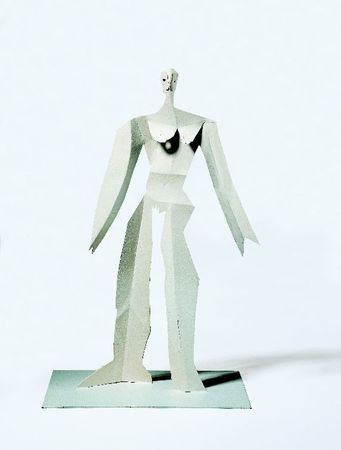 Pablo Picasso, Baigneuse, 1961. Tôle découpée et pliée, 42,3x30x20,8 cm. Collection particulière © Collection particulière © Succession Picasso 2009
Paul Cézanne, Baigneuses, vers 1890, Huile sur toile, 28x44 cm. Musée Granet, Aix-en-Provence © Musée Granet, Aix-en-Provence © Succession Picasso 2009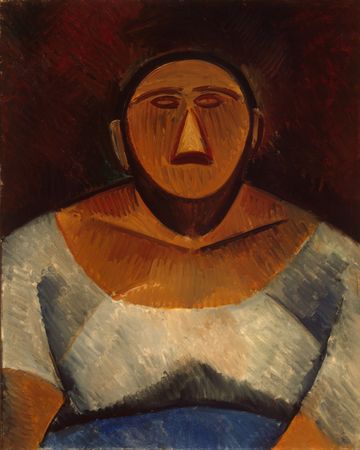 Pablo Picasso, Buste de la fermière, 1908. Huile sur toile, 81 x 65 cm. Musée de l'Ermitage, Saint-Petersbourg © Musée de l'Ermitage, Saint-Pétersbourg © Succession Picasso 2009
Pablo Picasso, Chien au buffet Henri II, 1959. Huile sur toile, 162x130 cm. Collection particulière, photo Claude Germain – imageArt © Collection particulière © Succession Picasso 2009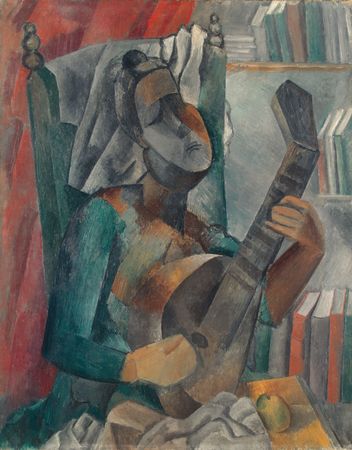 Pablo Picasso, Femme à la mandoline, 1909. Huile sur toile, 92 x 73 cm. Musée de l'Ermitage, Saint-Pétersbourg © Musée de l'Ermitage, Saint-Pétersbourg © Succession Picasso 2009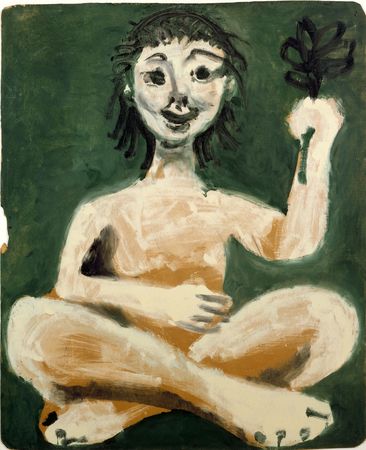 Pablo Picasso, Fillette assise tenant un rameau de feuillage, 1959. Huile sur contreplaqué, 102x83 cm. Collection particulière, photo Claude Germain – imageArt © Collection particulière © Succession Picasso 2009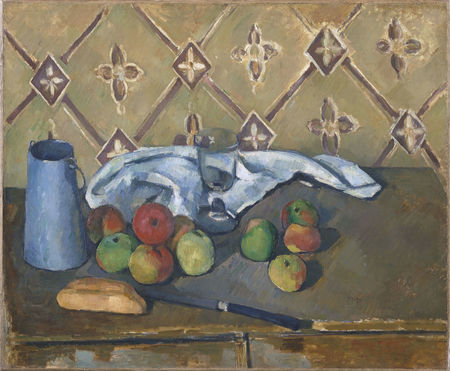 Paul Cézanne, Fruits, serviette et boîte à lait, vers 1880. Huile sur toile, 60 x 73 cm. Musée National de l'Orangerie, Paris © Rmn / Hervé Lewandowski © Succession Picasso 2009
Pablo Picasso, La Desserte, 1901. Huile sur toile, 59x78 cm. Museu Picasso, Barcelone © Museu Picasso. Barcelona – Gasull Fotografia
Paul Cézanne, Gardanne (vue verticale), 1886. Huile sur toile, 80 x 64,2 cm. Metropolitan Museum of Art, New York © New-York, Metropolitan Museum of Art Department of European Paintings © Succession Picasso 2009
Pablo Picasso, Le Village de Vauvenargues II, 1959. Huile et ripolin sur toile, 54x65 cm. Collection particulière © Collection particulière © Succession Picasso 2009

Pablo Picasso, Jacqueline assise dans un fauteuil, 1964. Huile sur toile, 195x130 cm. Collection particulière, photo C. Germain-ImageArt © Collection particulière © Succession Picasso 2009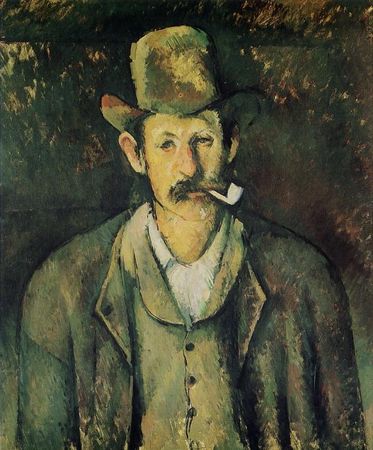 Paul Cézanne, L'homme à la pipe, vers 1896. Huile sur toile, 73x60 cm. The Samuel Courtauld Trust, Courtauld Institute of Art Gallery, Londres © Courtauld Institute of Art Gallery, Londres © Succession Picasso 2009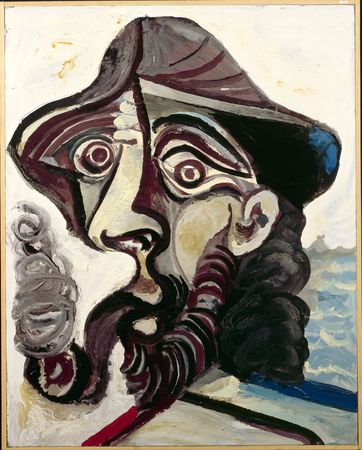 Pablo Picasso, Le Fumeur, 1971. Huile sur toile, 92x73 cm. Collection particulière, photo Claude Germain - imageArt © Collection particulière © Succession Picasso 2009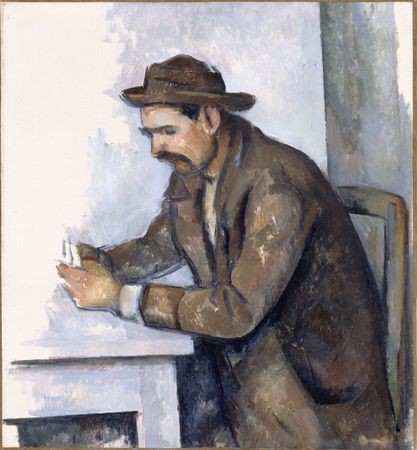 Paul Cézanne, Le Joueur de cartes, 1890-92. Huile sur bois, 50x46 cm. Musée d'Orsay, Paris © Rmn (Musée d'Orsay) / Hervé Lewandowski © Succession Picasso 2009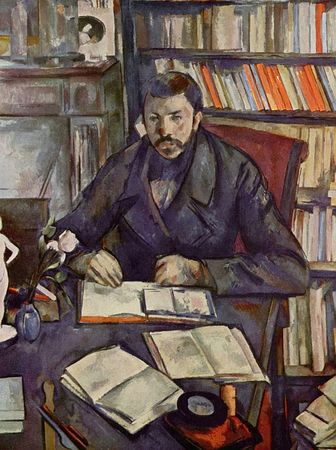 Paul Cézanne. Portrait de Gustave Geffroy, 1895-1896. Huile sur toile, 116 x 98 cm. Musée d'Orsay, Paris © Rmn (Musée d'Orsay) / Hervé Lewandowski © Succession Picasso 2009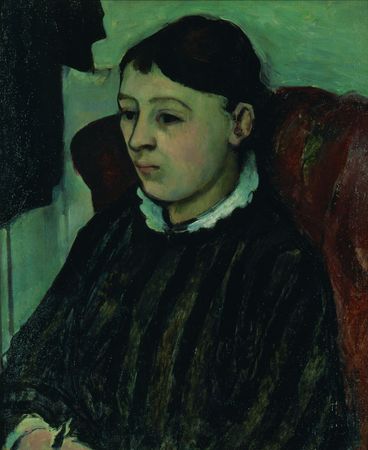 Paul Cézanne, Madame Cézanne en robe rayée, 1883-85. Huile sur toile, 56,5 x 47 cm. Yokohama Museum of Art ©Yokohama Museum of Art © Succession Picasso 2009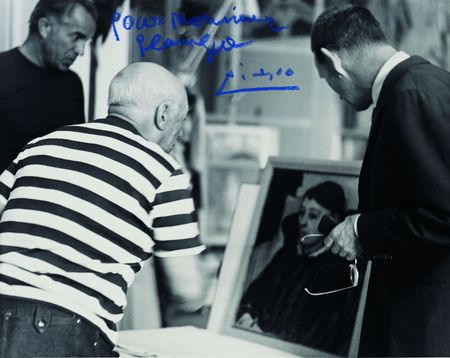 Jacqueline Picasso, Picasso regarde une œuvre de Cézanne, entre Douglas Duncan et Jean Planque. Photographie prise à La Californie par Jacqueline Picasso, le 7 juillet 1960. Fondation Jean et Suzanne Planque, Lausanne © Fondation Jean et Suzanne Planque, Lausanne
Douglas Duncan Photographie. Picasso, Jacqueline et Paulo déplaçant les tableaux de la collection personnelle de l'artiste, notamment la Vue de l'Estaque derrière les arbres de Cézanne, Château de Vauvenargues, printemps 1959. © David Douglas Duncan. Photography collection. Harry Ransom Humanities Research Center. The University of Texas at Austin