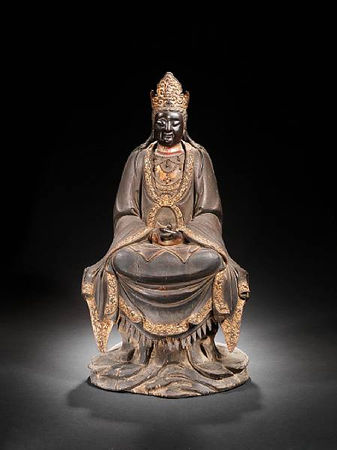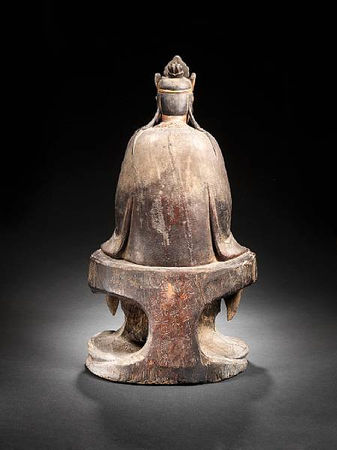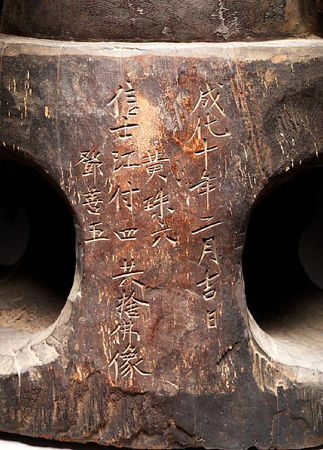 An extremely rare documentary parcel-gilt lacquered-wood figure of Avalokitesvara. Dated 10th year of Chenghua, corresponding to AD1475 and of the period

The figure seated in vajrasana on a pierced rockwork pedestal with graduating crevices, the hands held in dhyana mudra, the finely incised hair falling in braids onto the shoulders and around the ears and swept into a topknot held by a ruyi diadem encircled by the elaborate tri-lobed crown carved with a seated Amitabha amidst cloud scrolls, the face with eyes downcast in a serene expression below the pearl urna, wearing voluminous robes decorated with cloud and wave scrolls held by a ruyi clasp at the chest revealing the undergarment tied with a ribbon, the hems parcel-gilt in relief with lotus blossoms, adorned with a beaded necklace and floral pendant, the reverse of the pedestal inscribed, Japanese box and cover. 76cm (30in) high. (3). Estimate: £200,000 - 300,000 - Unsold.
Provenance: a Japanese collection
Christie's Hong Kong, 31 October 2000, lot 989.

Note; The reverse of the pierced rockwork pedestal is carved with a documentary inscription:

Chenghua shinian eryue jiri, xinshi, Huang Zhuliu, Jiang Fusi, Deng Shanwu, Gongshe Foxiang which may be translated as:

'On the tenth year of Chenghua, the second month of an auspicious day, devotees Huang Zhuliu, Jiang Fusi and Deng Shanwu, donated this Buddhist image'.

However, it is possible that the names of the devotees should be read as six members of the family of Huang Zhu, four members of the family of Jiang Fu and five members of the family of Deng Shan.

Documentary lacquered-wood figures are exceptionally rare and no other figure of Avalokitesvara dated to the Chenghua period appears to have been published.

Compare a polychrome enamelled and biscuit fired figure of Budai, dated by inscription to AD1484, illustrated by J.Harrison-Hall, Ming Ceramics in the British Museum, London, 2001, Catalogue no.19:1, where the author notes that there are three other biscuit fired figures of arhats with similar dedicatory inscriptions to the British Museum figure: a luohan in the Burrell Collection, Glasgow, a seated Guanyin in the Lady Lever Art Gallery, Liverpool, and a Boddhidarma in the Victoria and Albert Museum, London.
A certificate issued by RCD RadioCarbon Dating, Oxford, dated 30 March 2009, confirms a radiocarbon dating to 1460-1650 (95.4% accuracy).
Bonhams. Fine Chinese Art, 14 May 2009. New Bond Street www.bonhams.com