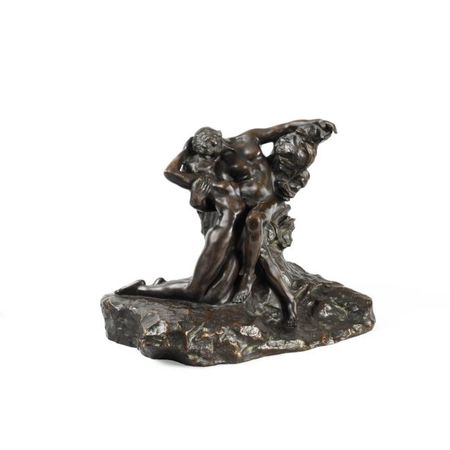 Auguste Rodin (1840 - 1917). Éternel Printemps, second état, 3ème réduction
Conçu en 1884, cette taille réduite en 1898 et fondue entre 1898 et 1918 dans une édition de 80 exemplaires, cette épreuve en bronze fondue en 1903; signé Rodin (sur la base), porte le cachet F. Barbedienne. Fondeur, inscrit D et numéroté 5(8)307...700 (à l'intérieur); bronze. 40 x 49 x 30 cm ; 15 3/4 x 19 1/4 x 11 3/4 in. Est. 200,000—300,000 EUR. Lot Sold 204,750 EUR
Cette œuvre sera incluse dans le Catalogue critique de l'œuvre sculpté d'Auguste Rodin actuellement en préparation par la Galerie Brame & Lorenceau sous la direction de Jérôme Le Blay, sous le numéro 2000V950B.
PROVENANCE: Vente :Galerie Kornfeld, Berne, 19 juin 1998, lot 133
Acquis lors de cette vente par le propriétaire actuel
LITERATURE AND REFERENCES: Ionel Jianou & Cécile Goldscheider, Rodin, Paris, 1967, cat. p. 98, d'autres exemplaires reproduits pl. 56-57
John L. Tancock, The Sculpture of Auguste Rodin, Philadelphie, 1976, no. 32.b, un autre exemplaire reproduit
NOTE: signed 'Rodin' (on the base), stamped 'F. Barbedienne. Fondeur', inscribed 'D' and numbered ' 5(8)307...700' (in the interior), bronze. Conceived in 1884, this size reduced in1898 and cast between 1898 and 1918 in an edition of 80, this example in bronze cast in 1903.
Fig. 1 Auguste Rodin, L'Eternel Printemps dans l'atelier du Dépôt des marbres, début des années 1880. Plâtre photographié par Charles Bodmer avant 1893. © Musée Rodin
Cette épreuve en bronze d'un modèle parmi les plus iconiques de Rodin fut fondue du vivant de l'artiste. Souvent empreinte de grandeur tragique, l'expressive sculpture de Rodin exhibe fréquemment la souffrance humaine dans un style épique. L'Œuvre sculptée de Rodin compte cependant quelques créations qui relèvent davantage du registre sentimental comme en témoigne L'Eternel Printemps. Célébrant l'Amour et le Printemps dans un lyrisme flamboyant, cette œuvre conçue en 1884 n'est certainement pas étrangère à la relation passionnelle que vit alors l'artiste avec Camille Claudel.
Dès sa première exposition au Salon de 1898, L'Eternel Printemps connu un grand succès dont attestent les nombreuses éditions en bronze ainsi que les six exemplaires en marbre existants sur ce sujet. La figure féminine de L'Eternel Printemps est une reprise d'une sculpture élaborée par Rodin en 1882, Torse d'Adèle, qui tire son nom de celui du modèle qui posa pour le sculpteur. Figure des plus sensuelles, on la retrouve tout d'abord à gauche du tympan de La Porte des Enfers puis plus tardivement dans La Chute d'un Ange. Mais c'est opposée à la juvénile figure masculine de L'Eternel Printemps qu'elle apparaît ici sublimée. Le couple enlacé fut originellement interprété comme étant la représentation de Cupidon et Psyché ou encore celle de Zéphyr et la Terre.
Often imbued with tragic grandeur, Rodin's expressive sculptures frequently depict human suffering in an epic style. However certain of his sculptures break away from this sentimental register as demonstrated by L'Eternel Printemps. Celebrating Love and Spring with flamboyant lyricism, this work conceived in 1884 is undoubtedly related to the passionate relationship the artist was experiencing at the time with Camille Claudel.

From its first exhibition at the 1898 Salon, L'Eternel Printemps met with great success as attested by the numerous bronze editions as well as six known marble examples of the same subject. The female figure is taken from a sculpture modelled by Rodin in 1882, Torse d'Adèle, which takes it name from the model who posed for the sculptor. One of his most sensual figures, we find her first to the left of the drum at the La Porte des Enfers then later in La Chute d'un Ange. But it is opposite the young male figure in l'Eternel Printemps here that she reaches her apogee. The intertwined couple was originally believed to have been a representation of Cupid and Psyche or Zephyr and the Earth.
Sotheby's. Impressionist & Modern Art. 28 May 09. Paris www.sothebys.com