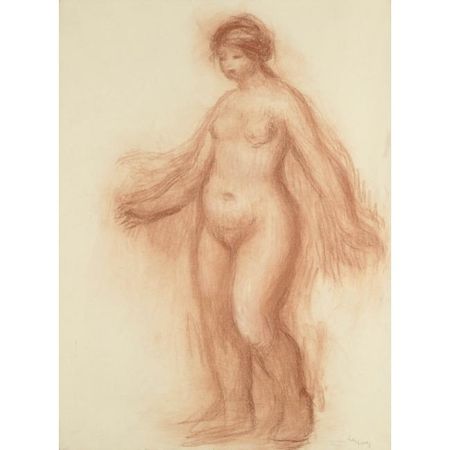 Pierre-Auguste Renoir (1841-1919). Étude pour le jugement de Pâris
Exécuté vers 1913-14. signé Renoir (en bas à droite). sanguine et craie sur papier. 62,8 x 46,8 cm ; 24 3/4 x 18 3/8 in. Est. 50,000—70,000 EUR. Lot Sold 48,750 EUR
PROVENANCE: Otto Wertheimer, Paris
Acquis du précédent en 1954 par le père du propriétaire actuel
LITERATURE AND REFERENCES: Ambroise Vollard, Pierre-Auguste Renoir, Paintings, Pastels & Drawings, San Francisco, 1989, no. 174, reproduit p. 44
NOTE: signed 'Renoir' (lower right), sanguine and chalk on paper. Executed circa 1913-14.

Cette œuvre sur papier est une étude préparatoire pour Le Jugement de Paris, une huile sur toile, achevée par Renoir entre 1913 et 1914, aujourd'hui sur les cimaises du Musée d'Art d'Hiroshima. Cette étude représente l'une des figures centrales de la composition définitive : Aphrodite, dénudée, dont le bras droit, tendu en avant, s'apprête à recevoir la "pomme dorée" des mains de Pâris. Renoir cherche ici à traduire la beauté captivante de la déesse, à célébrer la volupté de ses formes, la sensualité de ses gestes et la lasciveté de sa pose. Le style enlevé de cette œuvre, les traits de sanguine aussi rapides qu'emphatiques, trahissent une obsession de l'artiste pour la forme et le contour, et confèrent à cette œuvre une immédiate et vibrante intensité.
This work on paper is a preparatory study for Le Jugement de Paris, an oil on canvas executed by Renoir between 1913 and 1914, today housed in the Art Museum of Hiroshima. This study represents one of the central figures of the definitive composition: Aphrodite, undressed, with her right arm stretched forward, ready to receive the "golden apple". Renoir here strives to translate the captivating beauty of the goddess, to celebrate her voluptuous form, the sensuality of her gestures and the lasciviousness of her pose. The energetic style of this work, whose sanguine lines are as rapid as they are expressive, betray the artist's obsession with form and contour, and give the work an immediate and vibrant intensity.
Sotheby's. Impressionist & Modern Art. 28 May 09. Paris www.sothebys.com