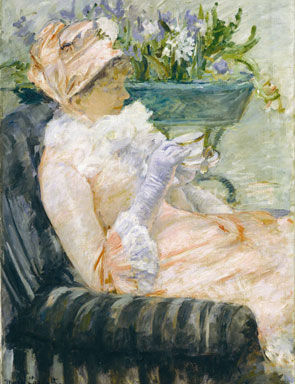 Mary Cassatt (1844-1926). The Cup of Tea c.1880–81. Oil on canvas 92.4 x 65.4 cm From the Collection of James Stillman, Gift of Dr. Ernest G. Stillman 1922 Collection: The Metropolitan Museum of Art, New York
BRISBANE.- American Impressionism and Realism: A Landmark Exhibition from the Met makes available to Australian audiences, for the first time and on an unprecedented scale, a selection of 71 paintings from New York's Metropolitan Museum of Art. The exhibition opened May 30 at the Queensland Art Gallery in Brisbane, the exhibition includes many of the Metropolitan's best examples in the American Impressionist and Realist traditions. These paintings have never before been displayed together and are not likely to be lent again as an ensemble. This groundbreaking presentation features works by 34 painters, renowned and less well-known. Some of the leading figures—such as Impressionists John Singer Sargent, Mary Cassatt, Childe Hassam, and William Merritt Chase, and Realists John Sloan and William Glackens—are each represented by several of their works. American Impressionism and Realism considers how proponents of two styles that flourished about 1900 responded to modern life and to the era's perplexing novelties, and will invite consideration of what they embraced, what they did not, and why. Often saturated with light and color, these paintings are always saturated with meaning.

Background
In the period between the end of the Civil War (1861-65) and World War I, the United States was transformed from an agrarian and conservative nation to an urban, industrialized, and dynamic one. Newly wealthy Americans traveled abroad, eagerly embracing foreign culture. When they returned home, they built houses to rival European mansions, and filled them with imported decorative arts, sculpture, and paintings by Old Masters and leading contemporary European painters.

To compete with their European rivals, many aspiring American artists went to study in Europe—especially Paris, the art capital of the time. Some flourished in an international context and remained abroad. Others returned home and attempted to apply the lessons they learned in Europe to American resources.

Beginning in the late 1870s, American painters Mary Cassatt and John Singer Sargent began to experiment with the style of the French Impressionists, who had made their debut as a group in Paris in 1874. By the mid-1880s, as French dealers introduced French Impressionist works to viewers in New York, Boston, and other cities, American collectors' and critics' enthusiasm for the style grew. By the late 1880s, many American painters who had been studying academic subjects and refined technique in France began to value the Impressionists' candid images of modern life as an appealing alternative to their more traditional approach to making art.

During their student years in Europe, most of the future American Impressionists spent summers working in the countryside alone, in small groups, or in art colonies. A number of these artists were drawn to the village of Giverny, where Claude Monet had settled in 1883. Their conversion to Impressionism was stimulated by their experience here, and Giverny became a model for art colonies they would later establish elsewhere in Europe or in the United States.

About 1900, American Realists—many of whom had worked as newspaper illustrators and were based in New York—set themselves apart from and challenged the American Impressionists. The Realists rejected the Impressionists' genteel, insistently positive accounts of modern life and concentrated instead on portraying New York's vitality and recording its seamier side. Stylistically, they rejected the inspiration American Impressionists had found in the high-keyed canvases of Monet and his associates in favor of the darker palette and gestural brushwork of Velázquez and Hals, among others. While they identified with the vitality of the lower classes, and sought to register the dismal aspects of urban existence, they themselves led middle-class lives, enjoying New York's restaurants and bars, its theater and vaudeville, and popular nearby resorts. Because they avoided civil unease, class tensions, and the grit of the streets, their works are never as direct or disturbing as those of their European counterparts or of the reformist images of American photographers such as Jacob Riis and Lewis Hine.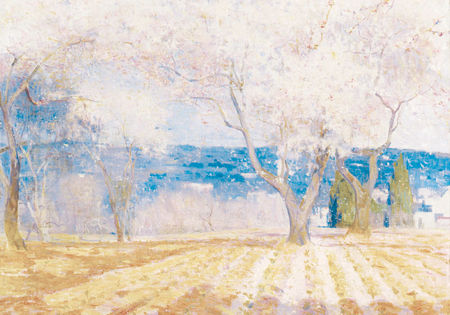 Charles Conder, (1868-1909), Fruit Trees in Blossom, Algiers 1892. Oil on canvas 64.8 x 80.7cm Purchased 1963 Collection: Queensland Art Gallery, Brisbane.
Exhibition Overview
The exhibition is organized thematically into eight sections: Cities, The Countryside Abroad, The Countryside at Home, At Leisure, Studio Setups and Portraits, Women's Lives, Children, and Other Leading Masters.

Cities
Although most American Impressionists preferred the countryside, some were captivated by urban energy, encoding their era's bustling spirit and fragmented experience in rapidly rendered vignettes. They depicted genteel precincts and celebrated the fashionable avenues and squares, ignoring the mean streets and teeming slums. Childe Hassam's 1889-90 canvas Winter in Union Square presents a hushed view of a New York park softened by the effect of a heavy snowfall.

The American Realists repudiated the American Impressionists' respectable airs, committing themselves to candid portrayals of modern life. Their experience as artist-journalists attracted them to public entertainments and they painted theater, vaudeville, hotels, and other features of commercialized leisure. In John Sloan's The Lafayette, a painting from 1927, a boisterous group of men and women emerges from under a hotel canopy into the night, as a taxi pulls up on the rain slicked street.

The Countryside Abroad
During the summers, many American Impressionists followed the pattern of their international counterparts, residing—and painting—in picturesque European villages. John H. Twachtman's Arques-la-Bataille, from around 1884, captures the river near a Normandy village in a tonal palette of cool greens, grays, and blues. Theodore Robinson's A Bird's-Eye View of 1889 shows Giverny nestled amid the surrounding hills. Like his mentor Monet, Robinson attempts to seize the essence of the place, including the haze that filled the valley of the Seine. The painting remained in the artist's possession until his death, when it was purchased by the noted art patron George A. Hearn, who gave it to the Metropolitan.

The Countryside at Home
Most of the repatriated American Impressionists painted the countryside to which they and their patrons often retreated to escape urban hurly-burly. They founded and frequented picturesque art colonies or worked alone in other rural locales— especially in New England—where they enjoyed inexpensive accommodations, nostalgic subjects that evoked a more tranquil era, and a strong sense of place. The American Impressionists' selective approach to modern life could conjure up an agreeable world for their patrons, who were also daunted by the perplexing realities of an unsettling, transitional time. Theodore Robinson's 1894 canvas Low Tide, Riverside Yacht Club describes the extensive mudflats at low tide on the Mianus River outside Cos Cob, Connecticut. Across the harbor is the newly renovated yacht club. Sleek recreational boats, moored offshore, await excursionists.

Landscape painting is primarily identified with the American Impressionists. The Realists embraced urban subjects and confined their depictions of landscape to views of New York City's outskirts.

Childe Hassam 1859–1935 | The Water Garden (detail) 1909 | Oil on canvas | 61 x 91.4cm (24 x 36in.) | Partial and Promised Gift of Mr and Mrs Douglas Dillon, 1994 | 1994.450 | Collection: The Metropolitan Museum of Art, New York | Image © The Metropolitan Museum of Art
At Leisure
Like their French counterparts, the American Impressionists were drawn to country retreats and suburban resorts whose very creation marked the era's shift from rural to urban existence. William Merritt Chase's At the Seaside, from around 1892, shows well-to-do vacationers enjoying the resort at Shinnecock, Long Island. Chase was the principal critic at a summer art school at Shinnecock, where he conducted open-air art classes for up to one hundred students each season.

Although the American Realists were oriented toward urban subjects and social issues, they did visit and document places for recreation. Committed to recording the lives of the working classes, they preferred the rowdy resorts accessible to less affluent city dwellers, and strayed only occasionally to the more refined retreats. George Bellows painted Tennis at Newport in 1919 in his New York studio from sketches he had made the previous summer. The annual tennis tournament at the Newport Casino in Rhode Island was an important sporting event and social occasion, but Bellows's painting emphasizes the setting rather than the game. The players are seen in the foreground, racquets raised, but it is the spectators strolling about the grounds and lingering on the lawn who capture our attention.

Studio Setups and Portraits
Neither the American Impressionists nor the Realists were immune to the appeal of artfully concocted studio contrivances. The carefully controlled lighting effects in Edmund C. Tarbell's Across the Room, a canvas of about 1899, showcase his skillful rendering of patterns, texture, and design. John Singer Sargent's striking double portrait Mr. and Mrs. I. N. Phelps Stokes, from 1897, began as a single portrait of the young Mrs. Stokes in an evening dress. Seeing her arrive for her sitting after a brisk walk, Sargent instead chose to paint her in her street clothes. He intended to show her accompanied by a greyhound, in the tradition of Van Dyck, but when the dog was unavailable, he agreed to include instead Mr. Stokes, who was delighted to get two Sargent portraits for the price of one. The portrait was bequeathed to the Metropolitan by Edith Minturn (Mrs. I. N.) Stokes in 1938.

Women's Lives
About 1900, the American domestic sphere was altered as women began to move more freely in society, postponing marriage and motherhood, seeking higher education, employment, suffrage, and entertainment. Progressives urged women to venture from home, while conservatives applauded their traditional roles as wives and mothers.

Insulating themselves and their potential patrons from disquieting change, the American Impressionists portrayed beautifully dressed women—often family members and friends—in sheltered settings. Included in the exhibition are numerous images of women taking tea, reading, strolling, or primping, and of mothers involved with their children. Frederick Carl Frieseke's intimate canvas of 1911, Woman with a Mirror (Femme qui se mire), captures a young woman at her dressing table as she pauses to consider the effect of a blue necklace. In Mary Cassatt's Mother and Child (The Oval Mirror) of about 1899, the mirror frame in the background suggests a halo behind this modern madonna and her young son.

While the Realists recorded more diverse and more liberated women, even they declined to document the period's upheaval.

Children
When they described the world of children, the American Impressionists favored well-cared-for, middle-class boys and girls, often their own sons and daughters. The theme of innocent childhood served as another avenue for retreat from contemporary realities, and the garden was a favorite setting. Typically, Frank W. Benson's Children in Woods, 1905, shows his three daughters in a sun-drenched clearing at their summer home on the island of North Haven, Maine. The girls are listening to a story, but Benson underplays even the minimal exertion of that pastime by obscuring the book that captivates them.

The Realists portrayed the offspring of poor and working-class Americans, but, like the Impressionists, infused their pictures with an appreciation of childhood's sweet pleasures. George Luks's Boy with Baseball, from around 1925, captures a young boy's solitude as he waits for his playmates. Wearing a cap, hands in his pockets, he stares into space with his baseball nearby.

Other Leading Masters
The American Impressionists and Realists were aware of and responded to the work of several important American masters—particularly James McNeill Whistler, Winslow Homer, and Thomas Eakins—who spoke with distinctive stylistic voices.

Whistler rejected the academic principles he had studied in Paris in the 1850s, experimented with the realism espoused by Gustave Courbet in the early 1860s, and—without going through Impressionism—arrived at an exceptional version of Post-Impressionism by the mid-1860s. He was a model of artistic independence, an exemplar of painting softly and subtly, and an advocate of the manner of Velázquez and of Japanese prints. His Arrangement in Black, No. 3: Sir Henry Irving as Phillip II of Spain (1876) shows Britain's leading Shakespearean actor of the time in costume. The influence of Velázquez is evident not only in the format, but in the palette of somber black, white, and silver-gray, accented with ochre.

Homer had little formal training, and worked only briefly in France and England without undertaking instruction, unlike his much more cosmopolitan American contemporaries. After settling in Prout's Neck, Maine, in 1883, he lived near the ocean and studied it continuously under different conditions of light and weather. By 1890, he abandoned narrative painting to concentrate on depictions of the beauty, force, and drama of the sea itself. Northeaster, a magisterial canvas of 1895, captures the look and feel of masses of onrushing water.

Eakins dedicated his career to the study and depiction of the human figure. His fascination with the nude and willingness to flout decorum challenged all but the most progressive critics and patrons of his day. As an innovative teacher, however, he influenced generations of art students, including Thomas Anshutz, who in turn taught Robert Henri and other leading American Realists. Eakins's portraits, usually painted at his request rather than on commission, often offended viewers accustomed to flattery and dash rather than intense scrutiny. The Thinker: Portrait of Louis N. Kenton (1900) captures the introspection of its subject while also reflecting the artist's own melancholy. This probing image of an individual is also an archetypal portrayal of modern man in the first year of the new century.
John Singer Sargent (1856–1925) Mr and Mrs IN Phelps Stokes 1897. Oil on canvas, 214 x 101cm (84 1/4 x 39 3/4in.) Bequest of Edith Minturn Phelps Stokes (Mrs IN), 1938. Collection: The Metropolitan Museum of Art, New York. Image © The Metropolitan Museum of Art