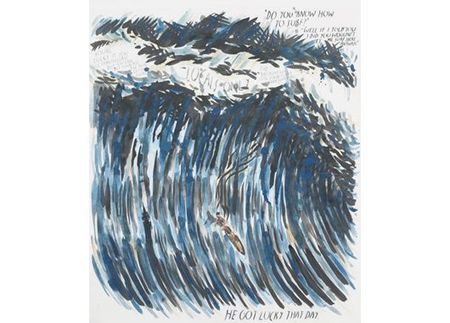 LONDON.- Phillips de Pury & Company is pleased to announce the highlights of the forthcoming Contemporary Art sales to take place in London on June 29 at the company's Howick Place galleries. The Evening sale will offer 40 lots with a total pre-sale estimate between £5.4 – 7.8M and the day sale will offer 132 lots with a total pre-sale estimate between £1.9 – 2.8M.

Highlights of the Evening sale include works by Richard Prince, Thomas Schütte, Robert Rauschenberg and Ed Ruscha as well as Mario Merz, Alighiero Boetti, Yue Minjun and Zhang Xiaogang.

In Richard Prince's Spiritual America IV, 2005, the artist revisits his most famously appropriated image of tenyear old Brooke Shields posing seductively for the commercial photographer, Gary Gross. The "original" photograph taken by Prince in 1983 sparked a famous lawsuit, which, although was lost by the artist, publicly raised issues of authorship and authenticity that would continue to motivate his subsequent work. Prince titled his 2007 multi-museum retrospectives Spiritual America after this seminal body of work.

To produce Spiritual America IV, Richard Prince collaborated with photographer Sante D'Orazio and reunited with Brooke Shields (this time clothed in a bikini) in a playful reconstruction of his earlier appropriation act. The 2005 work adds a meaningful layer to the Spiritual America saga, which first began in 1975 when Terrie Shields commissioned the now notorious photograph of her daughter and has concluded with Brooke Shields in complicity with the artists and in control of her image. Spiritual America IV is estimated at £400,000 – 600,000.

Thomas Schütte's Stahlfrau Nr. 7 (Steel Woman no. 7), 2001, estimated between £300,000 – 500,000 belongs to a decade of work in which the artist sculpted the female form in bronze, steel and aluminium. The sculptures from this period are heavy-- in their physical mass and metaphorical association with the Post-War German condition. In league with great German artists such as Anselm Kiefer, Joseph Beuys and Martin Kippenberger, Schütte, like his compatriots, confronts the nation's conscience and the artist's role in modern Germany. A significant mid-career retrospective at the Haus der Kunst Museum in Munich will showcase his diverse oeuvre which includes drawings, installations and sculpture.

Ed Ruscha's That Was Then This is Now, 1989 is a hallmark work that integrates his career-long fascination with language and the psychological effects of the Los Angeles urban landscape. The West Coast mega-city provided Ruscha with an endless source material and inspiration, and he painted this piece in monumental scale with emphasis on the horizontal, perhaps to evoke the commercial billboards that line the Los Angeles freeways or the Hollywood cinema screen. That Was Then This is Now shares its title with a 1985 film but also poses open ended questions of what might have happened then and what is happening now—an ontological pairing of words typical of Ruscha's dry humor. The pre-sale estimate for this work is £600,000 – 800,000.

Ed Ruscha's "Silhouette" paintings are embedded within the artist's diverse investigation of light as represented in Los Angeles's city lights, artificial fluorescents in his signs and gas stations and sunlit window panes. In Doric, 1996, estimated at £250,000 – 350,000, Ruscha addresses the secondary effects of light in the ghostly shadow of a classical relic. Here, he has adopted an airbrushed or "strokeless" painting technique to create a flat, photographic surface on the canvas.

Robert Rauschenberg's Wolf Wood, 1991 powerfully layers two of his signature techniques-- silkscreened photography and gestural painting-- over an enameled aluminium surface. Rauschenberg frequently made autobiographical references in his work and sourced the images of his two Samoyed dogs in Wolf Wood from his personal photo archive. The dogs are paired with a re-contextualized image from a previous work, a move characteristic of the Urban Bourbon and Night Shades series. The pre-sale estimate for Wolf Wood is £250,000 – 350,000.

Alighiero Boetti began his collaboration with a community of Afghan women in the 1970s to create embroidered tapestries that crossed political and economic borders. This exemplary piece, crafted in 1986-86 from his Tutto series, shows a global matrix of natural and cultural forms--animal, human, symbols and artifacts—an homage to the cultures involved in its creation. Tutto is estimated at £200,000 – 300,000.

Mario Merz's Senza titolo (Una somma reale è una somma di gente), 1972 estimated between £180,000-250,000 is part of the artist's conceptual oeuvre, sourced from autobiographical subjects and executed with an expansive variety of materials. Untitled, an early and striking installation comprised of eleven gelatin silver prints and ten Fibonacci sequence numbers sculpted from coloured neon light, powerfully portrays the artist's desire to link nature, art andthe human condition. The Fibonacci sequence, in which each numeral is equal to the sum of the two that precede it, was conceived by the 13th century mathematician Leonardo Fibonacci da Pisa when he studied the hypothetical reproductive rate of rabbits. Its common occurrence in nature fascinated Merz who believed that the organically progressing numbers in the series had an innate relationship to human sociology. Untitled is part of a performance based body of work executed in 1972 in three different restaurants. For the performance depicted in this work which took place at the Ristorante della Spada inTurin, Merz began by photographing an empty section of the dining area of the restaurant. Then, set within the exact same field of view as his first photograph and in accordance with the laws of progression dictated by the Fibonacci sequence, Merz photographed 1,2, 3, 5, 8, 13, 21, 34 and finally 55 people gathering to dine in the restaurant. This work, of which another from the edition is retained in the permanent collection of New York's Museum of Modern Art, was first exhibited at the infamous Documenta 5 in Kassel in 1972 and has remained in the same private German collection ever since.

Yue Minjun models his Untitled, 2005 after Chinese propaganda posters of peasants and industrial workers collectively laboring together in idyllic scenes. The exaggerated laughing faces, an icon in the artist's work, present uniform detachment from the hardship and reward that life delivers, perhaps a survivalist tactic in times of political duress. The figures foreground a flock of migratory geese in flight, which may be symbolic extensions of the figures' state of mind—free from any concern-- or in stark contrast to their forced gaiety. Rich with symbolism and satire, Yue's Untitled is estimated at £250,000 – 300,000.

Zhang Xiaogang's Untitled, 2006, estimated at £300,000 – 400,000, is characteristic of his recent body of work which brings singular focus to the emotionless face painted on a grand scale and deviating from his "Bloodline Series" depicting multiple figures. His trademark swath of color on the young girl's visage breaks the unrelenting grey of the canvas, a color synonymous with the coats worn by the populace during China's Cultural Revolution.

The Evening Sale will also offer works by Jeff Koons, Mark Grotjahn, Wim Delvoye, James Turrell, Florian Maier-Aichen and Barry McGee.

The Day Sale will offer works by Ryan Gander, Raqib Shaw, MR., Damien Hirst, Zhan Wang and Tererence Koh.