05 juin 2009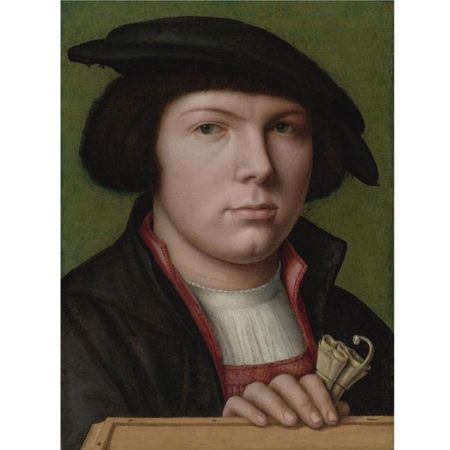 Netherlandish School, early 16th Century, Portrait of a Young Man
oil on paper laid down on panel. 16 1/4 by 12 1/2 in.; 41.3 by 31.8 cm. Est. 40,000—60,000 USD. Lot Sold 43,750 USD
PROVENANCE: With Galerie Henri Durandy, Paris, by 1924;
With Galerie Van Diemen & Co., Dusseldorf and Berlin 1926-28;
With Dr. E. Plietzsch, Berlin; 1931;
With Lillienfeld Gallery, New York, 1931;
George and Dorothea Halpert, California;
Gift of George and Dorothea Halpert to The Los Angeles County Museum of Art, Los Angeles, (acc. no. C1993.132.1).
EXHIBITED: San Diego, CA, Fine Arts Gallery of San Diego, Exhibition of Paintings: Italian, Flemish Dutch, German, French and English, February 1-15, 1928, no. 9 (as by Joos van Cleve).
LITERATURE AND REFERENCES: W. Valentiner, in Kunstspiegel, March 8, 1927 (as by Joos van Cleve);
Die Gartenlaube, May 19, 1927, reproduced in color (as by Joos van Cleve);
M. J. Friedländer, Early Netherlandish Painting, New York 1972, vol. IXa, p. 70, no. 103, reproduced plate 111 (as by Joos van Cleve);
D. Vanwijnsberghe et al, Autour de La Madeleine Renders, Un Aspect de l'Histoire des Collections, de la Restauration et de la Contrefaçon en Belgique dans la Première Moitié du XXe Siècle, Brussels 2008, p. 257, cat. no. 202, reproduced (as by Joos van Cleve; documented as in the studio of Joseph Van der Veken where it was heavily restored).
Sotheby's. Old Master Paintings, European Sculpture & Antiquities. 04 Jun. New York www.sothebys.com
Commentaires sur Netherlandish School, early 16th Century, Portrait of a Young Man