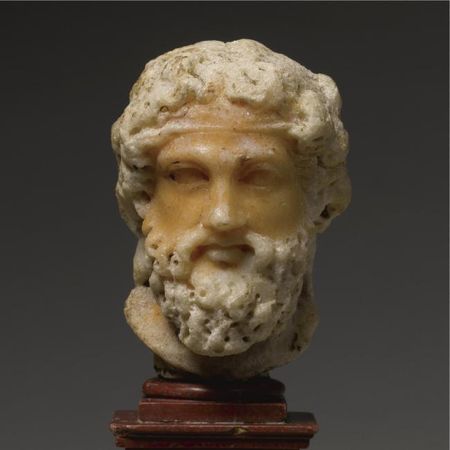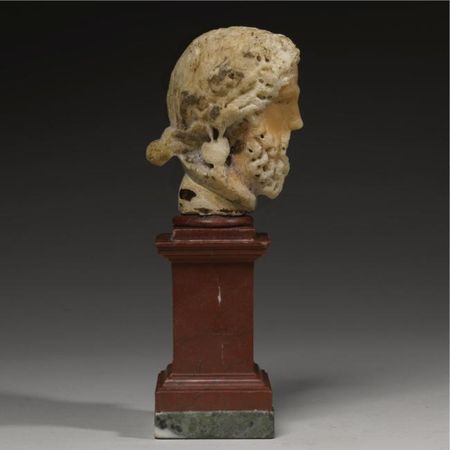 A Bi-colored Marble Head of Dionysos, Roman Imperial, circa late 1st Century A.D.
based on a Greek original of the late 4th Century B.C., the face carved out of a pale amber-colored vein within the white matrix, turned slightly to his right, his face with long beard of voluted curls, parted lips, and eyes drilled in the inner corners, his long hair radiating from the crown, parted in the center, brushed back over the ears, gathered in a chignon at the back, bound in a broad diadem, and surmounted by a wreath of ivy leaves; the neck carved for insertion. height 2 3/4 in. 7 cm. Est. 25,000—35,000 USD. Lot Sold 110,500 USD
PROVENANCE: August Johan Holmberg (1851-1911), Munich (Galerie Helbing, Münich, Antiquitäten, Kunst- und Einrichtungsgegenstände und künstlericher Nachlass aus dem Besitze des verstorbenen Herrn Professor August Holmberg, Direktor der Kgl. Neuen Pinakothek, Munich, May 30th-31st, 1912, no. 400, pl. 9
Josef Klemens, Prinz von Bayern (1902-1990)
LITERATURE AND REFERENCES: Paul Arndt and Walther Amelung, Photographische Einzelaufnahmen antiker Sculpturen, Serie IV, Munich, 1899, p. 22, no. 1045, illus.
Frederik Poulsen, Catalogue of the Ancient Sculpture in the Ny Carlsberg Glyptothek, Copenhagen 1951, p. 121
Erwin Pochmarski, Das Bild des Dionysos in der Rundplastik der klassischen Zeit Griechenlands (Dissertationen der Universität Graz, 26), Vienna, 1974, 47 and 50
Josef Dörig, "Der Dionysoskopf Heemskerck," in Antike Plastik, Lieferung VI, Teil 1-10, Berlin, 1967, p. 60
Heike Gregarek, "Untersuchungen zur kaiserzeitlichen Idealplastik aus Buntmarmor," Kölner Jahrbuch für Vor- und Frühgeschichte, vol. 32, 1999, p. 219, D56
Arachne, no. 12875
NOTE: On the Bavarian painter August Holmberg, who also served as the director of the Neue Pinakothek in Munich, see Allgemeines Lexikon der bildenden Künstler, vol. 17, Leipzig, 1924, p. 391.
Related heads of Dionysos are in the Naples Archaeological Museum (see Dörig, op. cit., fig. 2) and in Copenhagen, (see Poulsen, op. cit, no. 153, pl. 9; Dörig, op. cit., fig. 7).
Sotheby's. Old Master Paintings, European Sculpture & Antiquities. 04 Jun. New York www.sothebys.com