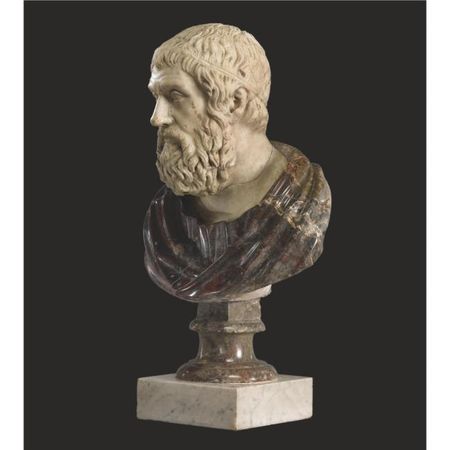 A Marble Portrait Head of the Tragedian Sophocles, circa late 1st/early 2nd Century A.D.
based on a 4th Century B.C. Greek original, with deeply drilled wavy beard, long moustache, deep-set eyes drilled in the inner corners, and hair bound in a fillet; mounted on a 17th/18th Century variegated colored marble draped bust. height of head 14 1/4 in. 36.2 cm.; height with bust 22 1/8 in. 56 cm.; total height with socle 30 1/4 in. 76.9 cm. Est. 80,000—120,000 USD. Lot Sold 116,500 USD
PROVENANCE: French family collection, Normandy, 19th Century
NOTE: For other examples see G.M.A. Richter, The Portraits of the Greeks, vol. 1, London, 1965, figs. 611-674 (Farnese Type); the author notes that the distinguishing features of the Greek original are "a rounded skull, not unduly high, regularly surrounded by a taenia; an oval form of face, accentuated by the longish beard; hair arranged in slightly curling, rather sparse, ringlets over the forehead; ... raised, almost angular... eyebrows; a slightly curvingnose, thin at the bridge; and a beard starting immediately below the lip, with locks going in different directions; a long moustache reaching far into the beard. The person represented is about 60 years old, serene, artistically sensitive, a great personality" (p. 128).
Sotheby's. Old Master Paintings, European Sculpture & Antiquities. 04 Jun. New York www.sothebys.com