Vincent Van Gogh (Zundert, 1853 – Auvers-sur-Oise, 1890), Recto: Houses in a Landscape, 1890. Conté crayon and stumping, 9 1/4 x 12 5/16 in. Collection of Jean Bonna, Geneva
EDINBURGH.- This exceptional exhibition consists of 120 European master drawings, watercolours and pastels by many of the greatest names in Western art. They come from the distinguished collection formed over the past twenty years by Jean Bonna, who is based in Geneva. The show has been organised in collaboration with the Metropolitan Museum of Art, New York, where it was shown earlier this year. The National Gallery Complex in Edinburgh will be the only European venue.

The exhibition offers the rare opportunity to view outstanding examples of European drawings spanning some 500 years, from the Italian Renaissance to late nineteenth-century France. The principal strength of the collection lies in the Italian and French schools, including such celebrated artists as Raphael, Andrea del Sarto, Guercino, Claude Lorrain, Canaletto, Watteau, and, from the nineteenth century, Ingres, Degas, Manet, Renoir, Cézanne, Gauguin and Redon.

Michael Clarke, Director of the National Gallery of Scotland said: "We are thrilled by this prestigious collaboration with the Metropolitan Museum and the opportunity to play host to one of the most significant private collections of drawings to have been formed in recent times."

Highlights include extraordinary drawings such as Raphael's Study of Soldiers (ca. 1515-16), Parmigianino's The Holy Family with Shepherds and Angels (ca. 1523-24), Hans Hoffmann's beautifully rendered watercolour A Wild Boar Piglet (1578), an atmospheric Woman in a White Bonnet (ca. 1882-85) by Georges Seurat, and a vibrant pastel, La Barque (ca. 1900), by Odilon Redon. Gratifyingly, two of the Bonna drawings – Jean-Antoine Watteau's Three Studies of Female Heads (ca. 1718-19) and Paul Gauguin's Two Tahitian Women (ca. 1899) – are preparatory studies for paintings in the National Gallery of Scotland's permanent collection.

Jean Bonna's first love was books, and he has built up a very important private library. Inspired in part by book illustrations, he developed an interest in old master prints, and from there to collecting drawings. Over the past two decades he has become one of the most discriminating living collectors of old master and nineteenth-century drawings. The Bonna collection now comprises some 400 drawings, the best of which have been selected for this exhibition, all to be displayed in period frames.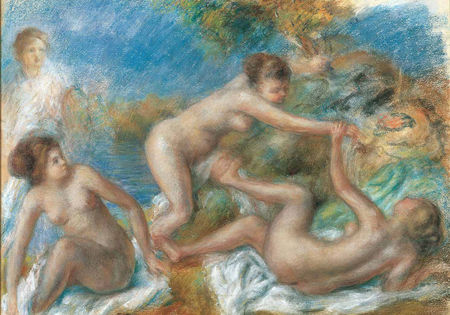 Pierre-Auguste Renoir (Limoges, 1841 – Cagnes-sur-Mer, 1919), Nude Bathers Playing with a Crab, Ca. 1897-1900. Pastel on laid paper, 17 11/16 x 24 in. Collection of Jean Bonna, Geneva.