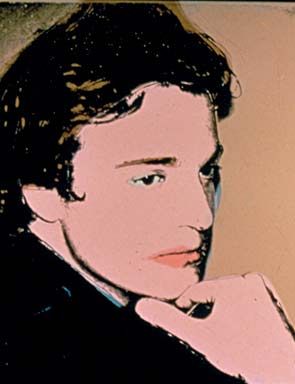 Andy Warhol, Portrait of Jamie Wyeth with a Tan Background, 1976, Acrylic silkscreen on canvas, Museum Purchase with funds provided by the following: Mr. and Mrs. Roger C. Buntin; Mr. and Mrs. Frank Fowler; Martin Hayes and Co., Inc.; Mamie C. Howell in memory of Corinne Craig Oliver; Mr. and Mrs. Jack C. Massey; NLT Corporation; In memory of Mr. and Mrs. John Oman, Jr.; Mr. and Mrs. Joe M. Rogers; Mrs. Hugh Stallworth and Anonymous Donor.
NASHVILLE, TN.- From Washington to Warhol: Americana Redefined will be on display at Cheekwood Botanical Garden & Museum of Art from July 11 through January 3, 2010. Drawing from Cheekwood's collection as well some loans, this exhibition presents images of America as revealed through the eyes of artists. From early portraiture to Pop art, American artists have borrowed from imagery broadly defined as Americana. Presidents, cowboys, Native Americans, Disney characters, or classic American food items -- artists often turn to what is familiar in American life and then remake it into a new image, something unexpected and fresh.

"We are delighted to share Cheekwood's rich and diverse art collection with the public, and we are always seeking to present the collection in new ways," said Jack Becker, Ph.D, Cheekwood's President/CEO. "This exhibition takes a fresh look at our extensive American art collection, and we invite visitors to explore the many images of America represented here."

Rather than relying on a definitive list of things that are typically American, the exhibition invites viewers to explore the myriad of ways in which artists have incorporated American culture, history, and landscape into their work and helped interpret its meanings. The artists selected offer different strategies for defining the American experience. Highlights include portraits of Washington, an antebellum view of Belmont Mansion, realist works by The Eight, American folk art, and many artists from the post-World War II generation. For the first time in several years, Cheekwood's gallery walls will be graced by the famous pair of portraits that Andy Warhol and Jamie Wyeth painted of one other.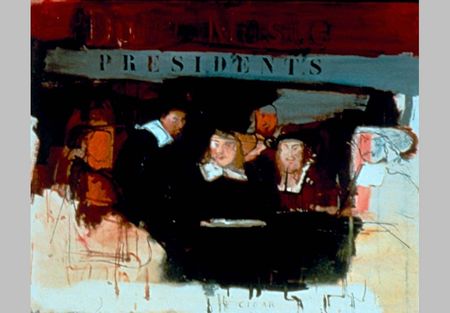 Larry Rivers (American, 1923-2002), Dutch Masters I, 1963, Oil on canvas, Purchased with funds from the National Endowment for the Arts and matching donations from the following: Mr. Alvin G. Beaman; Bernal Foundation of Nashville; Mr. and Mrs. Martin Brown; Barbara Massey Clark; Dr. William